Teus Nobel Liberty Group - Pleasure Is The Measure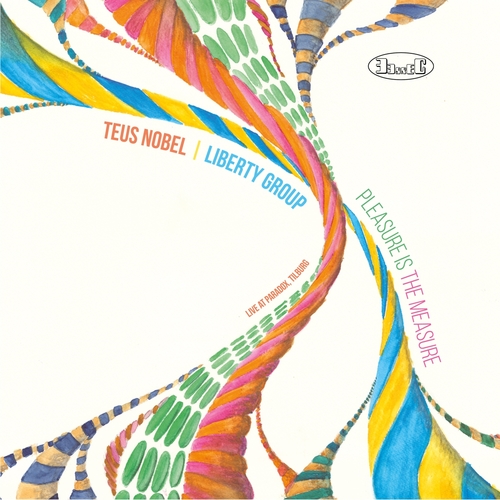 T
339 Records/Pias
Trompettist Teus Nobel staat voor spelplezier en dat geeft de titel van dit album duidelijk aan. 'Measure Is The Pleasure' werd live gecapteerd in Paradox, Tilburg op 20 en 22 juni 2021. In zijn Liberty Group speelt Teus Nobel met pianist Alexander van Popta (Re:Freshed Orchestra), contrabassist Jeroen Vierdag (Ploctones) en de Vlaamse drummer Tuur Moens (State of Monc). Elk van de leden brengt eigen werk in met de focus op lyrische en toegankelijke jazz en aanstekelijke groove. Het aanwezige publiek in de sfeervolle club reageerde enthousiast en dat heeft dan ook alles te maken met het voortreffelijke spelplezier.
Teus Nobel tekent voor het openingsnummer 'Wabi Sabi' dat hij als term ontleent aan de Japanse taal en zoveel betekent als het opmerken van schoonheid in het onvolmaakte. Dit nummer is meteen een schot in de roos, ergens door Miles Davis geïnspireerd, met de opzwepende trompetsound van Teus en een contrastrijke interactie van de groep. Terecht applaus! De daaropvolgende prachtige ballad 'Merino' (A. van Popta) brengt een sterk verhaal met weergaloze soli van Nobel en van Popta, en veerkrachtig slagwerk van Moens.
Pianist Alexander van Popta ontpopt zich verder nog als creatief bedenker in zowel muziek als verbeeldend verhaal met 'The New Prehistoric Spacemonster Gamogedora' –  een licht minimalistisch en heel filmisch spannend uitgesponnen thema –  en het harmonieuze en hoogst groovy 'In Fruit'.
Bassist Vierdag schittert in eigen werk ('Bobbypump') en laat zijn contrabas swingen, drummer Tuur Moens zorgt anderzijds met een eigen bijdrage ('Comboio') voor een lyrisch hoogstandje met fijnzinnige percussie en drums, onderbouwd met piano en bugel.
Het album sluit hij af met Nobels 'Journey of Man' wat natuurlijk refereert naar zijn succesalbum (2019).
Teus Nobel heeft live een stralende drive en hij overtuigt met zijn Liberty Group met akoestische jazz van nu die recht naar het hart grijpt en instant lekker doet gevoelen.
'Pleasure Is The Measure' is een verademing die lik op stuk geeft aan de grootsprakerige new wave of jazz.

© Bernard Lefèvre



Bezetting:
Teus Nobel (trompet, bugel)
Alexander Van Popta (piano)
Jeroen Vierdag (contrabas)
Tuur Moens (drums)

https://teusnobel-music.nl/

Touragenda: https://teusnobel-music.nl/tour-dates-2/