Teun Verbruggen-Nate Wooley-Jozef Dumoulin-Ingebrigt Håker Flaten – kaPSalon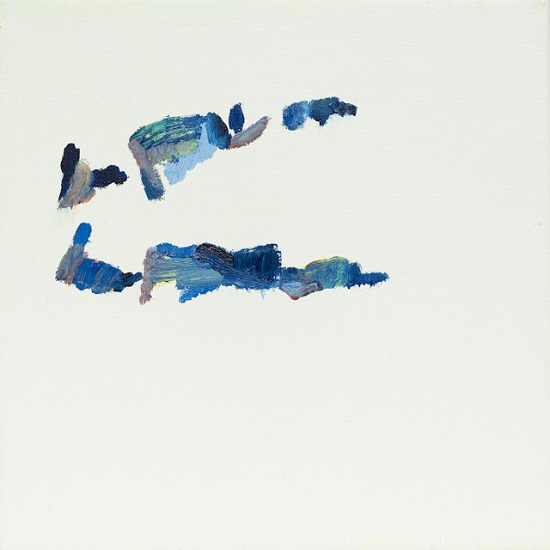 T
Werkplaats Walter
Vier freewheelers (Teun Verbruggen, Nate Wooley, Jozef Dumoulin, Ingebrigt Håker Flaten) met eenzelfde ingesteldheid en onderlinge consensus om af te wijken van vastgelegde codes en stilistische begrenzingen, deden hun ding live in Middelheim 2014. Dit is daar een sfeerbeeld van.
Tijd om even na te denken of je nu wel of niet deze trip wil meemaken, krijg je niet. Van zodra de naald in de eerste groef terechtkomt, zit je midden in het oog van een storm waar je pas een eerste maal aan kan ontsnappen na zowat een kwartier. Wie vervolgens de plaat omdraait, heeft recht op nog eens zowat elf minuten hels plezier.
Het is Nate Wooley die het ganse radarwerk energiek in gang blaast. Noten als ruwe lijnen die terug te vinden zijn op de bijhorende kunstwerken. In zijn spoor volgt pianist Dumoulin om op zijn beurt de nodige verwarring te scheppen. Toch ontdek je snel dat er een visie achter steekt. De stuwende energiestroom wordt ook tijdig afgeremd terwijl het percussieve karakter in evenwicht gehouden wordt door een (weliswaar anarchistische) vorm van melodie. Bassist Flaten is daarbij de wisselwachter van dienst. De bins & toys van drummer Verbruggen blijven een herkenbare constante. Na elk mini interval barst de hel telkens weer los. De strijd is nooit gestreden bij deze "justice league" van de vrije structuur. Ze trekken je alsmaar verder door een labyrint als een spiegelpaleis waar niets is wat het lijkt. Dit is nog maar een poging tot beschrijving van wat er in het eerste deel ('Walters First') gebeurt.
Het bijwijlen dystopisch verhaal gaat nog verder op de B-kant met 'Otto' en 'MB', twee kortere en totaal verschillende taferelen deze keer getekend door een ijzingwekkende en 'Eraserhead' verwante poëzie. In 'MB' is het vooral pianist Dumoulin die de show steelt met een heel diffuse en minimalistische aanpak.
Tip voor de verzamelaars: uitgebracht op cd maar vooral ook op genummerd vinyl (250 exemplaren) met drie kunstwerken van Wannes Lecompte. Het is de eerste release op Werkplaats Walter, een sublabel van RAT Records. De verwachtingen zijn meteen hoog gespannen voor het vervolg.
Teun Verbruggen: drums
Nate Wooley: trompet
Jozef Dumoulin: piano
Ingebrigt Håker Flaten: bas
© Georges Tonla Briquet