Terje Gewelt - House on a Hill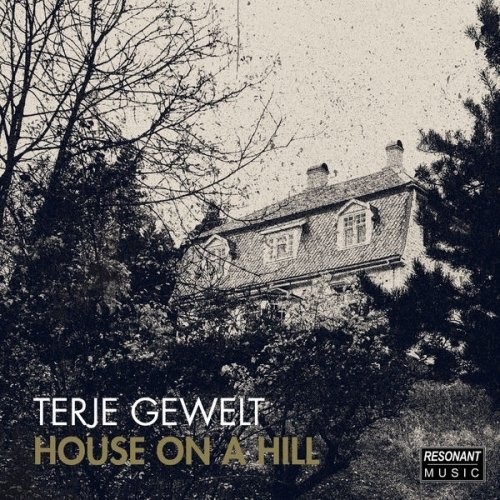 T
Resonant Music
House On A Hill is het twaalfde album van de ervaren Noorse jazzbassist en componist Terje Gewelt. Vier jaar geleden ontmoette ik hem in de lobby van het Anker Hotel, in het centrum van het koude Oslo. Een dag later zou hij vertrekken naar zijn tweede thuisland, de States waar Donald Trump de verkiezingen zojuist had gewonnen. Hij kon door deze geplande trip de groots gevierde zestigste verjaardag van pianist en componist Misha Alperin in de Kulturkirkan, enkele straten verderop, niet bijwonen.
Inmiddels is de bassist zelf zestig jaar en is Alperin, die hij op twee van zijn toonaangevende albums heeft vergezeld, al tweeëneenhalf jaar niet meer onder ons. Een jaar na onze ontmoeting in Oslo trof ik Gewelt in de conferentiezaal op Jazzahead in Bremen. Hij gaf me een exemplaar van zijn zojuist uitgebrachte album Wow And Flutter met Bjørn Klakegg op gitaar, Erlend Slettevoll op piano en keyboards en Terje Evensen op drums en elektronica.
Afgelopen november heeft Gewelt, tevens de eigenaar van het label Resonant Records, met hetzelfde kwartet opnieuw een album uitgebracht. Tien nummers die ons in iets meer dan drie kwartier meenemen in de emotionele wereld van een tot thuiswerken gedwongen globetrotter. De (fretloze) basgitaar en de contrabas van Gewelt, vormen het fundament waarop Klakegg, Slettevoll en Evensen de door Gewelt ontworpen melodielijnen uitbouwen tot kernachtige vertellingen die geen moment vervelen. Afwisselende ritmes, gedragen lijnen en voldoende rust tussen de noten.
Het kwartet bouwt voort op het concept van het voorgaande album. Een verschil met de voorganger is het aantal ballads. Het tempo van House On a A Hill ligt aanzienlijk lager dan op Wow and Flutter. Bovendien wordt er minder gebruik gemaakt van verstrooiende elektronica. Luister naar What Now?, Carpe Diem, Skagerrak en Night Turns To Day (Gewelt solo op de contrabas) en het wordt al vrij snel duidelijk hoe de Noorse basgigant 2020 heeft beleefd. Met een beperkt aantal middelen weet Gewelt (wan-) hoop, twijfel en verwachting te verklanken, verdienstelijk bijgestaan door zijn kwartet. Tezamen vier toonkunstenaars in de buitencategorie die hun kwaliteiten volledig ten dienste stellen van het groepsgeluid.
Het album is actueel en gelijktijdig tijdloos, maar bovenal van een grote schoonheid in alle verscheidenheid. Het jaar is bijna om en er gloort licht aan het einde van de horizon. In Whenever the Wind Blows weerklinkt het optimisme, de hoop op een betere toekomst. Een toekomst waarin Gewelt en zijn kwartet hopelijk het huis kunnen verlaten en de muziek van dit prachtige album op het podium ten gehore kunnen brengen. Als het even kan ook graag in de Benelux. 
© Robin Arends

Tracklist:
01. Buzios (05:07)
02. House On A Hill (04:20)
03. What Now (05:22)
04. Carpe Diem (05:37)
05. Butterfly And Snowflakes (04:10)
06. Skagerrak (05:01)
07. Night Turns To Day (02:35)
08. The Move (05:26)
09. Arrival (04:41)
10. Wherever The Wind Blows (05:12)

Musici:
Terje Gewelt - Elektrische bas en contrabas
Bjørn Klakegg - Elektrische gitaar
Erlend Slettevoll - Piano en keyboards
Terje Evensen - Drums en electronica

Released 13 november 2020
https://www.resonant-music.com/
Opgenomen door, mix en master: Tor Magne Hallibakken