Teis Semey – Throw Stones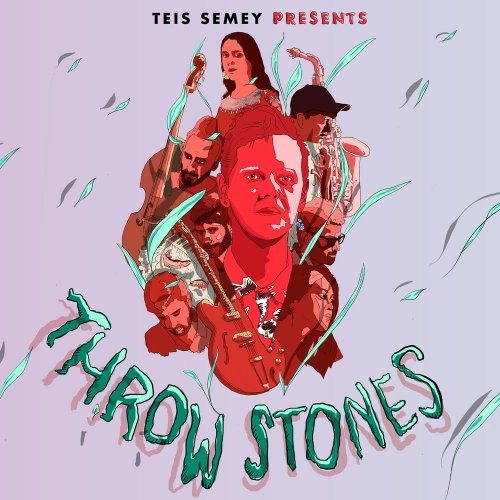 T
Loumi Records
De duurtijd is stevig ingeperkt tegenover zijn debuut 'Where The Fence Is The Highest' maar de Deense gitarist Teis Semey zijn inzet en engagement zijn er niet minder om.
De cd-titel komt van het spreekwoord "Those who live in glass houses should not throw stones". Of net wel als ze zich willen laten opmerken. En het is dat laatste wat Teis Semey nastreeft met zijn nieuwste cd. De achterliggende boodschap is de ecologische teloorgang gepaard aan (economische) neveneffecten. Ook de (negatieve) invloed van de alles overheersende digitale data wordt gehekeld. Dit staat alleszins te lezen in een korte hoestekst. De uitwerking is zuiver instrumentaal, op een korte gesproken passage na.
Het hele gezelschap van blazers, piano, drums, bas en gitaar manifesteert zich van meet af aan als een gezamenlijk front waar je niet omheen kan. Geen radicale "sturm und drang" beweging maar toch een eerste waarschuwing om de aandacht te trekken. Gedurende een half uur laveren ze tussen moderne jazzpatronen, drum'n bass, americana, prog en fusion met een aantal rustpunten om de luisteraar tijd te gunnen alles eventjes te laten bezinken. Elk nummer bevat details opgevat als aanwijzingen om de eindcode te doorbreken. Luisteren met koptelefoon helpt. Als gitarist out Semey zich als een polyvalent iemand. Luister hiervoor achtereenvolgens eens naar 'Funeral' en 'Why B Moody When U Can Shake Your Booty'. Zelf vermeldt hij Craig Taborn en Kurt Rosenwinkel als dankbare inspiratiebronnen.
Semey knutselde het allemaal eigenhandig in elkaar (composities, opname, mixing, mastering) tot zelfs het ontwerp van de hoes. Duidelijk iemand waar we nog van zullen horen.
© Georges Tonla Briquet



Musici:
Teis Semey: gitaar
José Soares: altsaxofoon
Alistair Payne: trompet
Young-Woo Lee: piano
Giuseppe Campisi: bas
Guy Salamon: drums
+
Henry Solomon: alsaxofoon
Sun-Mi Hong: drums
Fuensanta Mendez: vocals

https://teissemey.com/