3Men in a boat: P. Thuriot, K. Roseeuw, L. Beuvens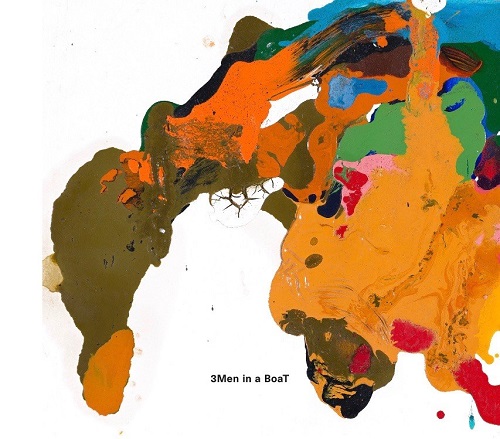 T
W.E.R.F.
L'accordéoniste Philippe Thuriot et le contrebassiste Kristof Roseeuw se connaissent depuis un certain temps: ils se sont croisés au sein de RadioKUKAorkest (album Songs for broadcast), en compagnie du violoncelliste Lode Verkampt et du clarinettiste Tom Wouters qui est membre, comme Roseeuw, du Flat Earth Society. De son côté, Philippe Thuriot, diplômé des Conservatoires d'Amsterdam et Copenhague, a un parcours éclectique: collaboration avec le chorégraphe Alain Platel, notamment pour Pitié avec Fabrizio Cassol, l'ensemble de musique contemporaine Ictus ou le quintet Steve Houben/Jacques Pirotton pour l'album Phinc. Enfin, en compagnie de Roseeuw, il a collaboré avec le saxophoniste américain Ellery Eskelin pour une tournée au Sénégal.
Avec le Bruxellois Lionel Beuvens, tout en légèreté à la batterie, ils viennent de former 3Men in a boat, en référence au livre humoristique de Jérôme K Jérôme.



L'album s'ouvre sur ce qui est, à mon sens (très subjectif), la plus belle plage: Soweto Sorrow de l'album Suite africaine du trio Aldo Romano - Louis Sclavis - Henri Texier (NB: sur l'album Label Bleu, le morceau est attribué à Aldo Romano et non à Henri Texier, comme indiqué sur la pochette: peu importe, la magie de la mélodie est identique, avec l'accordéon qui se substitue à la clarinette et un beau solo de contrebasse).
Deux autres plages sont aussi des "emprunts": un à Richard Galliano, son Waltz for Nicky aux accents "musette", une mélodie qu'il a beaucoup jouée, notamment avec Gary Burton et Cet air là du guitariste canadien René Lussier, un adepte du rock progressif.
Les autres titres sont des compositions originales: trois de Thuriot (3Men with a coat, Loss, Peace in heart), une de Roseeuw (3Men on the road) et Song of Ive de Lionel Beuvens, avec un accordéon doublé d'effets de voix par Thuriot.
A l'image du trio Romano-Sclavis-Texier, 3Men in a boat repose sur une complicité constante entre l'accordéon lyrique de Philippe Thuriot, la contrebasse allègre de Kristof Roseeuw et le jeu tout en nuances de Lionel Beuvens, avec ses balais virevoltants.
Une musique intimiste.
© Claude Loxhay