Wako & Oslo Strings - Modes for all Eternity (C. Loxhay)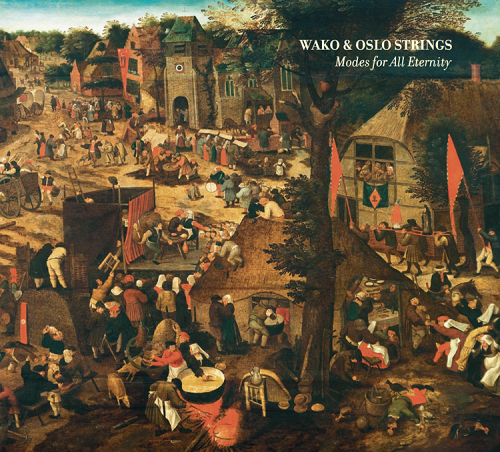 W
AMP Music & Records
Dans les pays scandinaves, à côté du jazz évanescent de la galaxie ECM, il existe un courant qui se veut plus libertaire, héritier à la fois du free jazz et de la musique contemporaine: c'est le cas du quartet Wako.
Au saxophone alto, Martin Myhre Olsen, membre du Trondheim Jazz Orchestra et du Megalodon Collective, un septet qui rassemble musiciens norvégiens et suédois et qui comprend trois saxophonistes: Martin Myhre Olsen, Karl Hjolman Nyberg et Petter Kraft (album Animals). Olsen fait aussi partie d'un quartet à deux saxophones avec Petter Kraft (Rónnings Jazzmaskin).
Au piano, Kjetil André Mulelid qui possède son propre trio et a enregistré Fieldpare avec la vocaliste S.M. Hauge.
La rythmique est constituée de Bárour Reinert Poulsen à la contrebasse et de Simon Olderskog Albertsen à la batterie.
Le quartet a déjà enregistré The good Story et, pour Modes for all Eternity, suite en 5 mouvements accompagnée de 5 autres compositions originales de Martin Myhre Olsen, le quartet est rejoint par trois solistes d'Oslo Strings, un ensemble pluridisciplinaire à géométrie variable, soit la violoniste Kaja Constance Rogers, l'alto Isa Caroline Holmesland et la violoncelliste Kaja Fjellberg Pettersen, toutes deux issues du Conservatoire d'Oslo.
Les cordes sont ici utilisées comme une entité dialoguant constamment avec le saxophone, un peu à la manière de l'Atom String Quartet avec Cesarius Gadzina pour The Fifth Element.
L'album s'ouvre sur King of kings, belle alliance entre le saxophone et les cordes sur fond de piano et de multiples cymbales.



La ballade Sappho's Theme s'ouvre sur une intro de cordes  et débouche sur un beau solo de piano, on retrouvera ce rythme paisible de ballade sur Song for all the Annettes et Cold days warm hearts avec son allure de musique de chambre. Par contre,  la troisième plage, Carla, adopte une allure très groovy avec le rythme trépidant marqué le piano. La suite Modes for all Eternity s'ouvre sur une intro allègre de saxophone, à laquelle s'enchaîne les cordes. Les deuxième et quatrième mouvements, I died for beauty et Intervallic nightmares, sont de courtes pièces qui servent d'intermèdes à Africanus, pièce sur laquelle le violoncelle dialogue avec le saxophone et à Rejoice, thème aux allures plus free, qui s'ouvre sur une joute libertaire entre le saxophone alto d'Olsen et la trompette de Erik Kimestad Pedersen, invité sur ce seul morceau et qui se poursuit sur fond de pizzicati et piano.
Un album à découvrir.
P.S.: La pochette est illustrée par la reproduction d'une toile de Bruegel le Jeune, présentée au musée Calvet d'Avignon, Kermesse villageoise: une invitation à tous les plaisirs de la vie, musique, danse, théâtre, bonne chère et autre...chair.
Claude Loxhay