Kristóf Bacsó Triad & Lionel Loueke - Pannon Blue (C. Loxhay)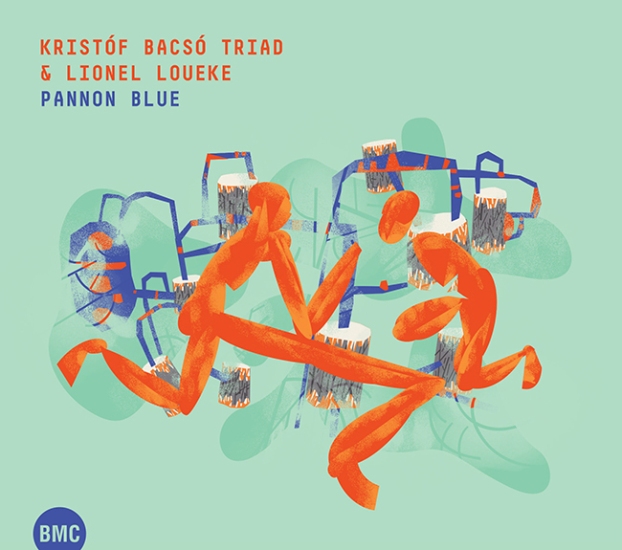 K
BMC/Music & Words
En 2014, lors de l'interview de György Wallner, responsable du Budapest Music Center, on avait déjà pu évoquer le nom du saxophoniste Kristóf Bacsó, à propos de l'album Modern Art Orchestra plays the music of Kristóf Bacsó, un orchestre au sein duquel on retrouvait le trompettiste Kornél Fekete Kovács avec qui Bacsó a aussi enregistré, en quartet, les albums Nocturne et Alteregos.
Par ailleurs, on a pu entendre le saxophoniste hongrois en compagnie du guitariste Gábor Gado, du saxophoniste Istvan Grencso et, en trio, sur l'album Fitting, en compagnie du contrebassiste français Sébastien Boisseau et de Kálmán Olah, pianiste qu'on a pu découvrir à plusieurs reprises à Dinant avec Steve Houben.
Bacsó dirige aussi, depuis 2013, Triad avec le batteur Márton Juhász et le pianiste Arpád Tzumo. Après ses études au Conservatoire de Budapest, Tzumo a rejoint le Thelonious Monk Institute aux Etats-unis, ce qui lui a permis de faire partie du Monk Institute Band et de côtoyer Terence Blanchard, Wayne Shorter, Herbie Hancock. En solo, il a enregistré l'album Improvisations.
Le trio hongrois accueille ici le guitariste Lionel Loueke.
Né au Bénin, Loueke est passé ensuite par la Côte d'Ivoire avant de gagner Paris puis le Berklee College de Boston. Aux Etats-unis, il a joué avec Terence Blanchard, Charlie Haden, Herbie Hancock et Avishai Cohen. En 2008, il a enregistré Karibu avec Herbie Hancock en invité, puis Hope avec Kevin Hays, Heritage en 2012 avec Mark Guiliana, Gaia en 2015, avec son trio, et on vient de l'entendre avec Nicolas Kummert, sur l'album La Diversité.



Au répertoire de Pannon Blue, six compositions du saxophoniste, une de Tzumo (Don't turn back) et deux compositions-improvisations collectives (Ad Libitum N°1 et 2).
Selon les plages, Kristóf Bacsó virevolte du soprano au ténor, alors qu'il joue souvent de l'alto sur ses albums précédents.
Ainsi sur Hanna is here, après une intro africanisante de Loueke (guitare et voix), le soprano incisif de Bacsó, avec l'apport du piano, se lance dans une mélodie chaloupée sur un tempo survolté. On retrouve Bacsó au soprano sur Who never came back, sur fond de claviers et guitare électrique mais aussi sur Don't turn back, seule plage sans guitare de l'album.
Sur les autres plages, comme sur Ad Libitum, courte plage intimiste sur laquelle  saxophone, guitare et piano se marient ou sur Nu Blu, Bacsó joue du ténor.
Pour sa part, Pannon Betyars on the land of the pampas s'ouvre sur un solo de ténor, avec effet d'écho, pour déboucher sur un beau solo de guitare à l'énergie rock.
A différentes reprises, Tzumo, une main sur le piano, l'autre sur ses claviers (Fender ou synthé), mêle sonorités acoustiques et électriques comme sur This one for Ornette.
Quant à Lionel Loueke, il multiplie les effets sur sa guitare, par exemple effets percussifs, avec effets de voix, en parallèle avec le Fender de Tzumo, sur Angry little pig.
Enregistré live à l'Opus Jazz Club du BMC, l'album restitue parfaitement toute la vitalité du quartet, sa spontanéité et son envie de partage: un album à découvrir.



Claude Loxhay