Chad McCullough – Forward (bl)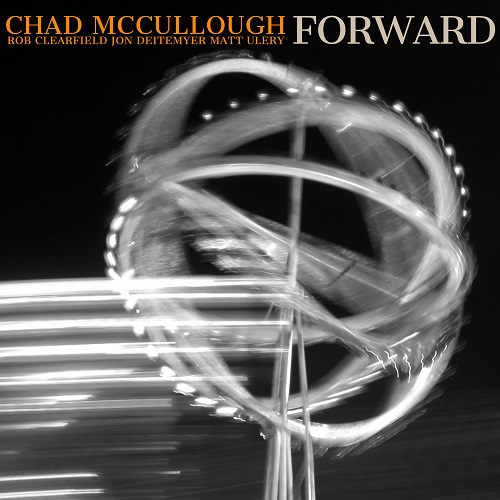 C
Outside In Music
Bij de lockdown midden maart 2020 werd een tournee van Chad McCullough met pianist Bram Weijters onderbroken en ze namen toen in duo 'Pendulum' op (lees HIER). McCullough zag tijdens de lockdown kans om zijn album 'Forward' internationaal te lanceren en wil dit nu ook in het najaar bij ons introduceren. Hij doet daarbij beroep op zijn vertrouwde kwartet met pianist Bram Weijters, bassist Piet Verbist, drummer Lionel Beuvens.
Met 'Forward' absorbeert Chad McCullough de levendige muziekscene van Chicago waarnaar hij zeven jaar geleden verhuisde vanuit Seattle. Nog voor hij naar Chicago trok, was bassist Matt Ulery een van zijn helden. Hij was betrokken bij twee albums van Ulery: 'Festival' (2016) en 'Sifting Stars' (2018) en ze traden op tijdens het Chicago Jazz Festival in 2018. Met Jon Deitemyer en Rob Clearfield, die overigens nu in Parijs verblijft, ontstond een nauwe band gedurende enkele liveconcerten. Chad McCullough schreef dan ook alle nummers voor dit album met deze muzikanten in gedachten. Bovendien vroeg hij Ryan Cohan op tracks 2, 4 en 6 voor bijkomende arrangementen en effecten.
Het album opent met het evocatieve 'November Lake' waarin pianist Clearfield en de ritmesectie perfect meedrijven op de warme tonen van McCullough.
Het impressionistische 'Oak Park' verwijst naar architect Frank Loyd Wright's studio. McCullough is fan van architectuur en vond daar inspiratie. Hij componeerde het eigenlijk in Antwerpen tijdens een tournee met Bram Weijters die er mee aan schreef. 'Gentle' vervolgt nostalgisch en gaat over in het introspectieve 'Grace at the Gavel or Grace at the Gallows' met een fijne bassolo en chill-effecten van Cohan.
De laatste twee nummers vonden inspiratie bij persoonlijke belevenissen. 'Focal Point' is een herinnering aan een vakantie met zijn verloofde aan de Michigan kust en het exploreren van de vuurtorens vastgelegd met een vintage camera. 'Water Tower Sunset' is al even idyllisch met het ondergaan van de zon tegen de achtergrond van een watertoren. Hierin legt Cohan kabbelende effecten en Clearfield minimalistische pianotoetsen over de warme sound van McCullough.
In 'Forward' koppelt Chad McCullough de meditatieve verstilde tijd vanuit het eigen verleden en heden naar hoop in de toekomst. Zijn poëtische en diepmenselijke trompetsound grijpt gretig in op de emotie en een goed gevoel.
Topalbum!
© Bernard Lefèvre




Musici:
Chad McCullough (trompet, bugel)
Rob Clearfield (piano)
Matt Ulery (bas)
Jon Deitemyer (drums)
Ryan Cohan (keyboards, programming)


Belgische release tour oktober 2021
21/10: Rataplan, Antwerpen
23/10: Appeltuin Jazz, Leuven
24/10: Jazz9, Mazy
25/10: The Preacher, Geraardsbergen
26/10: Hot Club, Gent
28/10: GC Felix Sohie, Hoeilaart