Christian Bleiming: Boogie-Woogie with a touch of Blues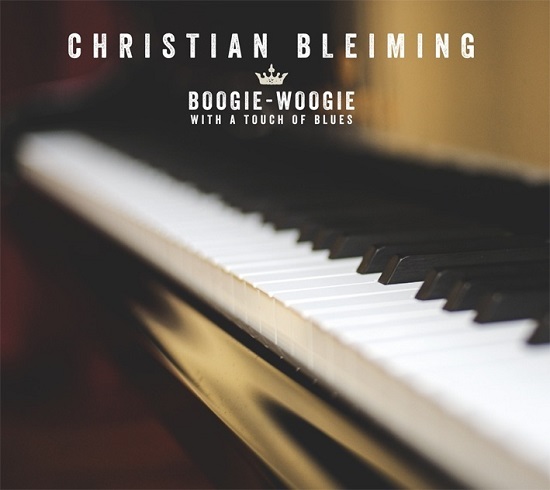 C
Acoustic Music Records CD 319.15331.2
veröff. Nov. 2014
Boogie Woogie – was ist das denn, werden Nichtkenner fragen. Ist das Jazz oder was? Boogie-Woogie entwickelte sich in den USA, wie ja auch Blues und Jazz, und war dort die angesagte Tanzmusik der 1940er Jahre. Zu charakterisieren ist die Musik als Swing, entstanden aus dem sogenannten East Coast Swing, einer vereinfachten tänzerischen Form des afroamerikanischen Lindy Hop der 1930er Jahre. Nur in Europa benutzt man für diese Tanzform den Begriff "Boogie-Woogie".
Dieser Musikrichtung hat sich auch der Münsteraner Pianist Christian Bleiming verschrieben. Ihm zur Seite steht bei der aktuellen Einspielung – bereits das neunte Album Bleimings – die Vokalistin Romana Dombrowski, die uns mit wohltuendem Timbre Titel wie "Your Heart Is As Black as Night" von Melody Gardot zu Gehör bringt. Das Trio komplettiert der Gitarrist Amandus Grund, der mit Bleiming herrlich im Duett spielt oder bisweilen auch den stimmführenden Part übernimmt. Vor vier Jahrzehnten kam Bleiming, so schreibt er auf der Innenklappe des Covers mit Boogie-Woogie in Berührung. Seither begleitet ihn diese Musik.
Insgesamt 17 Titel sind auf dem aktuellen Album zu hören. Teilweise sind es Titel, die wie "Backstreet Blues" bereits auf früheren Einspielungen zu hören waren, teilweise aber auch neue Eigenkompositionen und Neueinspielungen. Letzteres gilt u. a. für die Duette mit Amandus Grund, genannt sei in diesem Fall "Boogie-Woogie On A Riff". Mit diesem Titel eröffnet Bleiming auch sein hexerisch schnelles Tastenspiel. Bleiming bedient sich vielfach auch Standards des Boogie-Woogie, die er eigens arrangiert und interpretiert. Dabei denke man nur an den Willie Dixon-Titel "I Just Wanna Make Love To You". Selbst vor Canned Heat, diesen Präriecowboys des Rocks, schreckt Bleiming nicht zurück und macht aus dem eher behäbigen Rocktitel eine flotte Nummer: "Goin' Up The Country".
Wer bei Boogie-Woogie ruhig sitzen bleibt, der ist selbst schuld. Bereits die erste Nummer geht in die Beine und lebt von den eingängigen Riffs des Gitarristen Amandus Grund, die von Bleimings flinkem Fingerspiel auf den Pianotasten abgelöst werden. Mit lasziver und ein wenig rauchiger Stimme singt Romana Dombrowski "Your Heart Is As Black As Night". Einen Löffelspitze Blues fügt Amandus Grund mit seinem Spiel der Interpretation der Komposition von Melody Gardot hinzu. Der dritte Titel der Einspielung ist dann ein Eigengewächs, bei dem sich Grund und Bleiming dem "Blues At Night" hingeben. Eigenkompositionen und Fremdkompositionen im neuen Gewand wechseln sich auf dem vorliegenden Album stets ab, doch es bleibt immer bei Boogie-Woogie mit bluesigem Flair.
Für alle diejenigen, die der Generation Woodstock angehören, ist "Goin up the Country" von Canned Heat ein Begriff. Doch verdutzt werden sie feststellen, dass man aus der Rocknummer auch einen Boogie-Woogie zaubern kann. So klingt das Stück dann eher nach Rock 'n Roll als nach Country Blues Rock. Übrigens der Bandname leitet sich von Tommy Johnsons klassischem "Canned Heat Blues" her. Also ist es nicht so weit hergeholt, wenn sich Bleiming mit Canned Heat befasst, ist er doch selbst ein Grenzgänger zwischen Blues und Boogie-Woogie. Neben einer sehr getragenen Ballade wie "Women Be Wise" - man fühlt sich in eine Bar der 1930er Jahre versetzt, in der eine afroamerikanische Sängerin und ein Pianist, die gut gelaunten Gäste bespaßten - ist auch der bekannte "Honky Tonk Train Blues" auf dem Album zu hören. Bleiming hat ein stimmiges und rundes Hörerlebnis zusammengestellt, das die Zuhörer auch dazu animiert, mal wieder das Tanzbein zu schwingen. Gut so! © ferdinand dupuis-panther
Summary in English (press release)
On his ninth CD, Christian Bleiming shines with a youthful energy that belies the long years of his musical career. The Westphalian Boogie King elicits swinging, rousing, boogie-woogie,as well as sensitive blues from his grand piano, off ering both classics and original compositions. Romana Dombrowski (vocals) and Amandus Grund (guitar) round out the album's experience by providing additional highlights on many of the pieces.
© ferdinand dupuis-panther
CHRISTIAN BLEIMING: Boogie-Woogie with a touch of Blues
1. Boogie Woogie On A Riff (Christian Bleiming) 2:19
2. Your Heart Is As Black As Night (Melody Gardot) 2:07
3. Blues At Night (Christian Bleiming, Amandus Grund) 3:50
4. Goin' Up The Country (Al Wilson) 3:06
5. Pinetop's Delight (Christian Bleiming) 3:26
6. Women Be Wise (Sippie Wallace) 5:25
7. Backstreet Blues (Christian Bleiming) 3:53
8. TNT Swing (Christian Bleiming, Amandus Grund) 2:58
9. Baby, What You Want Me To Do (Jimmy Reed) 4:04
10. Rockin' For Jimmy (Christian Bleiming) 2:46
11. Istanbul, Not Constantinople (Jimmy Kennedy, Nat Simon) 2:10
12. C.B.'s Shuffle Blues (Christian Bleiming) 3:21
13. Lloyd + Lloyd-Boogie (Lloyd Glenn) 2:55
14. Until My Baby Comes Back Home (Nora Lee King) 3:10
15. C. B.'s Boogie ( Christian Bleiming) 2:26
16. I Just Wanna Make Love To You (Willie Dixon) 5:32
17. Honky Tonk Train Blues (Meade "Lux" Lewis) 3:35

Informationen
Label
www.acoustic-music.de
Musiker
www.bleiming.de