Alex Bird - You Are The Light And The Way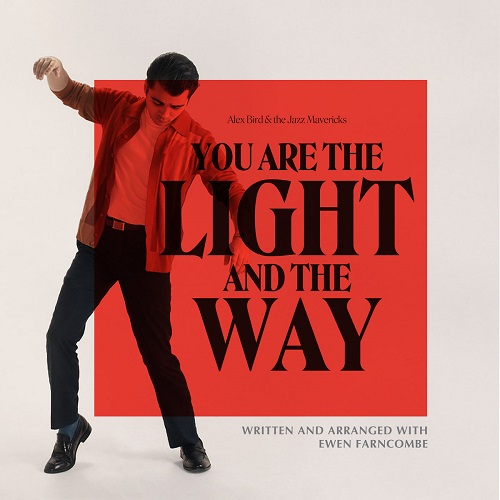 A
Eigen beheer
Het vervolg op 'Whisky Kisses' met een gewijzigde groepsbezetting en een nog sterkere impact. Alex Bird is "the real thing" voor wie houdt van onvervalste croonerstijl.
"Het is er allemaal: de stem, de klasse, de sensualiteit en bovenal het gevoel voor zowel pathos als swing", schreven we over zijn debuut (lees HIER) . Lofbetuigingen die opnieuw van pas zijn voor 'You Are The Light And The Way'. Bird schreef wederom alle teksten. De muziek componeerde hij samen met zijn pianist Ewen Farncombe die tevens de arrangementen voor blazers en strijkkwartet pende. En toch is dit geen copy-paste. Ondanks het uitgebreidere instrumentarium klinkt alles veel soberder en zelfs wat somberder. De warm fluwelen vocalen zorgen hierbij echter voor een vertrouwd gevoel. En bovenal is er weer die elegante stijl.
De openingstrack (en het titelnummer) is meteen raak. Een korte a capella intro, wat bluesy piano en "a little bit of soul" gecreëerd met blazers, vibrafoon en Hammond, dit onder lichte hoogspanning. Vervolgens schakelen Bird en zijn Jazz Mavericks in 'Where The Blackbird Sings' moeiteloos over van gipsy melancholie en mambo naar tango zonder dat ze op een cliché betrapt kunnen worden. In 'Way Back Home' duiken tristesse en nostalgie op, helemaal in de stijl van Chaplin zijn 'Smile' met als groot voorbeeld de versie van Nat King Cole.
'My Cutie Pie' kadert in de revival van "the roaring twenties" met hoogstaande solo's van trompet en trombone. Een aansluiting bij de tv-reeks 'Frankie Drake Mysteries' waarin hij de rol van Al Capone speelt ('Boardwalk Empire' maar met humor en vrouwelijke hoofdrollen!). Chet Baker fans zullen Bird appreciëren voor 'Sittin' By My Lonesome'. Dat de man zijn klassiekers kent, bewijst hij keer op keer. In 'Fool For Love' creëert hij zo een opruiende sfeer die het midden houdt tussen 'Fever' en 'West Side Story' zonder dat het tot een finale "rumble" komt.
En zo gaat het verder, nummer na nummer. Dit is echter geen gratuite recyclage maar een zeer persoonlijke aanvulling van "The Great American Songbook" met na 'Whisky Kisses' (Best Jazz Song World Songwriting Awards, 2020) nu een nieuwe instant klassieker, 'Thinkin' Bout You Tonight'. Dat Alex Bird gevraagd werd voor een promoclip van champagne Veuve Clicquot is niet echt een verrassing.
© Georges Tonla Briquet



Bezetting:
Alex Bird: zang
Ewen Farncombe: piano, B3
Eric West: drums
Leighton Harrell: contrabas
Jacob Gorzhaltsan: saxofoon, klarinet
+
Alexander Brown: trompet
Jesse Ryan: altsaxofoon
Patrick Smith: baritonsaxofoon
Tom Richards: trombone
&
William Lamoureux: viool
Mo Mitchell: viool
Andrew Chung: viool
Jill Sauerteig: cello

www.alexbird.net