Augusto Pirodda Quartet - A turkey is better eaten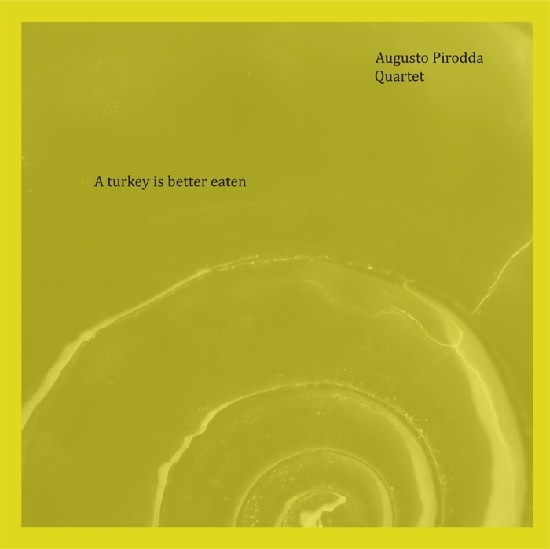 A
El Negocito
Augusto Pirodda est né en 1971 à Cagliari. il a abordé le piano à 6 ans et a suivi des master classes avec John Taylor (le pianiste de Kenny Wheeler), Franco D'Andrea et Roberto Cipelli (le pianiste du quintet de Paolo Fresu). Après un passage au Conservatoire de sa ville natale, il s'est inscrit au Conservatoire de Den Haag avec Rob Van Bavel et Bert van den Brink comme professeurs. Après quoi, il a regagné l'Italie pour jouer avec le trio vocal Balentes puis il s'est établi à Bruxelles.
Après un album solo, "Moving" en 2007, il a enregistré une session aux Etats-Unis en 2009, avec Gary Peacock et Paul Motian: l'album "No Comment" est sorti, deux ans plus tard, sur un label allemand.
Ici, en Belgique, il s'est logiquement lié d'amitié avec Manolo Cabras, Sarde comme lui: sur "No Comment", il reprend d'ailleurs deux compositions de son ami. Ici, en quartet, on le retrouve avec Ben Sluijs et son alto à la sonorité fluide, et avec la rythmique fidèle du saxophoniste, que ce soit au sein de son trio, de son quartet avec Jeroen Van Herzeele ou du quintet The Unplayables avec Erik Vermeulen: soit Manolo Cabras à la contrebasse et Marek Patrman à la batterie.
Au répertorie de l'album, quatre composition d'Augusto: If I wear a bell, Pea Road, Per Claudia et Blah blah... Bley qui révèle une évidente filiation avec le pianiste américain et notamment avec son trio en compagnie de Jimmy Giuffre. Complètent le répertoire, deux thèmes de Manolo (le très swing ESDA et Scotty que le contrebassiste joue en solo), une composition de Marek (Psalm nr 5) et quatre improvisations-compositions collectives qui révèlent bien la spontanéité et le sens de l'écoute des quatre complices: "I have finished listening to your recording with great pleasure. What I hear in your music is the essence of improvisation. Spontaneity is only possible if we forget about ousselves and listen... You really express this essence with joy, passion, energy and listening." (Gary Peacock dans les liner notes).
Bref une musique très personnelle qui marie sens de la mélodie (If wear a bell, Per Claudia), échappées libertaires (A turkey is bette eaten) et énergie post bop (ESDA).