TS027
Plucking the underdog - Ukulele forms Vol.1
Stephen Godsall
It all started when I bought a cheap ukulele for a wild camping trip.
purchase on BANDCAMP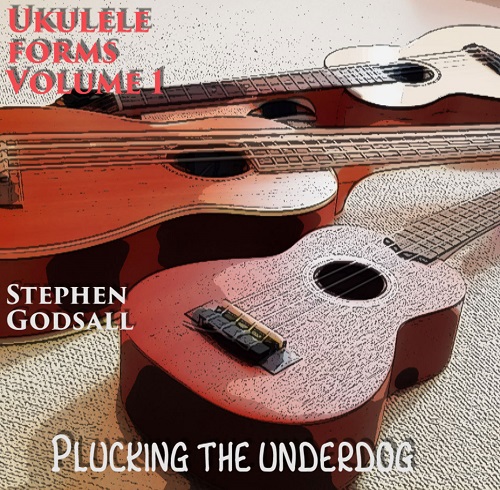 STEPHEN GODSALL - PLUCKING THE UNDERDOG: UKULELE FORMS VOL.1
    
1) Plucking the underdog
2) One thing (Ukulele roadtrip)
3) West Pennine Winter
4) Piglets
5) Uke-otronics
All tracks composed by Stephen Godsall

read the interview with Stephen Godsall HERE


"It all started when I bought a cheap ukulele for a wild camping trip - I fell in love with it and was amazed at how well it records and how expressive it can be. I think of the ukulele as an underdog because it's sometimes ridiculed and underused, particularly in jazz. After trying out uke based pieces in several jazz idioms I thought of the album "Guitar forms" by Kenny Burrell and had the idea of attempting something similar on ukulele. This is the first of three EPs exploring that idea, featuring acoustic and electric ukuleles and also lots of ukulele percussion."


The Tracks :
"Plucking the underdog" features interplay between tenor ukulele and banjo. The tune is inspired by Charles Mingus and Thelonious Monk. The percussion is all played on ukulele too.

"One thing" is based on a roadtrip across Africa by my friend and ace photographer Paul Close; along the way he took portraits of people he met and asked each of them "What is the one thing that would make your life better?
The lyrics are based on their responses. Orchestra Baobab are a favourite of mine and this music owes a lot to them. You can hear the contrast between the Kala soprano uke in the left channel and the Flight tenor uke on the right.

"West Pennine Winter" was written for Paul Mansell's "The ukulele sessions". Everything is played on a Flight tenor ukulele, including electronic sounds and percussion.

"Piglets" is a crazy fusion of Gypsy jazz and electropop, written as a celebration of "pannage", the Autumn tradition where piglets are set free in the New Forest to eat acorns.

"Uke-o-tronics" explores the electronic ukulele with 18 different electronic treatments, one riff, one ukulele and a Zoom MS-100BT multi FX pedal.
releases April 10, 2022


Credits :
Stephen Godsall - compositions, production, ukulele, guitar, banjo, bass, drums.
Laura Taylor - vocals on track 2
Len Hurst - saxophones on track 2


THE REVIEWS :
"Stephen Godsall is a multi instrumentalist based in Dorset England, who plays in the 8 piece Jazz Band Blue Tides.   I had the pleasure of having Stephen as a guest on the Ukulele Sessions a little while ago so I was excited to hear that he had a new E.P. released called 'Plucking the Underdog Ukulele Forms Volume 1'.

The E.P. has 5 tracks on it and if you are a fan of Django Rheinhardt or Lyle Ritz then you wont be disappointed.  The ukulele features heavily in all the tracks, as do many other stringed instruments.  I would say that the E.P. has its roots firmly based in gypsy jazz - but it also runs much deeper. You can really feel some Latin grooves in there, as well as some samba and Bossa Nova.  It could definitely hear the influences of Joe Pass and maybe even a little Luiz Bonfa in there.   The album is recorded exquisitely well, and the playing is of an incredibly high standard.  It's impossible not to smile while listening to the music.  Diminished chords are racing up and down the fretboard, while syncopated rhythms pulse through your head.  

The first track 'Plucking The Underdog' is a great interplay between a ukulele and banjo.  The banjo provides a solidi, staccato type rhythm, allowing the ukulele to go crazy above it playing the melody.  A lovely, uplifting track.  It's almost like having the most exhilarating day out at the park after being locked up for a year.

Another favorite track is Uke-otronics where Stephen experiments with some lonely echo and distortion on the ukulele.   Again a very uplifting track, whilst being very textured and layered with interesting riffs. I love the way Stephen is pushing the ukulele boundaries by using computers and various effect pedals.

In Piglets Stephen shows off his wonderful virtuosity.   Stephen uses the uke mainly as a lead instrument in this piece. Unlike Lyle Ritz there is not much Chord Melody playing going on - much more intricate solo's over a pulsating rhythm.  This really allows the ukulele to shine and show that although it ma=y be small - it sure is not lacking in capability.

I have really enjoyed listening to the E.P. - and will continue to do so.  There are not that many great ukulele E.P's out there - but this is one."
Paul Mansell, Feb. 2022

You can download the E.P. at https://jazzhalo.bandcamp.com/album/plucking-the-underdog-ukulele-forms-vol-1
and it is available from April 10th.  

In the meantime you can hear the title track here:



Alternatively for more information on Stephen visit www.stephengodsall.co.uk


"De Britse componist en multi-instrumentalist Stephen Godsall, gevestigd in Dorset (Zuidwest Engeland), bracht eerder al het album  'Atlantic Skies'(2021) uit.
'Plucking The Underdog' is de eerste ep van drie waarin hij verschillende aspecten van ukelele als moderne jazzvorm exploreert. Hij kocht ooit voor wildkamperen een goedkope ukelele en was verbaasd hoe expressief die kan klinken. Voor hem is ukelele een soort 'underdog' omdat er meestal nogal denigrerend wordt mee omgegaan, vooral in jazz. Hij zocht naar bepaalde jazzideeën en kwam uit bij het album 'Guitar Forms' van Kenny Burrell. Iets dergelijks wilde hij uitproberen op ukelele. 'Plucking The Underdog' is een eerste verkenning van dat idee met akoestische als elektrische ukelele en ook vormen van ukelele percussie. Deze ep telt vijf nummers.
In de eerste track: "Plucking the underdog" hoor je wisselend tenor ukelele en banjo evenals ukelele percussie. Godsall liet zich hierbij inspireren door Charles Mingus en Thelonious Monk.
Voor 'One Thing' (Ukulele Roadtrip) schreef Stephen Godsall zowel de woorden als de muziek op basis van een roadtrip van een vriend-fotograaf, Paul Close, doorheen Afrika ('Snakebox Odyssey' zie HIER). Close portretteerde Afrikanen en vroeg ze terwijl 'What is the one thing that would make your life better?'. Godsall verwerkte in de lyrics hun antwoorden. En voor de muziek inspireerde hij zich op Orchestra Baobab. Je hoort het contrast tussen de Kala sopraan ukelele in het linker kanaal en de Flight tenor ukelele in het rechterkanaal. Laura Taylor die al met het Britse National Youth Jazz Orchestra en Jazzmo Quartet zong, geeft er een feelgood swing aan.
'West Pennine Winter' schreef Godsall voor Paul Mansell's 'The ukulele sessions'. De uitvoering is op Flight tenor ukelele, inclusief electronics en percussie. Het roept het weidse winterlandschap op.
'Piglets' is een fusie van Gypsy jazz en electropop en wil een soort ode zijn aan de herfsttraditie om de varkens in de New Forest uit te laten om eikels te verorberen.
'Uke-o-tronics' slaat op 18 verschillende elektronische manieren van ukelele bespelen.
Een wat ongewone benadering van jazz en daardoor toch even wennen, maar al snel intrigeert de variatie aan klankkleuren door het swingende improvisaties op de ukelele, subtiel onderlijnd door percussie en effecten.

© Bernard Lefèvre, Jazz'halo


" "It all started when I bought a cheap ukulele for a wild camping trip," says Stephen Godsall, whose EP 'Plucking the underdog; Ukulele Forms volume 1' is out on April 10th, 2022 on the Jazz'halo label and also will be available on Bandcamp.

"It's the latest step in my quest to promote ukulele as a distinctive voice in new jazz. " continues Stephen. "The first of three EPs planned this year exploring jazz ukulele idioms with 15 new compositions."

On the ukulele, Stephen comments, " I think of the ukulele as an underdog because it's often under-rated in jazz. After trying out uke-based pieces in several jazz idioms, I thought of the album 'Guitar Forms' by Kenny Burrell and had the idea of attempting something similar on the ukulele. I was amazed at how well it records and how expressive it can be."

The title for the album came about because Stephen felt the ukulele is an under-rated instrument and references the Mingus autobiography ' Beneath The Underdog.'

Track 1 'Plucking The Underdog' is inspired by Charles Mingus and Thelonious Monk. It features interplay between tenor ukulele and banjo, with all the percussion played on the ukulele. The track is a light, fanciful ambling number with the clear, precise notes of the ukelele playing off against the banjo's denser strings, which proves an interesting playmate. The theme is echoed throughout the track and worked around in various complexity.

Track 2 'One thing' is based on a road trip across Africa by Stephen Godsall and his friend, photographer Paul Close. As they travelled, Paul took portraits of people he met and asked each of them, "What is the one thing that would make your life better?" The lyrics are based on their responses. The vocals of Laura Taylor add a gentle commentary to the number as she asks the question and gives the answers, including "A building for our school, to see my children go to university and I would choose a car, a house, and more rainfall for this desert sand." "I would search for love, and end to crisis and peace in our land". The track conveys the essence of Africa in the lilt and pulled-back rhythms, which sashay and sway, and the sax adds depth and contrasting tones.

There is a delightful contrast between the soprano ukelele and the tenor ukelele . The sax solo from Len Hurst is superb and has a laid back feel.

Track 3 'West Pennine Winter' was written for Paul Mansell's 'The ukulele sessions.' Everything is played on a tenor ukulele, including electronic sounds and percussion. The track is inspired by the West Pennine Moors where Stephen used to live and aims to recreate a sense of big skies and snowy landscape beauty. The overdubbed orchestral effects and percussion add to the ethereal atmosphere.

Track 4 'Piglets' is a mad-cap fusion of Gypsy jazz and electropop. It was written to celebrate the practice of pannage, where pigs are set free to roam to devour acorns each Autumn in places like the New Forest ( the pigs eat the acorns, preventing the wild roaming ponies from being poisoned by eating them). This track is fun, and you can imagine pigs as they caper and snuffle in the ground, all muddy noses and rolling eyes, the contrasting rhythms working wonders. Track 5, "Uke-o-Tronics," explores the electronic ukulele with 18 different electronic treatments. One riff, and one ukulele. It is interesting - not least for what a ukulele can do with a touch of electronics.

This album is enjoyable and a revelation for someone ( like me) who has hitherto thought of a ukulele as a minor instrument. Stephen Godsall has brought it out of the background and presented the ukelele family as versatile, interesting instruments that lend themselves to jazz well. there are four ukeleles –concert, soprano, tenor and baritone and the size, depth and way they are strung created different tones. They can be tuned in different ways ( the re-entrant with high G string is one way) and the family is a versatile one.

There is no reason ukuleles cannot suit jazz– we just don't often hear them in jazz music. Maybe that will change. Stephen Godsall proves it can easily play fast-paced riffs, slow-burning melodies, and voice many different effects."

Reviewed by Sammy Stein
https://www.jazzviews.net/