TS002
Spring Cleaning
Gilbert Isbin with Cameron Brown

"Isbin's original and often off-beat compositions have a natural home-spun feeling that sounds entirely new. Isbin's style leans heavily on rhythmic chording, with broken chords instead of single-note lines. This is a unique and inviting disc."
Carl Baugher

purchase on BANDCAMP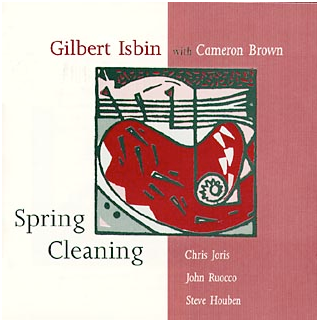 "SPRING CLEANING" - GILBERT ISBIN with CAMERON BROWN
1) Spring Cleaning
2) Fresh Breath (Isbin / Brown)
3) Troubled
4) Free Flight To A'dam (Isbin / Brown / Houben / Joris)
5) Wawacou (Isbin / arranged by Cameron Brown)
6) Warm Your Heart
7) Why Was That?
8) Wintertime
9) Here, My Dear (Isbin / Brown)
10) Lift Your Feet
11) Buzz (Isbin / Joris)
All compositions by Gilbert Isbin except where indicated
Gilbert Isbin: classical and electric guitars
Cameron Brown: double bass
John Ruocco: tenor sax, alto clarinet and clarinet
Steve Houben: flute
Chris Joris: miscellaneous percussion and berimbau
Mark Van Overmeire: drums on (7)
recorded at STUDIO FIELDS, Braine-l'Alleud (Belgium), May 19 & 20 and June 22, 1992 by Didier de Roos
art work: Jan Scheir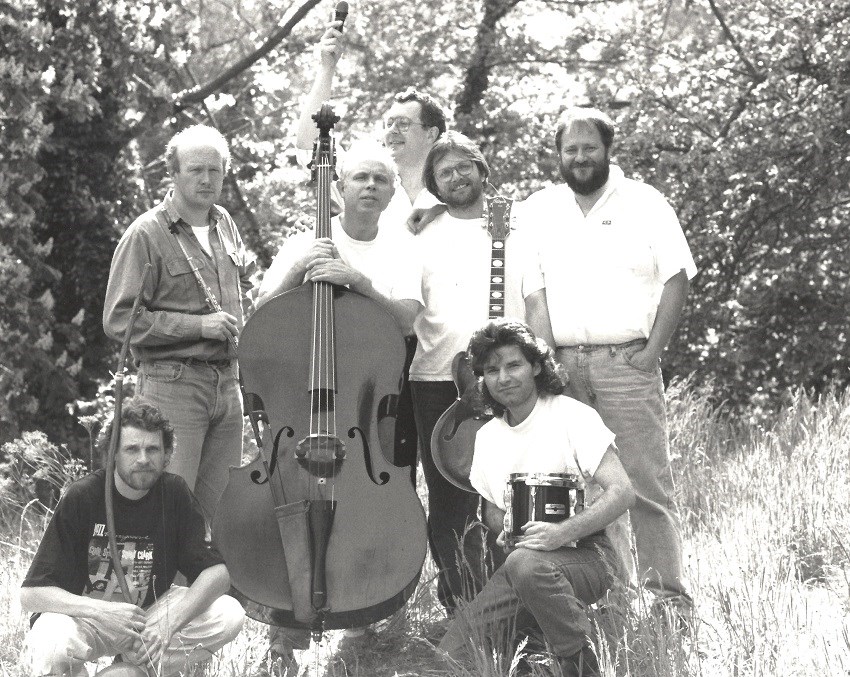 © Jacky Lepage



LINER NOTES:


Self-taught guitarist/composer Gilbert Isbin was born in Knokke on May 29, 1953. He's probably one of the best kept secrets in Belgian jazz.
After playing lute and baroque music for quite a while, his love for European improvised music and jazz prevailed. Especially Paul Bley's minimalistic approach, the introspective playing of Bill Evans and the compositions by Cuban master Leo Brouwer influenced him a lot. Thru' the years he built up his very personal style that is marked by strong melodies and subtle, inventive playing.
'Spring Cleaning', Gilbert's first album for the Jazz'halo label, illustrates what a fine composer and guitar player he is. Working with such great musicians as Cameron Brown, Chris Joris, John Ruocco and Steve Houben finally gave him the opportunity to record his compositions in the best possible way.
Jos Demol, September 1992


Gilbert Isbin's music: continuously being made!
Guitarist Gilbert Isbin (Knokke, May 29, 1953) has just finished his fourth album.
In this country, few musicians' work in progress is as carefully documented as his. And that doesn't seem a coincidence, as it gradually becomes clear that one of the prime, if not the most important characteristic of Isbin's music is that it is continuously being made.
He is inventing a totally distinctive and idiosyncratic musical universe, in the same way as he used to teach himself to play guitar, completely independent and on his own. Gilbert Isbin's music is reminiscent of jazz but also of numerous indefinable musics of the world. Out of the blending of various genres an entirely new folklore seems to arise.
Never before has the guitarist found himself in such an exquisite company as for this album: percussionist Chris Joris with his bizarre collection of instruments and his equally wayward version of all the music of the world, the faultless technique and the ever impeccable good taste of flutist Steve Houben, the dark warmth of John Ruocco's clarinets and especially the supple, sonorous momentum of Cameron Brown's double-bass. Brown is at the same time one of the most skilled and one of the most broadminded jazz-players of the moment. He has the rare gift of being able to put himself completely and without reserve at the service of another man's musical insights. From now on Cameron Brown's contribution will for ever be an integral part of Gilbert Isbin's dreamed soundscape: the dancing ostinato of 'Spring Cleaning', the duets of 'Fresh Breath' and 'Here, My Dear', the solo in 'Lift Your Feet', …
It makes Gilbert Isbin's adventures all the more exciting.
Marc Van den Hoof, September 1992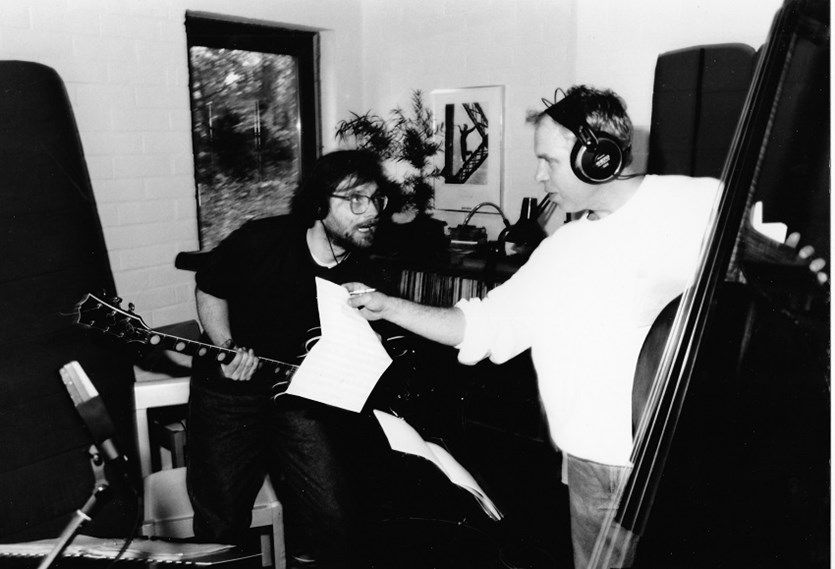 © Kurt Strubbe



SOME REVIEWS:
"Le projet jazzhalo.be de Jos Demol et Emile Clemens, magazine papier, site internet et organisateur de concerts (les Jazz'halo Music Days, de Sheila Jordan à Joëlle Léandre), a aussi été l'initiateur d'un label.
En 2022, Jazz'halo fête ses 25 ans d'existence, ce qui explique la ressortie de certains albums, comme ce 'Spring Cleaning' du guitariste Gilbert Isbin avec le contrebassiste américain Cameron Brown.
La formation éclectique de Gilbert Isbin lui a permis d'explorer aussi bien l'univers du jazz que de l'improvisation ou de la musique classique contemporaine.
Il a ainsi pu croiser, outre Cameron Brown, Joe Fonda, Vinny Golia, Ernst Reijseger ou Michel Godard, joué en trio "jazz" ou, pour 'Recall', proposer un duo entre luth et contrebasse de Scott Walton.
Pour jazz'halo, il a enregistré 'Water with a smile', avec la vocaliste Lea Van Loo; 'Blisters', un duo avec Joe Fonda; un solo, 'Solo Works' ou 'Venice Suite' avec Jeff Gauthier au violon et Scott Walton à la contrebasse. Pour ce 'Spring Cleaning', il présentait des formations à géométrie variable.
On entend Isbin surtout à la guitare classique avec une sonorité fluide (six thèmes de 'Spring Cleaning' à 'Here my dear' ou ce 'Warm your heart' joué en solo), parfois à la guitare électrique avec un son plus prégnant ('Free flight to A'dam', 'Why was that', 'Lift your feet') et, à la guitare "préparée" sur 'Buzz' qui clôt l'album.
Sur la plupart des compositions (sauf 'Warm your heart' et 'Buzz'), il retrouve la contrebasse allègre de Cameron Brown, un musicien qui a côtoyé George Russell, Archie Shepp, Don Cherry, Mal Waldron ou Dewey Redman et a fait longtemps partie du quintet de Don Pullen et George Adams, deux anciens du groupe de Charlie Mingus.
A leurs côtés, on retrouve Chris Joris sur une série impressionnante de percussions: udu, woodblocks, congas, gongs, tambourin, berimbau,  guimbarde, chimes ou wind tube, toujours avec l'objectif d'apporter des couleurs variées.
En alternance, selon les plages, deux souffleurs: la flûte toute en volutes vaporeuses de Steve Houben ('Spring Cleaning', 'Free flight', 'Wawacou'); le ténor chaleureux de John Ruocco ('Why was that', 'Lift your feet') ou les hypnotiques clarinettes ('Wintertime') et clarinette alto ('Troubled') de John Ruocco.
Un voyage printanier tout en couleurs que Gilbert Isbin perpétue comme le montre une vidéo récente du Jazzzolder de Mechelen."
Claude Loxhay, JazzMania.be, 01/2022



"An interesting, refreshing CD. "
Paul Etienne in "Jazz Freak" (Netherlands), November/December 1993
"De flambantes et flamboyantes bonnes nouvelles discographiques flamandes: des musiciens somme toute assez cool (au sens jazzique du terme) s'abreuvant à une sève rythmique où jazz et africanisme bien entendu s'entre vivifient joyeusement. "
"Viva La Musica" (Switzerland), February 1994
"A rather beautiful bite of mellow club jazz travelling, Belgian-style."
L. S. in "The Improvisor" (U.S.A.), volume X, 1993
"Isbin's original and often off-beat compositions have a natural home-spun feeling that sounds entirely new. Isbin's style leans heavily on rhythmic chording, with broken chords instead of single-note lines. This is a unique and inviting disc. "
Carl Baugher in "Cadence" (U.S.A.), May 1993
"Espérons un prolongement live de cette musique: la scène belge a besoin de démarches de ce type, qui évoluent aux antipodes de l'automatisme scolaire qui caractérise de nombreuses jeunes formations. Indispensable à vos oreilles. "
Jean-Pol Schroeder in "Jazz In Time" #40 (Belgium), 1992
"Isbin laisse une totale liberté aux intervenants, se contentant bien souvent d'un accompagnement à la guitare classique. Mais lorsqu'il se dévoile, c'est pour exposer des thèmes limpides, soit seul, soit avec le contrebassiste pour qui il semble avoir une certaine admiration partagée, et avec qui il a trouvé une nouvelle complicité. 'Spring Cleaning' est le disque d'un musicien qui semble avoir trouvé l'équilibre de la maturité. "
Philippe Renaud in "Improjazz" (France), December 1993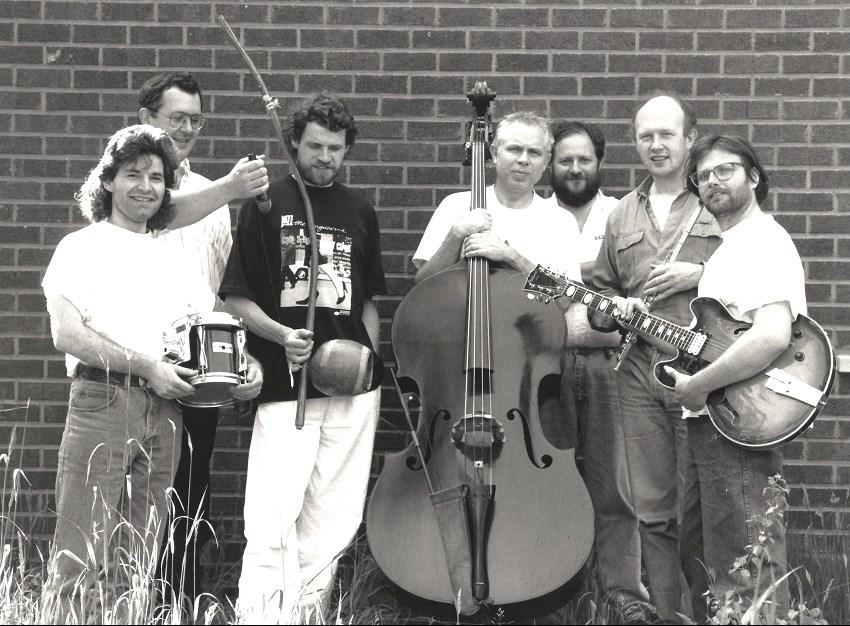 © Jacky Lepage

THE SESSIONS BRAINE L'ALLEUD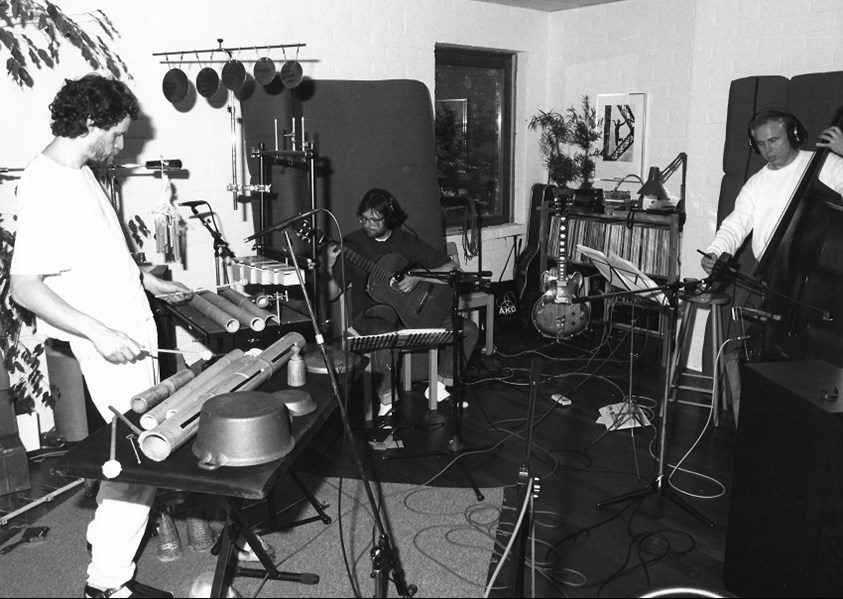 Chris Joris, Gilbert Isbin and Cameron Brown © Kurt Strubbe
Didier de Roos, Cameron Brown, Gilbert Isbin and Jos Demol © Kurt Strubbe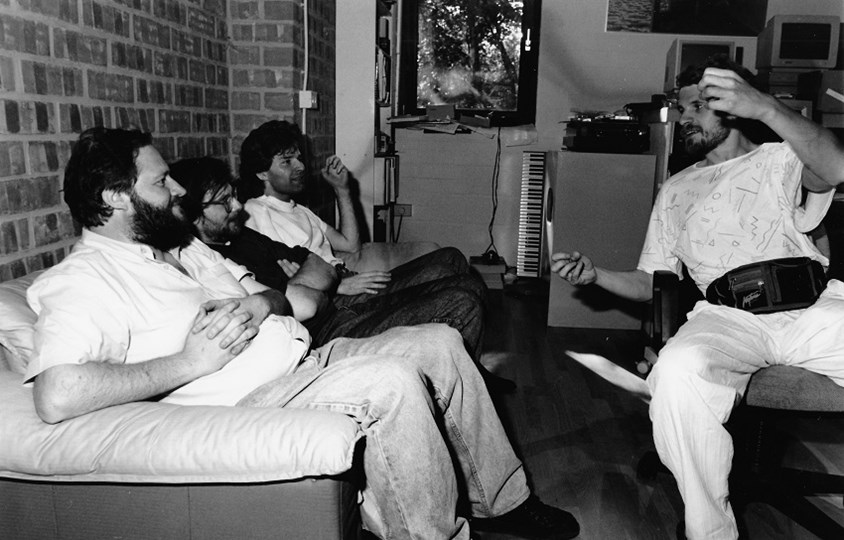 Jos Demol, Gilbert Isbin, Mark Van Overmeire and Chris Joris © Kurt Strubbe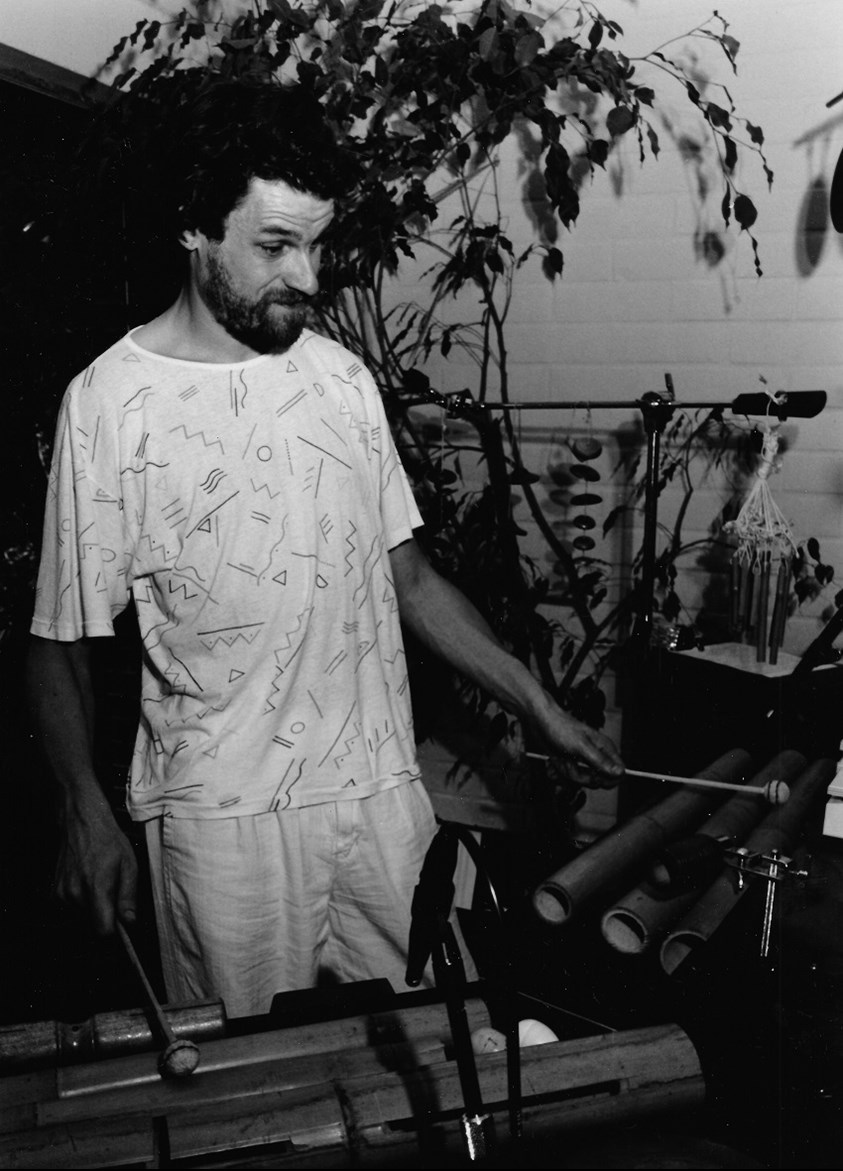 Chris Joris © Kurt Strubbe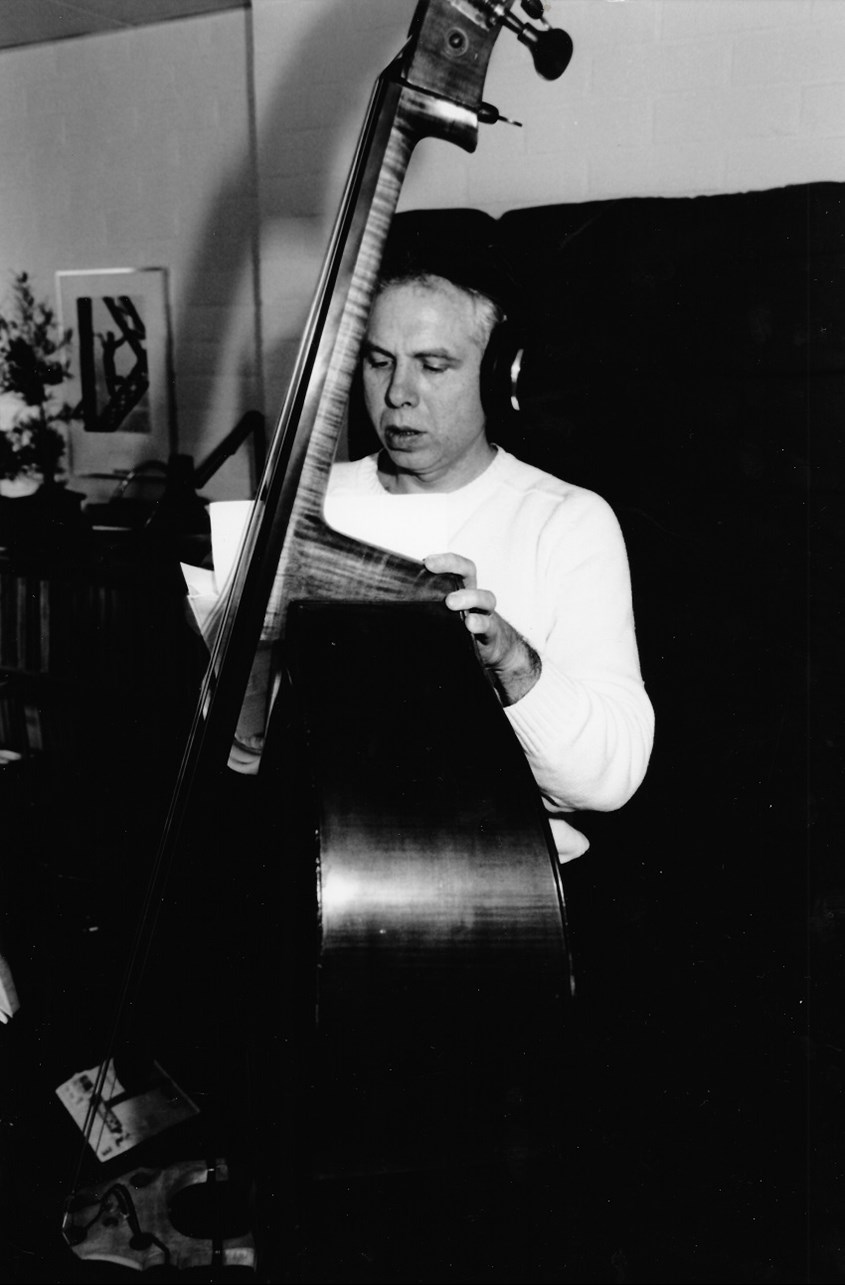 Cameron Brown © Kurt Strubbe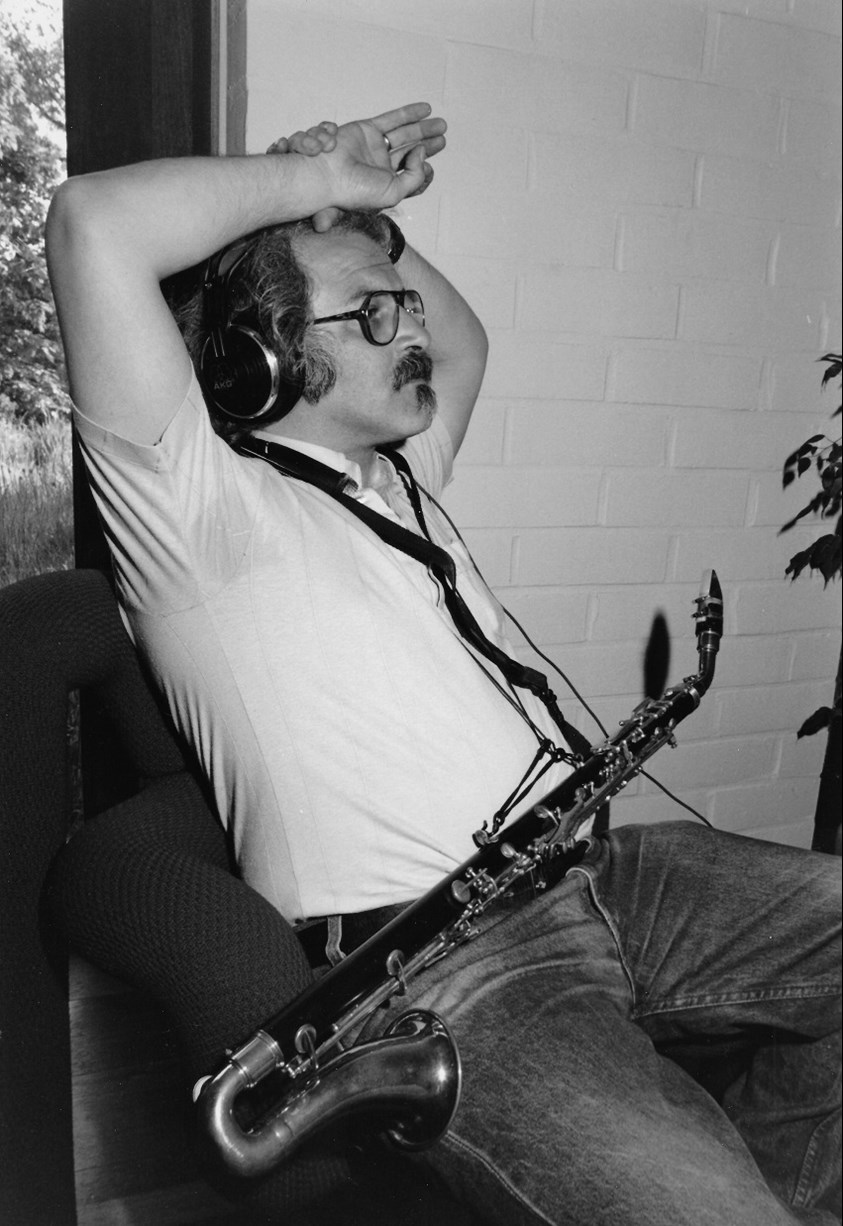 John Ruocco © Kurt Strubbe