Yves Rousseau Septet - Fragments (jpg)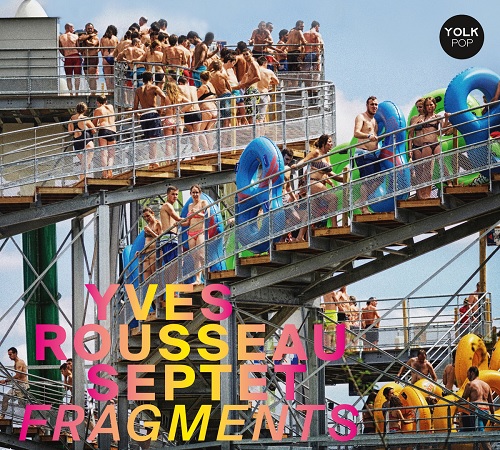 Y
Yolk Music / L'Autre Distribution
Adolescent, Yves Rousseau écoutait King Crimson, Soft Machine, Pink Floyd… et il n'était pas le seul : qui n'a pas été séduit par les orchestrations du flamand rose ou les improvisations exaltantes de la machine douce ? Que de souvenirs ! Merci au contrebassiste et compositeur. A sa super équipe de musiciens aussi : Géraldine Laurent au sax alto, Thomas Savy à la clarinette basse, Jean-Louis Pommier au trombone, Csaba Palotaï à la guitare, Etienne Manchon aux claviers, Vincent Tortiller à la batterie.
Lorsque Yves Rousseau évoque ses années de lycée entre 1976 et 1979, ce ne sont pourtant pas les années de gloire de « Soft Machine » (dont pour moi l'album « Fourth » de 1972 avec Mike Ratledge, Elton Dean, Hugh Hopper et Robert Wyatt représente le sommet dans la carrière du groupe), mais on sent cependant l'écoute de Robert Wyatt – dont « Fourth » fut le dernier opus avec Soft Machine avant de fonder « Matching Mole ».
Il n'est pas question dans « Fragments » de revisiter, de couvrir des titres de ces années glorieuses de l'école de Canterbury, des Pink Floyd ou de Genesis – seulement une citation en contrebasse solo de « In The Court of The Crimson King » de Robert Fripp, 02'16 de lyrisme avec les touches de claviers subtiles de Etienne Manchon - mais bien d'en respecter l'esprit. L'intention est très claire à partir du moment où le line-up de l'album s'éloigne assez fort de celui des groupes précités : le sax-alto, la clarinette basse et le trombone, bien loin d'être incongrus, se fondent parfaitement dans des arrangements tirés au cordeau, exigeants et appelant une écoute attentive et récompensée.
Les fulgurances dont parle Yves Rousseau dans les notes de pochette, il les traduit dans un langage partagé entre jazz, musique contemporaine et orchestration rockisante – écoutez « Efficient Nostalgia Part II » pour vous en convaincre. Si ces années septante furent aussi pour moi celles de la découverte enthousiaste d'un mouvement musical, le septet d'Yves Rousseau réveille des souvenirs brulants qui dépassent, et de loin, la vague « cover bands » stérile qu'on entend encore parfois sur nos scènes.
Un disque hautement recommandable.
© Jean-Pierre Goffin