Youn Sun Nah - She Moves On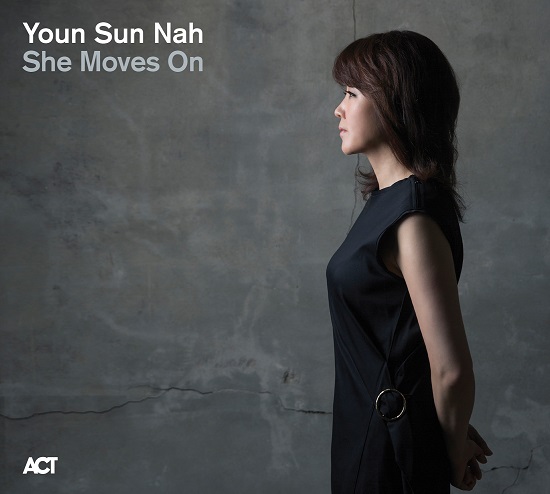 Y
Act
Née à Séoul, au sein d'une famille passionnée par le chant, Youn Sun Nah a d'abord chanté des gospels et participé à des comédies musicales, avant de s'installer à Paris en 1995 et de s'inscrire au CIM (Centre d'Information Musicale) pour se consacrer au jazz.
Dès 2001, elle enregistre l'album Reflet. A partir de 2007, elle se produit en duo avec Ulf Wakenius, guitariste suédois qui a joué avec Oscar Peterson, Ray Brown ou Niels Henning Ørsted Pedersen. En 2011, le duo est rejoint par Vincent Peirani à l'accordéon, Simon Tailleu ou Lars Danielsson à la contrebasse. Avec ces deux formations, elle parcourt les festivals, de Marciac à Montreux ou Montréal. Elle enregistre ainsi Same Girl en 2010 puis, en 2013, Lento avec Wakenius, Peirani, Danielsson et Xavier Desandre Navarre aux percussions.
Voici son neuvième album, un tout nouveau projet qui amorce un véritable tournant dans sa carrière: She Moves On, enregistré à New York, en compagnie de musiciens américains.
Au piano et claviers électriques, Jamie Saft qui a longtemps collaboré avec John Zorn (Electric Masada) et avec Dave Douglas.
A la contrebasse, Brad Jones qui a côtoyé Ornette Coleman. A la batterie, Dan Rieser qui a accompagné Norah Jones et a aussi joué avec les saxophonistes Chris Cheek et Seamus Blake.
Enfin, surprise pour ceux qui l'ont découvert au sein des Lounge Lizard, Marc Ribot aux guitares électrique et acoustique, sur 5 plages.
Pour ce projet "américain", à côté de deux compositions personnelles (Traveller, Evening Star qui ouvrent et ferment l'album) et une de Jamie Saft (Too late, avec un quatuor à cordes en invité), la chanteuse coréenne plonge dans un répertoire éclectique, entre folk et rock, à travers des emprunts à Joni Mitchell, Paul Simon, Lou Reed, Jimi Hendrix mais aussi deux traditionnels (Black is the color of my true love's hair ainsi que A sailor's life), le tout dans un esprit assez proche de ce que fait Norah Jones.
Ce qui nous vaut une série de ballades à l'esprit folk (No other name avec Marc Ribot à la guitare acoustique) ou bluesy (Fools rush in rube bloom avec Jamie Saft à l'orgue Hammond). Sur Teach the gifted children de Lou Reed, le tempo s'emballe pour un thème très groovy avec clavier et guitare électriques, comme sur Drifting d'Hendrix, avec un Marc Ribot déchainé. Jamie Saft passe du piano (Traveller) au Fender Rhodes ou au Wurlitzer (Too late) selon les atmosphères.
Un tournant dans la carrière de la chanteuse coréenne, mais abordé avec la même sensualité dans la voix.
Claude Loxhay
Concert:
Gaume Jazz Festival, 13 juillet 2017