Yves Robert Trio - Inspired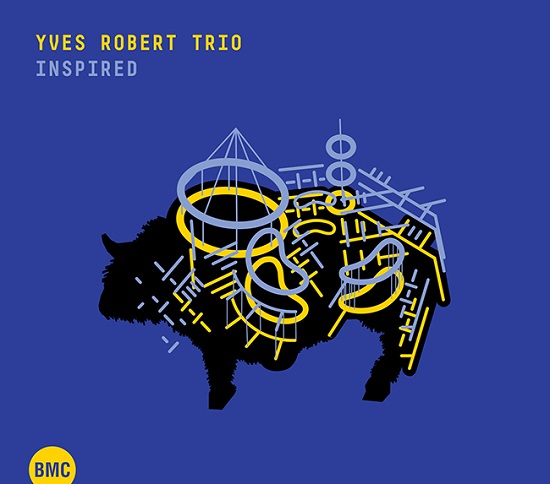 Y
BMC
Après ses études au Conservatoire de Vichy, Yves Robert a rejoint l'ARFI à Lyon (Association à la Recherche d'un Folklore Imaginaire) puis le GRIM à Marseille (Groupe de Recherche et d'Improvisation Musicale) et n'a pas tardé à croiser la crême du jazz français.
Pour se convaincre qu'il est un des solistes les plus convoités de l'Hexagone, il suffit de consulter sa discographie. On y retrouve les noms de Michel Portal (album "Anyway"), Louis Sclavis ("Ellington on the air", "Les Violences de Rameau"), Marc Ducret ("Gris"), Didier Levallet et son ONJ ("Deep Feelings"), Gérard Marais ("Katchinas", "Sous le vent" avec un sextet comprenant Henri Texier, Jacques Mahieux, Michel Godard et Jean-François Canape), François Corneloup ("Pidgin") ou David Chevallier ("Is that pop music?", avec David Linx et Christophe Monniot).
A son nom, il a enregistré deux albums, en quartet avec le guitariste Philippe Deschepper, "Tout court" et "Tout de suite", un en quintet avec Laurent Dehors, David Chevallier, Hélène Labarrière et Cyril Atef ("Eté") et "In Touch" en trio avec Vincent Courtois et Cyril Atef. Et, actuellement, il est professeur au Conservatoire d'Annecy.
Voici un autre trio enregistré à l'Opus Jazz Club du Budapest Music Center: un album justement intitulé "Inspired". A ses côtés, Bruno Chevillon, l'actuel contrebassiste de l'Orchestre National de Jazz d'Olivier Benoît ("Europa Paris", "Europa Berlin"), compagnon de route de Louis Sclavis ("Ellington on the air", "Chamber Music", "Danses et autres scènes"). A la batterie, le fidèle complice Cyril Atef, qui, après son passage à Berklee, a accompagné le saxophoniste Julien Lourau mais aussi les chanteurs Bernard Lavilliers, M. Bashung ou Louis Bertignac.
Au répertoire, rien que des compositions originales, deux signées par le tromboniste (Bien dans sa peau, Cahutchuca), une reprise à Vincent Courtois (Between the Bliss and Me), les sept autres cosignées par les trois complices-improvisateurs hors pair. Loin du style "classique" et lisse d'un J.J.Johnson ou Kay Winding, et en cela bien plus proche de Roswell Rudd, Yves Robert opte pour un traitement expressif du trombone, une sonorité éclatante, mêlée de "dirty tones", de growls, effets wa-wa ou trombone bouché (Insperiment) qui le rend très facilement reconnaissable.
A la contrebasse, avec pédale d'effets électroniques, Bruno Chevillon développe une sonorité profonde et franche, qui lui permet d'être soliste à part entière (belles intros sur Bien dans sa peau ou Spiritual thrill, beau passage à l'archet sur Before the Bliss).
Plus percussionniste que simple batteur, avec effets électroniques et de voix (La fabrication de l'instant, Between the Bliss and me, Cahutchuca), Cyril Atef adopte un jeu particulièrement coloré et très personnel. Tout au long de l'album, les rythmes échevelés et bigarrés (La fabrication de l'instant, Expirine, Brain wave), les déchaînements "free" (Ideas through Running) et les tempos plus lents, plus apaisés (Bien dans sa peau, Insperiment, Spiritual thrill) alternent avec bonheur.
Un concert emballant de musiciens "bien dans leur peau" et un album passionnant de bout en bout. A quand un concert en Belgique?

Claude Loxhay