Yuri Honing Acoustic Quartet: Desire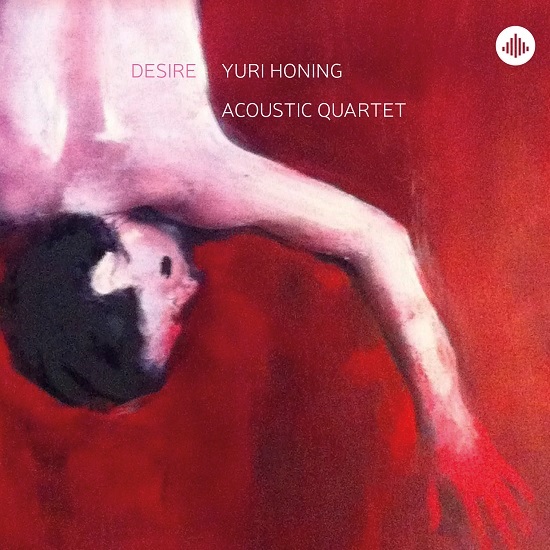 Y
Challenge Records | CR 73378
Zum Yuri Honing Acoustic Quartet gehören der Bandleader und Tenorsaxofonist Yuri Honing, der Pianist Wolfert Brederode, der Bassist Gulli Gudmundsson und der Schlagzeuger Joost Lijbaart. Das vorliegende Album ist von der Grundstimmung der aufgenommenen Musik her ein wenig melancholisch. Die Melodien werden bestimmt von einer gekonnten Melange aus Jazz, Pop, klassischer Musik und sogar mittelalterlicher Musik. "Lasciate Mi Morire" beispielsweise ist eine Referenz zu einem Madrigal von Claudio Monteverdi, das aus dem Jahr 1614 stammt.
Derartige Bezüge zu klassischer Musik scheinen kennzeichnend für eine gewisse aktuelle Strömung des Jazz in Europa. Man scheut sich nicht auf das musikalische Erbe zu verweisen, ob auf Bach, Beethoven oder andere Kompositionen der Vergangenheit. Acht Aufnahmen wurden auf dem aktuellen Album veröffentlicht, beginnend mit "Desire" und endend mit "Route du Paradis".
Die Komposition "Begierde" beginnt mit einem Intro des Schlagzeuges, zu dem sich ein behäbig klingendes Klavier gesellt. Die Passagen, die dann folgen, erinnern wenig an Begierde, an Wünsche, an Lust, an Sehnsucht, sondern eher an einen "Trauermarsch" und an Schwermütigkeit. Auch die Harmonien, mit denen der Saxofonist Yuri Honing auf sich aufmerksam macht, sind keineswegs geeignet an Erregtheit, Lust und Begierde zu denken. Beim Zuhören denkt man neben Trauer und Traurigkeit stets an Enttäuschungen, an vergebliche Wünsche und Sehnsüchte. Beinahe meint man, Honing habe hier einen Choral verfasst, der in der Passionszeit in einer Kirche sein Debüt feiert. Wer ist er der "Messenger"? Ein Überbringer schlechter Nachrichten oder der Friedensreiter, der die Parteien zum Ende des Krieges aufruft, so geschehen am Ende des 30jährigen Krieges, als Friedensreiter zwischen Osnabrück und Münster Depeschen hin- und herbrachten? Angesichts der Beats des Schlagwerks läge eine solche Annahme nahe, zumal wenn wir unserer Fantasie freien Lauf lassen. Doch angesichts der Harmonie scheint die Nachricht, die überbracht wird, eine schlechte, wenn nicht gar eine Todesnachricht zu sein. So denken wir an so manchen "Mantel-und-Degen-Film" im Breitwandformat, vielleicht auch an den sterbenden "El Cid" mit Sophia Loren und Charlton Heston in den Hauptrollen. "Renaissance", also "Wiedergeburt" - wie soll das klingen: fröhlich, beschwingt, getragen oder ausgelassen? Auch in dieser Komposition ist der Duktus wie bei den bisherigen Stücken von Melancholie bestimmt. Es scheint, als habe Honing dunkle musikalische Wolken eingefangen, die unseren Blick verstellen. Zugleich präsentiert er uns Musik der Stille und Kontemplation. Bisweilen muss man auch an ein Klagelied schwarz gekleideter Frauen denken, die einen Trauerzug begleiten. Na dann muss aber doch "Papillon" beschwingt und fröhliche gestimmt sein, denken wir uns. Doch nichts ist von dem umherflatternden Falter zu vernehmen. Im Gegenteil, es drängt sich der Eindruck auf, ein gerade geschlüpfter Falter versucht sich in seiner neuen Welt zurechtzufinden. Wo bleibt da ein Hauch von Funk und Fusion, von Swing? Nein, Yuri Honing bietet uns das alles nicht. Kein Wunder also, dass in seinem Programm auch "Sad Song" zu finden ist, denn die vorherrschende Stimmung auf dem Album ist die der Melancholie. Das ist nicht nach dem Geschmack eines jeden!
Text: © ferdinand dupuis-panther
Press release by Challenge Records
Honing had his first major success in 1996 with his album Star Tracks, which comprised recordings of pop songs as an alternative to the American Songbook. The album became a hit in the Netherlands and Germany, and gained significant notice in the UK as well. The album contains songs by Abba and The Police among others. Honing uses their material as a basis for improvisation; he gladly points out that jazz musicians of previous generations were doing exactly the same. The album Sequel that Honing records in 1999 is in the same vein, using material by Björk, Blondie and others. The CD Playing (1998) finds Honing performing alongside veteran pianist Misha Mengelberg in twelve freely improvised tracks. Two years later the project gets a sequel at the North Sea Jazz Festival, with cellist Ernst Reijseger as third improviser. The recordings find their way onto the CD Lively (2000). In 2001, Honing met Paul Bley and recorded the album Seven with Bley on piano, Gary Peacock on bass and Paul Motian ondrums. This album garnered Honing the Dutch Edison Award in 2002.[1] In The Penguin Guide to Jazz Recordings (Eighth Edition) this CD was recognized with four (out of five) stars. Memory Lane is recorded by Honing in 2002, together with members of the Amsterdam based Concertgebouw Orchestra. It is his first project with musicians from the world of classical music. In addition to his activities in acoustic and classical music, in 2005 Honing starts a new electric band, Wired Paradise. It features Tony Overwater (on bass guitar) and Joost Lijbaart plus the German guitarist Frank Möbus, best known for his work with the trio Der Rote Bereich. The saxophonist enters into a new classical collaboration with the Metropole Orchestra in 2006. With conductor Vince Mendoza at the rostrum he records the CD Symphonic with this orchestra. Just like he considers contemporary pop music to be the continuation of the Great American Songbook, Honing sees a parallel between that particular song form and Franz Schubert's lieder. He therefore decides to record a full instrumental version of Schubert's song cycle Winterreise, accompanied by the classical pianistNora Mulder (2007). He also uses Winterreise as the title for a special concert evening with guests which the saxophonist organizes every year on December 29 at the Amsterdam Paradiso. In 2009 Honing forms an acoustic band with a chordal instrument for the first time! In his Acoustic Quartet Wolfert Brederode is the pianist, Ruben Samama on double bass, and Joost Lijbaart once again the drummer. That same year Honing also invites dance producer Floris Klinkert for a collaboration, resulting in the CD Phase Five. On this album Floris makes use of samples from the saxophonist's entire discography to produce new compositions. The resulting songs are sung by pop singers like Leine, Sarah Bettens (known of the band K's Choice) and Lilian Vieira (of the band Zuco 103); in addition Honing himself is featured as a soloist. January 2012 Yuri Honing won the Dutch Boy Edgar Prijs.
Summary of the album "Desire"
Desire is captured perfectly on Yuri Honing's new album of the same title. The eight tracks on this album reflect eight different feelings of desire. Some pieces are about pain, some are hopeful and dreamy, and others are more resigned or even peaceful. Renowned for mixing styles, Honing again explores his musical boundaries with moving melodies framed by pop, classical music and early music compositional techniques. The track Lasciate Mi Morire (Let me die) is even a literal reference to the beloved madrigal of Claudio Monteverdi dating from 1614.
Informationen
Label
Challenge Records
www.challengerecords.com
Musiker
Yuri Honing
http://www.yurihoning.com/
yurih@xs4all.nl