Yves Rousseau Septet – Fragments (gtb)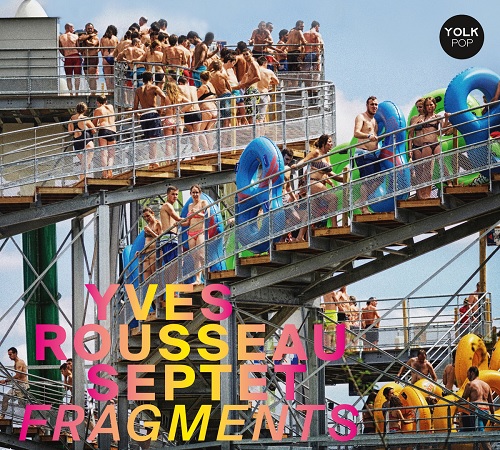 Y
Yolk
Met 'Fragments' blikt de Franse bassist Yves Rousseau terug op zijn lyceumjaren (1976-1979) toen hij de muziek van King Crimson, Pink Floyd, Soft Machine en Genesis ontdekte. Een gepersonaliseerde kijk op een tijdperk waarin progrock volop opgang maakte.
De term is gevallen, progrock. Tegenwoordig geen scheldwoord meer, integendeel. De lang vergruisde stroming wint terug aan populariteit. 'Reminiscence' of 'Efficient Nostalgia' zoals de titels luiden van respectievelijk de openingstrack en het afsluitingsnummer? Beide voor Rousseau, gelukkig met de nodige relativering en toevoeging van eigen ervaringen en reflecties. Het is een slim recycleren en associëren van zijn geliefde inspiratiebronnen met zelfs twee rechtstreekse links. Zo citeert hij Robert Fripps 'In The Court Of The Crimson King' midden zijn eigen 'Winding Pathway' en laat hij zijn 'Personal Computer' eindigen met 'Orleans' van David Crosby!
Wie nog twijfelt, alle stijlelementen die het genre kenmerken, vinden we terug. De complexiteit, de rockdrive, de decibels, de spacy interludiums, de hectische solo's, het orkestrale, inclusief een chaotische eindgeneriek met losgeslagen gitarist en het duo toetsenist-bassist dat nog eens volop de kaart van psychorock trekt.
De thematische continuïteit is aanwezig zodat aficionados tevreden kunnen zijn. Nog belangrijker echter is dat Rousseau en C° dit op een geloofwaardige hedendaagse manier weten in te kleden. Dat Manchon blijkbaar goed geluisterd heeft naar wat Jozef Dumoulin allemaal doet, helpt daarbij. Trombonist Pommier draagt zijn steentje bij om alles sterk richting moderne jazz te laten verschuiven terwijl saxofonist Laurent de bliksemafleider van dienst is. Gitarist Palotaï zorgt voor de verschroeiende finaleclimax.
Geen curiositeitenkabinet deze 'Fragments' maar een heterocliet luisterspel dankzij het doorbreken van afgebakende territoria.
© Georges Tonla Briquet



Musici:
Yves Rousseau: bas
Géraldine Laurent: altsaxofoon
Csaba Palotaï: gitaar
Jean-Louis Pommier: trombone
Thomas Savy: basklarinet,
Vincent Tortiller: drums
Etienne Manchon: Rhodes, moog, synthesizer

www.yvesrousseau.fr
www.yolkrecords.com