Yves Rousseau Septet - Fragments (cl)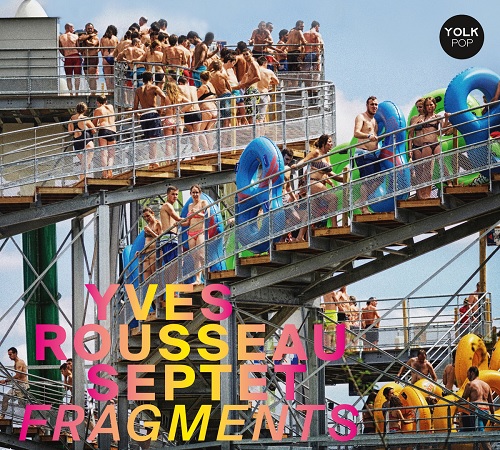 Y
Yolk / L'Autre Distribution
Le contrebassiste Yves Rousseau poursuit un parcours éclectique. Il a fait partie du trio très classique du pianiste Hervé Sellin; avec le batteur Bertrand Renaudin, il a joué en quintet avec le saxophoniste scandinave Jonas Knutsson et le tromboniste G. Kornazov; il a fait partie de l'inclassable Archimusic, avec la vocaliste Elise Caron; par la suite, il a fondé sa propre formation, avec le saxophoniste Jean-Marc Larché et le violoniste Régis Huby et a enregistré "Spirit Dance", avec Christophe Marguet (dm), David Chevallier (g) et F. Martinez (tp).
Pour "Fragments", il a voulu se replonger dans ses années de lycée, entre 1976 et 79, alors qu'il découvrait le rock progressif de King Crimson, Pink Floyd, Soft Machine ou Genesis. Il a réuni un septet entre jazz contemporain et énergie débordante du rock avec ses sonorités électriques fulgurantes.
D'une part, trois souffleurs de premier plan. A l'alto, Géraldine Laurent qu'on a pu découvrir au Jazz à Liège avec son quartet mais aussi en compagnie d'Henri Texier et Aldo Romano pour le projet "Just Jazz" avec le clarinettiste italien Mauro Negri. Toujours avec Texier et Romano mais, cette fois, Fabrizio Bossos à la trompette, elle a enregistré "Complete Communion".
Au trombone vrombissant, Jean-Louis Pommier souvent requis par de grandes formations: ONJ, Zoomtop Orchestra de Bertrand Renaudin, Gros Cube d'Alban Darche.
A la clarinette basse, Thomas Savy qui a enregistré "Bridges" avec Guillaume De Chassy, "Blue Archipel" avec Pierre De Bethmann et "French Suite" avec les Américains Scott Colley et Bill Stewart.
Ensuite, une rythmique aux sonorités très rock. A la guitare électrique, le Hongrois Csaba Palataï qui a enregistré "Antiquity" avec Rémi Sciuto. Aux multiples claviers, Etienne Manchon qui a formé un trio avec Palataï et Vincent Tortiller ("Elastic Borders"). A la batterie, Vincent Tortiller qui a étudié à l'Ecole Didier Lockwood.
Yves Rousseau a écrit huit compositions, dont  certaines en plusieurs parties ("Réminiscence", "Darkness Desire", "Winding Pathway", "Efficient Nostalgia") et avec deux citations: "Orléans" de David Crosby de Crosby, Still and Nash sur "Personal Computer" et "In the court of the Crimson King" de Robert Fripp, le fondateur de King Crimson, ce qui sera l'occasion d'un beau solo mélodique de contrebasse.
Tout ce répertoire est fondé sur une opposition entre la fougue des souffleurs et la masse sonore de la rythmique: Moog aux sonorités très brutales ("Reminiscence", "Personal Computer", "Efficient Nostalgia, Part 2") ou Rhodes aux sonorités plus soft ("Winding Pathway"); guitare électrique en fusion et frappe sèche du batteur.
Géraldine Laurent fait preuve d'une grande vélocité de jeu (elle n'a pas enregistré "Looking for Parker" pour rien): beau solo sur "Personal Computer". Jean-Louis Pommier ponctue la musique de growls très puissants Thomas Savy colore le tout de sa clarinette basse à la beauté ténébreuse, avec de beaux accords avec le trombone.
Le tout pour construire une musique qui se développe en boucles électrisantes.
© Claude Loxhay
Une collaboration JazzMania/Jazz'halo