YES! Trio – Groove Du Jour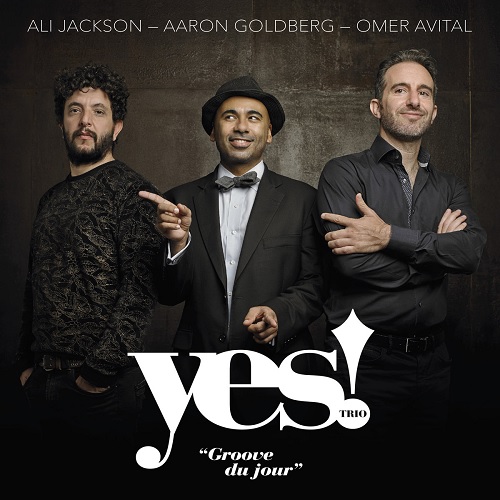 Y
Jazz & People
Als trio staan ze minder in de kijker ondanks hun vijfentwintigjarig bestaan (maar slechts een enkele opname) en toch klinken de namen van Aaron Goldberg, Omer Avital en Ali Jackson bekend in de oren voor wie de hedendaagse jazzscene wat opvolgt.
Voor deze gelegenheid gaan ze de Franse toer op, althans wat betreft de titel van de cd en tevens voor een aantal sfeerscheppingen. Zo is 'C'est Clair' een rustige ballad gedrenkt in een bluesy sfeer inclusief een lichte knipoog naar het Franse chanson. Hun versie van de standard 'I'll Be Seeing You' sluit daar naadloos bij aan, eveneens met bluesaccenten.
Maar heel wat composities draaien rond grooves zoals de cd-titel laat vermoeden. 'Escalier' is een schoolvoorbeeld van, souljazz ergens tussen Erroll Garner en Ramsey Lewis. 'Dr. Jackle' klinkt als de soundtrack van een achtervolgingsscène uit een film noir. Hedendaagser en moderner is 'Muhammad's Market' in The Bad Plus-stijl maar wel met een klassiek gevoel voor swing. Neobop komt er aan de hand van 'Tokyo Dream'. Er is tevens ruimte voor een portie latin bop à la Machito met een glansrol voor drummer en percussionist Jackson. Via afsluiter 'Bed-Stuy' linken ze verleden en heden van jazz ragfijn aan elkaar en voegen er ondertussen nog wat extra toonkleuren bij die ze putten uit hun eigen rijke ervaringen bij Roy Haynes, Jimmy Cobb, Max Roach en Joshua Redman.
Met dit nieuw visitekaartje bewijst het dynamische trio dat ze hun plek verdienen op de podia van elk zichzelf respecterende jazzclub of festival.
© Georges Tonla Briquet



Musici:
Ali Jackson: drums
Aaron Goldberg: piano
Omer Avital: contrabas