Roberto Magris & Eric Hochberg - Shuffling Ivories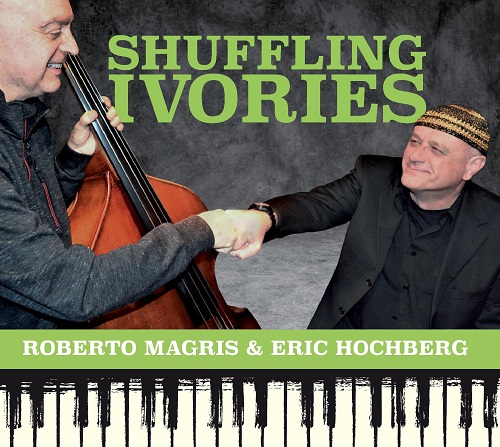 R
JMood Records
17 Alben hat der aus Triest stammende Pianist bisher veröffentlicht. Dabei ist augenfällig, dass Roberto Magris seine Wurzeln im "swingenden" Bebop und auch im Hard Bop hat. Nunmehr hat er nach Veröffentlichungen mit Quartetts und Septetts ein Duo-Album eingespielt. An seiner Seite hören wir den aus Chicago stammenden Bassisten Eric Hochberg, ein gleichwertiger Partner und nicht etwa musikalische Staffage. Getroffen haben sich die beiden Musiker 2018, als Magris dabei war, sein Sextett-Projekt "Suite!" zu realisieren. Roberto Magris erinnert sich mit nachstehenden Worte an diese Begegnung: "Mark Colby, who I had recorded with on 2016's Live in Miami @ The WDNA Jazz Gallery, introduced me to Eric, and since we played our first gig together at the Jazz Showcase in Chicago, I immediately felt at home with his bass. After recording Suite!, I knew that I wanted to do something more with Eric."
Mit dem aktuellen Album " Shuffling Ivories" verneigt sich der Pianist vor den afroamerikanischen Musikern, die den Jazz zum Leben erweckt haben, so sagt er selbst. Zum Jazz kam Magris erst nach einem Studium der klassischen Musik in Triest: "I was initially attracted by the virtuosity of Oscar Peterson and Bud Powell and by the groove of soul jazz pianists like Bobby Timmons and Les McCann, …" Doch auch McCoy Tyner, Thelonious Monk und Andrew Hill beeinflussten Magris. Eine besondere Vorliebe hat er für Elmo Hope und dessen "leichthändiges" Pianospiel, wie er in einem Interview einräumt.
Aufgemacht wird das Album mit der Eigenkomposition "Shuffling Ivories", gefolgt von "I've found a new baby" (Clarence Williams) und "Clef Club jump" (Roberto Magris). Zu hören sind unter anderem "Memories of you" (Eubie Blake), "Quiet Dawn" (Cal Massey), "La Verne" (Andrew Hill) sowie "Italy" (Roberto Magris) und "The Chevy Chase" (Eubie Blake).
In den Liner Notes lesen wir unter anderem: "Magris' poignant "Italy" not only references his beloved homeland but also serves as a heartfelt tribute to Italian American jazz artists like Lennie Tristano, Scott LaFaro, Chico Corea, Nick La Rocca, Joe Venuti, Joe Pass, Joe Albany, George Wallington, Vido Musso, Conte and Pete Candoli, Sal Mosca, Carl Fontana and Tony Bennett, all of whom had a big impact on the music that Roberto loves. "It's a brand new song that I composed last summer with the duo in mind," he said of that vaguely bossa nova flavored original. "The melody recalls some warm Mediterranean Italian atmosphere and when I've played it live I noticed that it has sort of a 'postcard from Italy' effect on the audience." (Bill Milkowski)
Der Eröffnungstitel ist schon ein wenig im Geist von Thelonious Monk gesetzt. Man hat beim Spiel von Magris das Bild von einigen über viele Treppenstufen hopsenden Kindern vor Augen. Ganz erdig begleitet der Bassist das Spiel von Magris, das durchaus auch im Diskant gegründet ist. In seinem Solo greift Hochberg  auch die sprunghaften Setzungen von Magris auf. Noch ein anderes Bild mag den Duktus illustrieren, in dem sich das Duo bewegt: Perlen einer zerrissenen Kette, die über Treppenstufen purzeln. "I've found a new baby" hat einen ähnlichen Duktus. Allerdings mischen die beiden Musiker auch einen Hauch von Blues und einen Anflug von "rollenden, sich überschlagenden Spielzügen" bei. Zwischen den beiden Musikern entwickelt sich zudem eine Art von "kontrapunktischem" Agieren. Dabei sorgt der Bassist für die Bodenhaftung, derweil der Pianist sich tänzerisch im Spielraum bewegt. Hier und da hat man gar den Eindruck, klassischer Swing und Lindy Hop würden zitiert. "Clef Club jump" heißt es nachfolgend: Stark ausgeprägt ist die Basshand Magris', über die sich die quirlige Melodielinie ausbreitet. Triller und Sprünge im Diskant sind auszumachen. Und der gestrichene Bass scheint dabei als Ruhepol und Kommentator. Das Bild einer dahinrasenden Eisenbahn, die über wacklige Schwellen fährt, stellt sich bisweilen ein. Scharf gesetzte "Peitschenschläge" und kristalline Klangäußerungen sind außerdem Teil des weiteren Arrangements.

Eher balladenhaft und songhaft ist "Memories of you" arrangiert. Dabei vernehmen wir ein perlendes Tastenspiel, das allerdings nicht aquarelliert-verwässert ist, sondern sehr akzentuiert. Tieftönige Akzente setzt der Bassist dazu, sodass hier und da ein wenig Wehmut hervorscheint. "Quiet Dawn" lebt von dem getragenen gestrichenen Bass und einem zurückhaltenden Spiel des Pianisten. Man hat wirklich das Bild einer Morgendämmerung vor Augen. Die urbane Hektik ist noch nicht vorhanden. Alles hat eine gewisse Ruhe und Langsamkeit gefunden, auch wenn nach der getragenen Einführung ein Intermezzo des "Ausbruchs" folgt. Ausgelassenheit ist in der Musik nicht völlig ausgeblendet, so signalisiert es Magris im Fortgang des Stücks auf seinen weißen und schwarzen Tasten. Und immer wieder meldet sich Hochberg zu Wort, zeigt  sich als gleichwertiger Partner im Duo und nicht als Beiwerk.
Besinnlich erscheint "Italy". Da scheinen die Dolomiten ebenso wie die Sonne von Capri ganz gegenwärtig zu sein, die Gassen von Siena und Florenz, die Adria und der Golf von Neapel, oder? Erinnerungen werden geweckt, so der Eindruck, den man als Hörer gewinnen kann. Und dann schwingt noch ein bisschen Bossa mit. Der Bossa steht dabei für das Flair des Mittelmeers, für azurblaues Meer und Sonne, für ein Leben außerhalb der vier Wände, für ein ungezwungenes Miteinander unter freiem Himmel, für pure Lebensfreude, so muss man vermuten. Schließlich noch ein Wort zu "The Chevy Chase" mit seiner Prise Ragtime und Boogie mit und ohne allzu nachhaltig rollende Linien. Wer Swing tanzen kann, der wird gewiss dazu animiert, das Tanzbein zu schwingen.
© ferdinand dupuis-panther

Infos
www.jmoodrecords.com
https://en.wikipedia.org/wiki/Roberto_Magris
https://www.jazzhalo.be/reviews/cdlp-reviews/r/roberto-magris-suite/
https://www.jazzhalo.be/reviews/cdlp-reviews/r/roberto-magris-sextet-feat-ira-sullivan-sun-stone/