Riccardo Del Fra - My Chet My Song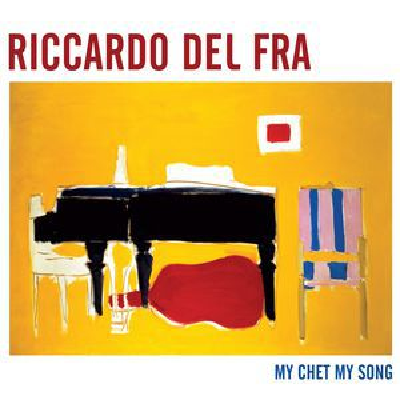 R
Cristal Records/Harmonia Mundi
En 2011, Jean-Louis Guilhaumon, directeur du festival de Marciac, passe une commande à Riccardo Del Fra: rendre hommage à Chet Baker au travers d'une création avec l'Orchestre du Conservatoire de Toulouse et Roy Hargrove à la trompette. En 2010, le même festival avait proposé une autre création avec orchestre symphonique: une Suite pour quintet et orchestre écrite par le pianiste Baptiste Trotignon, pour une formation comprenant Ambrose Akinmusire à la trompette, David El Malek au saxophone ténor et l'Orchestre du CNR de Toulouse. Ce désir de confronter musique de jazz et orchestre classique est donc un cheval de bataille du festival gersois.
Choisir Roy Hargrove pour rendre hommage à Chet pouvait paraître étrange, tant leur parcours est différent, par contre, le choix de Riccardo Del Fra s'imposait comme une évidence: dans les années '80, le contrebassiste d'origine italienne a multiplié les collaborations avec le "kid d'Oklahoma", que ce soit avec les pianistes Enrico Pieranunzi (Soft Journey en 1980), avec Denis Luxion (Leaving en 1980) ou, le plus souvent, avec Michel Graillier (Live in Paris en '80, A trumpet in the sky en '81, Mister B et le légendaire At Capolinea, avec Nicola Stilo à la flûte, en '83, Sing again en '85 et Live at Ronnie Scott's en '86) ou encore avec Philip Catherine (Hamburg Jazz Festival diffusé par la WDR en '85). Par ailleurs, Riccardo Del Fra avait déjà rendu hommage à Chet avec A Sip of your touch, une série de duos gravés avec Michel Graillier, Enrico Pieranunzi, Art Farmer, Dave Liebman et Rachel Gould. Après Marciac, le projet a voyagé avec le quintet seul. En 2013, Petra Kremer-Driess, l'agent de Ricardo en Allemagne, lui ouvre les portes du mythique studio de Babelsberg à Postdam où Marlene Dietrich avait tourné L'Ange Bleu et Fritz Lang réalisé Metropolis. Un vrai bonheur pour Del Fra qui a notamment composé la musique de plusieurs films de Lucas Belvaux. Il décide alors d'enregistrer, avec le Deutches Filmosterchester Babelberg, cet album produit par Cristal Records.
Aux côtés du contrebassiste, on retrouve le batteur américain Billy Hart, un gage de swing; le pianiste Bruno Ruder, un élève de Riccardo Del Fra au Conservatoire de Paris avec qui il a déjà enregistré Roses and roots en 2005; Pierrick Pédron lyrique à souhait au saxophone alto et, désormais, Airelle Besson à la trompette et au bugle: un choix vraiment judicieux. Au lieu d'essayer d'imiter la sonorité frêle si typique de Chet, la jeune trompettiste garde, et c'est tant mieux, sa propre sonorité lumineuse.
Au répertoire, six grands classiques chers à Chet (My funny Valentine, Love for sale, I'm fool to want you, I remember you, For all we know, But not for me) et quatre compositions originales, deux duos contrebasse-piano (Wind on an open book et The bells and the island) et deux thèmes qui s'imbriquent aux standards (Wayne's Whistle et Oklahoma kid): "Ce disque, c'est ma mère, mon histoire, et Chet évidemment, qui plane au dessus de tout cà... Je ne voulais pas rejouer Chet dans la nostalgie, mais l'envisager avec mes yeux d'aujourd'hui, tourné vers l'avenir par le biais d'une écriture décomplexée et, bien sûr, grâce aux merveilleux solistes qui incarnent à la fois l'héritage et l'avenir." (interview réalisée par Franck Bergerot pour JazzMag).
Riccardo Del Fra a donc travaillé les arrangements en conséquence. La version de Love for sale vient d'un arrangement de Don Sebesky et, au travers de vagues successives de cordes, glisse vers Wayne's Whistle (Chet aimait beaucoup Wayne Shorter). My funny Valentine, si souvent joué par Chet, est interprété au travers d'un dialogue entre la contrebasse et l'orchestre tandis que la mélodie de I remember you n'intervient qu'après une longue intro de cordes.
Que penser de l'album? Il est évident que si on aborde ce disque strictement comme un hommage au génial trompettiste, si on est peu friand de cordes, on risque d'être déçu. Chet a d'ailleurs peu enregistré avec des cordes si on excepte Chet and Strings, album de 1954, Symphonicaly en '85 gravé en compagnie de Mike Melillo et du Filarmonica Marchigiana ou Straight from the heart: The great last concert, enregistré avec les cordes du Radio Orchestra Hannover mais aussi le NDR Big Band. Mais il faut tenir compte de l'originalité du projet inscrite dans le titre-même du disque, My Chet My Song: c'est lui-même autant que Chet que Riccardo Del Fra met en scène. Il ne faut pas oublier qu'à la mort de Chet, il a étudié les compositeurs classiques français du XXe siècle et qu'en 1991, il a écrit Silent Call, une suite pour orchestre symphonique et saxophone soprano (François Jeanneau) et, en 2009, Sky Changes pour Dave Liebman et l'Ensemble Intercontemporain. Au travers de ses arrangements comme de ses propres compositions, il fait preuve d'une écriture sophistiquée, riche en nuances: "My Chet My Song, c'est la mémoire de mon expérience avec Chet, mais aussi mon chant, ma façon de faire de la musique, aujourd'hui, ici et maintenant." (JazzMag)
Claude Loxhay
Article publié par jazzaround