Raf D Backer - Rising Joy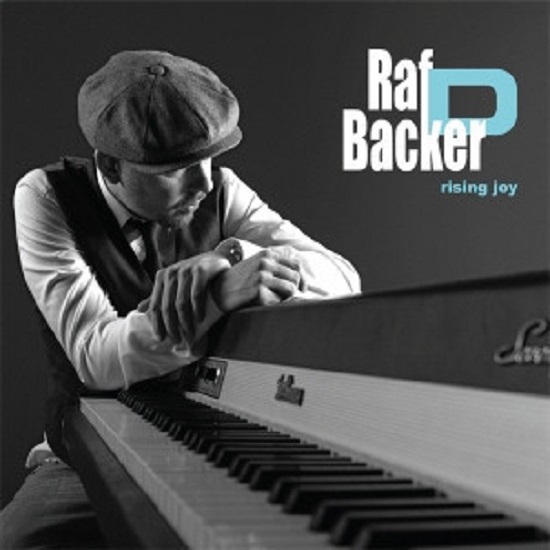 R
prova records, PR 1402-CD24
Freunde von Funk, von Booker T und Les McCann aufgepasst, Raf D Backer wandelt auf deren Spuren und zeigt dabei eine ungeheure Spielfreude. Gleich bei "joe, the farmer" wird man in die Zeit von Booker T zurückversetzt. Das heißt, Soul und Funk gehen hier eine köstliche Melange ein. Da rollen die Tastenklänge und aus "let's rollin'" wird schnell "move your arse". Still sitzen ist nicht angesagt. Das Wippen mit den Füßen und das Schnipsen mit den Fingern reichen auch nicht aus. Aufstehen und die Hüften kreisen lassen. Es ist Zeit für Funk, für Ausgelassenheit, für Tanzwut und Bewegungsschwung. Wer ruhig sitzen bleibt, wenn er Raf D Backer (piano, b3 hammond, fender rhodes, clavinet, keys), Lionel Beuvens (drums), Cédric Raymond ( upright and electric bass) und als Gäste Lorenzo Dimaio (guitar) und David Donatien (percussions) zuhört, der muss mit besonderem Phlegma ausgestattet sein. Verkopft ist die Musik ganz und gar nicht. Sie sprudelt, sie rollt, sie groovt und hat Drive. Bei "shaky, shake blues"erfolgt nach einer kurzen Einleitung durch Bass und Drums ein Duett von B3 Hammond und Gitarre. Im Verlauf bestimmt dann Lorenzo Dimaio an der Gitarre das Klangbild des Stücks. Dabei bekommen wir als Zuhörer auch eine gehörige Blues-Infusion verabreicht.
Neben Eigenkompositionen wie den ersten beiden Einspielungen des Albums bekennt sich Raf D Backer auch zu Wayne Shorter ("beauty and the beast"), Wes Montgomery ("full house") und auch zu Ohrwürmern wie "C. C. Rider", einem Titel, der in vielen Blues-Alben zu hören ist und mannigfach gecovert wurde. Doch Raf D Backer verpasste allen Titeln, die nicht seiner Feder entsprungen sind, ein ganz eigenes Funk-Kleid.
Getragen kommt "beauty and the beast" daher. Die B3 Hammond bestimmt dabei nachhaltig die Hörfarben. Engtanz ist das Gebot der Stunde. "Descamisado" lässt Carlos Santana völlig vergessen, wenn Latin Jazz und Funk eine Ehe auf Zeit eingehen. Während wir bei "beauty and the beast" an den Großmeister der B3 Hammond denken müssen, an Jimmy Smith, so bei "descamisado" an den legendären Booker T – beide Musiker, die beinahe aus dem kollektiven Gedächtnis verschwunden sind.
Backer gehört zu den jungen Wilden, die in den letzten Jahren die B3 Hammond wieder zu neuem Leben erweckt haben. Als Gast von Backers Combo versteht es Lorenzo Dimaio "descamisado" eine besondere Note zu geben, dank sei den gekonnten Gitarrenriffs. Funky, funky, funky lautet das einhellige Motto!
"Oh, the joy" klingt beinahe wie die "Ode an die Freude" in moderner Fassung. Es ist einfach Gute-Laune-Musik pur und geht auf einen afroamerikanischen Gospel zurück. Also heißt es mitsummen und den Rhythmus mit den Händen klatschen, wenn die Freude besungen wird. Die Melodie erscheint stark akzentuiert, auch und gerade wenn Backer die Töne seines Tasteninstruments rollen lässt, wenn es trillert und trällert. Nach "shout it right" und "nearness of you" erklingt dann die "Titelmelodie" des vorliegenden Album. Während "nearness of you" wie ein schmachtender Liebessong klingt, ist "rising joy" eine flotte Nummer mit rollendem Klaviermodus. Boogie und Ragtime scheinen bei dieser Backer-Komposition durch.
Liest man davon, dass auch Wes Montgomery mit einem Titel auf dem Album gewürdigt wurde, dann fragt man sich, ob Backer hierbei Dimaio eine führende Rolle einräumen wird oder nicht. Die Überraschung ist groß, wird der Titel "full house" angespielt. Wir vernehmen ein aufgeregtes Schlagzeugspiel und Sequenzen, die dem Fender Rhodes entlockt werden, ehe dann der sanfte Klang der B3 Hammond zu hören ist. Der Bass meldet sich hier und da zu Wort, aber Gitarrenklänge im Sinne von Wes sind Fehlanzeige. Flauschige Klangteppiche breitet hingegen Backer an der B3 Hammond aus und ersetzt so die von Wes Montgomery gewohnten Gitarrenläufe.
Abschließend unterstreicht Backer sein Gespür für Blues, Ragtime und Funk, wenn er "losing the faith" zum Besten gibt. Mit "c. c. rider" öffnet sich zum Schluss auch die "Himmelspforte zum Rock". Fazit: eine sehr gelungene Einspielung, die Lust auf mehr Funk und Blues macht.
© ferdinand dupuis-panther
Presse release by prova records
Rising joy, the debut album of pianist Raf D Backer, offers a wonderful mix of jazz soul, gospel and blues. This young Belgian musician binds tradition and contemporary elements in a very natural, elegant and sophisticated manner. The album was produced by Eric Legnini and Daniel Romeo. It consists mainly of self-composed songs, but also offers a few excellent covers. He was inspired by musicians whose music has always strongly moved him, such as Les McCann, Dr. John, Professor Longhair, Bobby Timmons, Ray Charles, Eddy Harris, the Meters and the Headhunters. Raf D Backer is very pleased with the way the songs of this album were created: "the music has revealed itself to me in a natural way, without calculations and in a very spontaneous manner. I simply followed my instincts to where they led me. I immediately felt I could express myself freely and sincerely, that was a very pleasant experience."
Informationen
Label