Nils Landgren - 4 Wheel Drive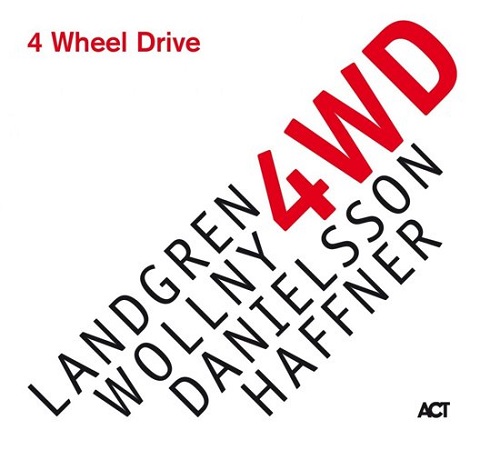 N
ACT
Ce quartet à "quatre roues motrices" rassemble musiciens suédois et allemands.
Au trombone et au chant, Nils Landgren qui, après avoir étudié le trombone classique, s'est tourné vers le jazz après sa rencontre avec son compatriote Eje Thelin. Attiré par le rock et la pop, il est aussi  chanteur. On a pu l'entendre au sein du Big Band de Thad Jones, avec le trompettiste Tomasz Stańko ou le pianiste Esbjörn Svensson. Avec Nguyen Lê, mais aussi Michael Wollny et Lars Danielsson, il a enregistré Act Jubilee Concert.
Au piano, Michael Wollny. Formé au Conservatoire de Wurtzburg, il a enregistré en duo avec Heinz Sauer, le saxophoniste du quintet d'Albert Mangelsdorff, avec Joachim Kuhn (Live at Schloss Emau) et l'accordéoniste Vincent Peirani (Thrill Box)
A la contrebasse, Lars Danielsson, qui a enregistré Curling legs en quartet avec Dave Liebman mais a aussi côtoyé Bobo Stenson, Nils Petter Molvaer ou Ulf Wakenius.
A la batterie, Wolfgang Haffner qui a coisé la route d'Albert Mangelsdorff ainsi que Klaus Doldinger et a enregistré Kind of Spain pour Act.
Chacun a composé un thème: quatre instrumentaux qui mettent en valeur la sonorité pleine et lisse du trombone, tantôt sur tempo rapide (Polygon de Wollny), tantôt sous forme de ballade (Le chat sur toit de Landgren).
Les autres plages sont dédiées à de grands succès de la pop music: deux chansons de Phil Collins (Another day in paradise, That's all), deux de Sting (Shadows in the rain, If you love somebody set them free), deux de Billy Joel (She's Always a woman, Just the way you are), deux de Mc Cartney et John Lennon (Lady Madonna, Maybe I'm amazed).
Certaines plages débouchent malgré tout sur un instrumental (Lady Madonna, That's all)), les autres sont chantées d'une voix mielleuse, nettement moins intéressante que la sonorité assurée du trombone.
L'album fait alterner ballades (Another day, Shadows in the rain) et tempo plus nerveux (If you love somebody).
Un album "grand public".
© Claude Loxhay