Nicole Johänntgen - Henry (C. Loxhay)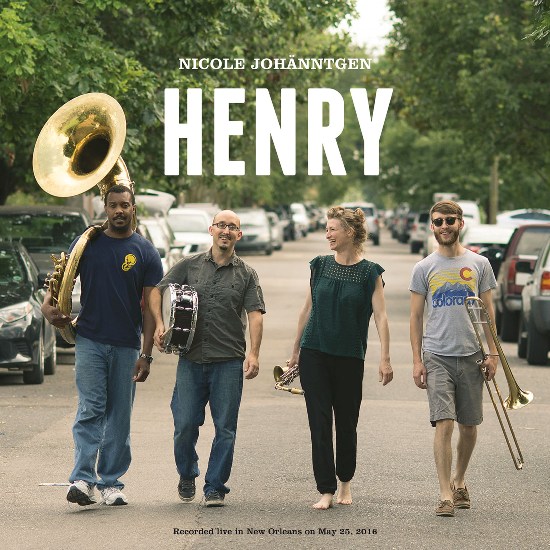 N
Hofa
Née en Allemagne, en 1981, la saxophoniste Nicole Johänntgen a poursuivi ses études à Mannheim, avec comme mentors Dave Liebman et Phil Woods. En 2005, elle se fixe à Zurich, constitue un quartet avec le pianiste Max Petersen et enregistre l'album Colours, en 2014, avec Stefan Johänntgen aux claviers.


En 2016, elle a passé six semaines à New York, pour y écrire les sept compositions de l'album Henry qu'elle a enregistré à La Nouvelle Orléans, avec des musiciens du cru: Jon Ramm au trombone, Steven Glenn au sousaphone et Paul Thibodeaux à la batterie. Un répertoire aux titres évocateurs: The kids from New Orleans, Take the Steam Train.
C'est Arthur Blythe qui a encouragé la jeune saxophoniste à constituer une formation avec tuba: on se rappelle des albums qu'il a enregistrés avec Bob Stewart, comme The Grip ou Blythe Spirit.
Quant au choix du trombone et du titre à la fois du disque et de la première composition de l'album, il provient d'un souvenir d'enfance: le père de Nicole Johänntgen, prénommé Heinrich,  avait coutume de sonner le rappel de la famille au trombone...
Les sept compositions baignent dans ce background des brass bands de La Nouvelle Orléans: un trombone pétaradant, une ligne de basse solide établie par le sousaphone, un drive inflexible de la batterie fournissent une trame propice aux envolées incisives de l'alto.
Tout ce répertoire évoque irrésistiblement certains albums d'Arthur Blythe, voire les débuts de Trio Bravo, qui avait repris notamment Harlem Nocturne, à la seule différence que le sousaphone de Steven Glenn se limite à tisser une ligne de basse monolithique et volontiers répétitive: même lorsqu'il prend un solo, on est loin de la volubilité de Bob Stewart au tuba ou de Michel Massot, que ce soit au tuba ou au sousaphone, comme actuellement au sein de Trio Grande et Rêve d'Eléphant Orchestra.
D'où, après l'engouement des premières plages, et cela même si Johänntgen s'est évertuée à varier les rythmes, du tempo énergique de Henry à celui alangui de Slowly, on ne peut s'empêcher d'éprouver un certain sentiment de monotonie. Par contre, les amateurs inconditionnels du style traditionnel des brass bands new orleans seront comblés.
Claude Loxhay