Nicolas Meier World Group - Magnificent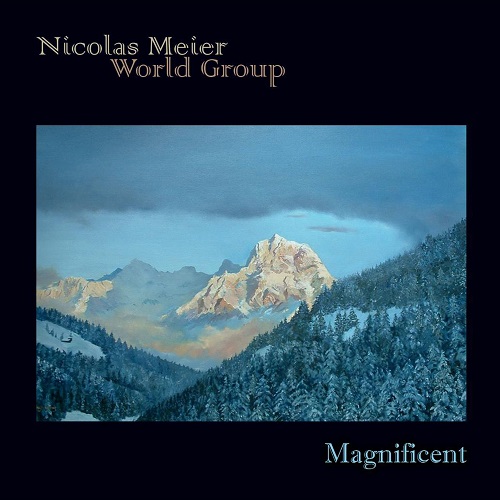 N
MGP Records
Gitarist Nicolas Meier (°1973), van Zwitserse afkomst maar gevestigd in Engeland, maakt van zijn nieuwste release 'Magnificent', opgenomen tussen december 2020 en juni 2021, een package deal (3 cd's) waarbij tegelijk een concertopname 'Live' en het solo gitaaralbum 'Stories' zijn inbegrepen. Hij richtte zijn eigen label (MGP Records) op in 2009 en produceerde twaalf albums.
In het solo-album 'Stories' covert hij wereldhits zoals 'La Vie en Rose', 'Nothing Else Matters', 'C'est si Bon', 'Mona Lisa', 'The Godfather', naast jazzstandards zoals 'Blues for Alice', 'Goodbye Pork Pie Hat', 'My Foolish Heart', 'Night And Day', en verder 'Brush With The Blues' van gitaarlegende Jeff Beck waarmee hij ook al op tournee ging. Dat vult hij nog aan met eigen werk: 'Kismet', 'October in Ankara', 'Esmeralda', 'Sous le Ciel de Fribourg', 'Stories from the Garden'.
De laatstgenoemde twee songs vinden we met de groep ook terug op 'Magnificent', dat gericht is op de originele impromuziek van Meier, geïnspireerd op de vele reizen en invloeden (Spanje, Balkan, Midden-Oosten, Noord-Afrika, Zuid-Amerika).
De Meier World Group kent een wat aparte bezetting met Meier op vele gitaren naast de jonge talentvolle Welshe violist Richard Jones, en als ritmesectie: de Spaanse percussionist Demi Garcia Sabat en de Schotse bassist Kevin Glasgow.
Met 'Magnificent' word je meegezogen in Oriëntaalse en zuiderse klanken, etnische muziek, bekoorlijke en kleurrijke improvisaties. De fijne interacties tussen de rijke gitaarsound (Godin glissentar, fretloos, 12-snarig), viool en oosterse ritmiek vormen een unieke en ruimtelijke ervaring.
Een ontdekking!

© Bernard Lefèvre




Bezetting:
Nicolas Meier (alle gitaren)
Richard Jones (viool)
Kevin Glasgow (bas)
Demi Garcia Sabat (percussie)

https://www.meiergroup.com/