Nathalie Loriers/Tineke Postma/Nicolas Thys - We will really meet again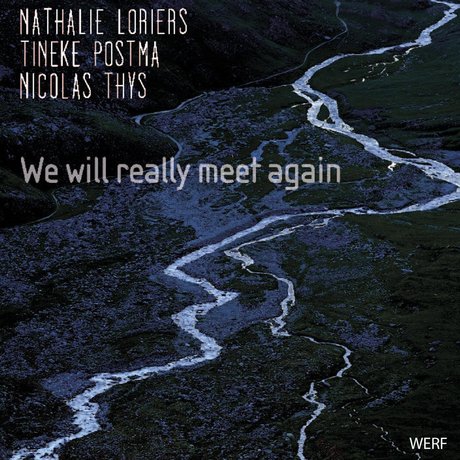 N
WERF
En dehors des albums enregistrés avec le Brussels Jazz Orchestra, voici le septième disque WERF de Nathalie Loriers et le deuxième gravé en trio avec Tineke Postma.
De douze ans sa cadette, la saxophoniste hollandaise, élève de Dave Liebman et diplômée de la Manhattan School of Music, a, de son côté, une discographie importante: des albums enregistrés avec les meilleurs pianistes hollandais, comme Rob Van Bavel (Live in Amsterdam) ou Marc Van Roon (The dawn of light) mais aussi avec des musiciens américains, tels que Greg Osby (Sonic Halo), Terri Lyne Carrington  (For the rhythm) ou Geri Allen (The traveller). D'une sonorité fluide et large à l'alto, mêlant sens mélodique et énergie rythmique, elle fait preuve d'un son incisif et lyrique au soprano.
Par rapport à l'album Le peuple des silencieux, un changement: Nicolas Thys succède à Philippe Aerts, un contrebassiste qui a une longue expérience aux côtés de pianistes, de Kris Defoort à Ewout Pierreux, en passant par Ron Van Rossum ou Alexi Tuomarila, mais aussi l'Américain Bill Carrothers (A night at the Village Vanguard).
A l'inverse du précédent album, plus de standard. Ici, à part Luiza d'Antonbio Carlos Jobim, rien que des compositions originales auxquelles s'ajoutent trois "improvised miniatures".
Une succession de ballades gorgées d'émotion et de lyrisme mélodique comme ce We will really meet again, dont le sous-titre est une vraie dédicace (the sadness of losing a brother), avec une intro de contrebasse et de soprano, mais aussi And then come love ou cette belle mélodie de Jobim, Luiza jouée à l'alto. Mais, à la délicatesse du toucher et au tempérament lyrique, Nathalie Loriers sait aussi mêler un sens aigu du rythme dans des thèmes bopisants comme Everything we need avec un beau solo de contrebasse, Take the cake joué à l'alto également ou alors des mélodies dansantes (Dançao avec Tineke Postma à l'alto ou Fallen walls avec un soprano volubile).
Les miniatures improvisées font aussi alterner les climats: sérénité de Quietness; référence à Lee Konitz, que la pianiste namuroise a croisé pour l'album Discoveries en 1993, avec Postma à l'alto évidemment pour Remembering Lee et une pièce plus expérimentale, Oceans qui clôt ce deuxième projet.
Tout au long de ces soixante minutes de musique intense, l'osmose entre les trois complices est totale et témoigne d'une réelle empathie.
Rendez-vous lors des concerts: après 9 dates de Jazz Lab Series en novembre, un JazzTour et trois autres dates en Flandre durant le mois de décembre.
Claude Loxhay
Article publié par jazzaround



Concerts de décembre:
Mazy, Jazz9, le 2.
Saint-Vith, Ars Vitha, le 4
Bruxelles, Jazz Station, le 7
Louvain-la-Neuve, Ferme du Biéreau, le 8
Comines, Open Jazz Night, le 9
Mouscron, Centre culturel, le 10
Ronse, CC Deerverij, le 11
Antwerpen, Rataplan, le 15
Liège, L'An Vert, le 16
Eupen,  Jünglinghaus, le 17
Mechelen, NONA, le 22