Mauro Gargano, Alessandro Sgobbio, Christophe Marguet – Feed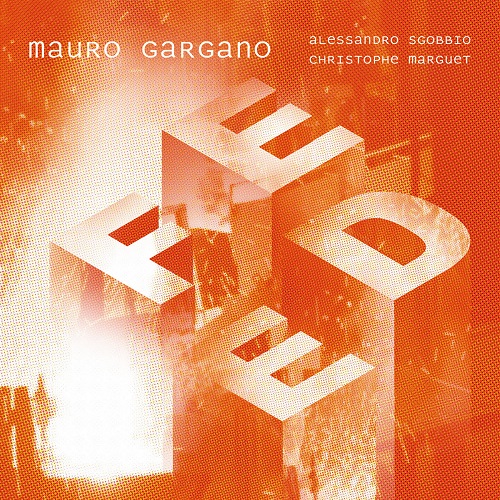 M
Absilone
Les fidèles du Pelzer Jazz Club liégeois doivent se souvenir de la contrebasse de Mauro Gargano, un instrument ancien avec une crosse en forme de tête de lion. Il est venu en cité ardente avec différents groupes, notamment le Mo Avast Band, en compagnie de l'Italien Francesco Bearzatti (ts) et de notre compatriote Stéphane Mercier (as).
Né à Bari, Mauro Gargano a étudié la contrebasse classique et jazz notamment avec Furio Di Castri puis a gagné Paris pour suivre les cours de Riccardo Del Fra au Conservatoire de Paris. Il a enregistré une quarantaine d'albums comme sideman et plusieurs comme leader: outre le Mo Avast Band, il a formé un trio avec Bruno Angelini (p) et Fabrizio Moreau (dm), Quartetto Moderno avec le flûtiste Nicola Stilo (qui a joué avec Chet) ou, en 2020, gravé Nuages avec le clarinettiste sarde Matteo Pastorino (album chroniqué en son temps).
Il présente ici un nouveau trio. Au piano, Alessandro Sgobbio, originaire des Pouilles. Formé au Conservatoire de Parme puis d'Oslo, il a notamment fondé Pericopes, trio pour "Legacy", duo avec Emiliano Vernizzi (cb) pour "What what". Il a aussi enregistré "Debra's Dream", avec la vocaliste Debra Shaw et Forests avec la trompettiste scandinave Hilde Marie Holsen.
A la batterie, le très sollicité Christophe Marguet, qui a fait partie du Strada Sextet d'Henri Texier, a formé différents groupes avec Sébastien Texier (as, cl) comme "Résistance Poétique", a enregistré "Happy Hours" avec Yoann Loustalot et créé, avec Sébastien Texier, la musique "We celebrate the freedom fighters" du livre-disque "Je suis sur des braises" (chroniqué pour jazz'halo).
L'album présente huit compositions originales du contrebassiste: chacune illustre la parfaite interactivité fougueuse des trois complices. "Feed", qui ouvre l'album, opère une osmose très réussie entre lyrisme exacerbé et fougue pour déboucher sur des rythmes tourbillonnants, véritablement galvanisés par le couple contrebasse-batterie. "Full Brain" propose de beaux dialogues entre contrebasse et piano, sur un rythme qui s'emballe petit à petit. "Ilva's Dilemma" propose un unisson très étudié entre contrebasse jouée à l'archet et le piano. "Keep Distance" illustre à merveille la délicatesse de jeu de Christophe Marguet aux balais sur un tempo plus apaisé. Sur "Look beyond the window", Mauro Gargano passe de l'archet au pizzicato de manière très lyrique. Sur tempo plus apaisé aussi, "Lost Wishes" est introduit par la contrebasse avant que le piano ne s'envole sur l'impact des balais. "The Red Road" reprend un  rythme plus rapide et "The secret garden" permet de retrouver Gargano à l'archet.
Une musique d'une intensité fiévreuse et d'une réelle originalité.
© Claude Loxhay
Une collaboration JazzMania / Jazz'halo