Manu Hermia Trio - Austerity...and what about rage? (Claude Loxhay)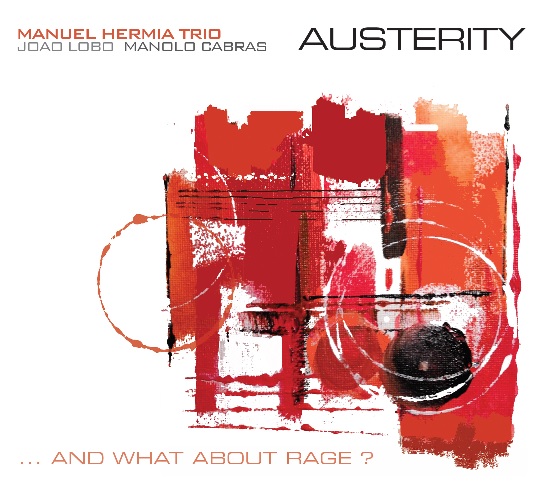 M
Igloo
Manu Hermia - João Lobo - Manolo Cabras
Il y a quelques mois, l'Académie Royale de Belgique publiait un ouvrage de Jean-Pol Schroeder: Le jazz comme modèle de société.
En prolongeant cette réflexion, on peut affirmer que le jazz est aussi une façon de se positionner par rapport à la société. Issu, à son origine, d'une révolte contre la ségrégation raciale et d'une quête de liberté, le jazz renferme un réel contenu politique dont une des manifestations les plus évidentes s'affirme au travers du free jazz: Free jazz / Black power, pour reprendre le titre du livre de Philippe Carles et Jean-Louis Comolli. Si le free jazz a eu un important écho au Nord du pays (Fred Van Hove, André Goudbeek), rares sont les musiciens francophones qui se réclament de cette esthétique, craignant sans doute l'accueil frileux d'un public par trop "mainstream".
C'est pourtant le cas de Manu Hermia avec ce nouvel album de son trio, tant au travers de l'essence-même de sa musique que de ce texte éminemment politique, de quelque six pages, qu'il a écrit pour le livret de l'album: "Si j'ai tenu à renouer ce lien entre jazz et politique, c'est parce que l'attitude philosophique inhérente au free jazz nous invite à ne pas accepter les règles préétablies visant à conditionner tout un chacun à une forme d'acceptation soumise." Comme celle à la politique actuelle d'austérité, d'où le titre de l'album, à la "marchandisation de tous les domaines" ou au matraquage médiatique, d'où le titre Infobesity. Cet engagement dans une musique libertaire, Manu Hermia l'avait déjà revendiqué avec Long tales and short stories en 2010 et, tout récemment, en trio avec les Français Valentin Ceccaldi, le violoncelliste de Tricollectif, et Sylvain Darrifourcq, le batteur du quartet d'Emile Parisien (album God at the casino).
Pour cet Austerity, le saxophoniste d'origine liégeoise retrouve ses complices de Long tales: à la contrebasse, Manolo Cabras, un musicien qui vit intensément et organiquement sa musique et, à la batteire, l'inventif João Lobo, toujours à la recherche de nouvelles couleurs rythmiques. On avait découvert le premier au sein du quartet très colemanien de Ben Sluijs et Jeroen Van Herzeele, du trio d'Erik Vermeulen et à la tête de son Basic Borg avec Lynn Cassiers. Le second est, entre autres, le batteur de Mâäk et de MikMâäk. Deux vrais complices solistes qui jouent aussi pleinement leur rôle de compositeur. Manolo signe le très colemanien Esta et le duo contrebasse-batterie de Bane al bane, vino al vino.
João cosigne avec Manu Like a cat in a box, duo-duel entre un ténor rageur et la batterie. A trois, ils cosignent les compositions-improvisations collectives First words et The seventh day, le reste du répertoire, soit six thèmes, étant écrit par Manu qui se partage entre un ténor aux déchirements free (Infobesity, Austerity, Marécages avec intro de contrebasse à l'archet et Like a cat in a box), soprano volubile résolument coltranien (Rajazz 3, en écho à l'album en quartet de 2006 mais aussi First words) et alto aérien (Fascinus, Esta, The seventh day) pour clore l'album dans le recueillement et la méditation à la flûte bansuri (Révélations), en parfaite harmonie sereine avec ses deux albums Murmure de l'Orient de 2005 et 2012 et sa passion pour les ragas indiens. Au total, une musique vivante, totalement en prise avec son époque et qui incarne une vraie vision de la société.
La présentation de l'album Igloo se fera, à Liège, au Club Pelzer, le 20 mars, à l'initiative de la Maison du Jazz et, à Bruxelles, au Bravo, le 9 avril.