Kristen Cornwell Trio – Spoonful - Back To The Blues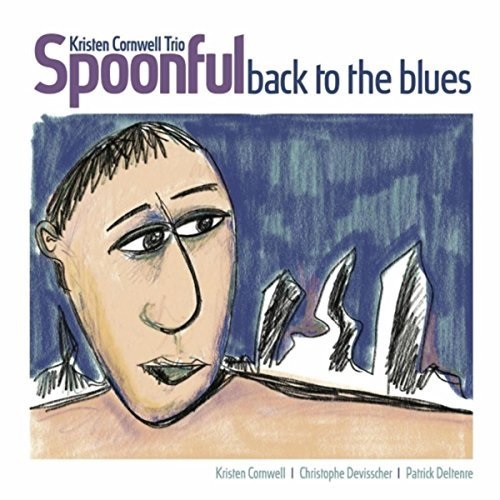 K
Cornfish Music
Kristen Cornwell bewijst op haar beurt dat jazz en blues elkaars yin en yang vormen. Dit lesje muziekgeschiedenis wordt naar een hoger niveau getild door haar twee begeleiders, contrabassist Christophe Devisscher en gitarist Patrick Deltenre.
Een ode aan de blues beginnen met een overbekende en zo dikwijls hernomen klassieker als 'Spoonful' van Willie Dixon, is gevaarlijk. Toch komt Cornwell er mee weg in deze context. Haar lichte scatting en juiste gevoel voor swing zijn zeker geslaagd. Hetzelfde geldt voor het daaropvolgende 'Your Mind Is On Vacation' dat zowat op hetzelfde stramien gebouwd is. Bluesy jazz of jazzy blues die aangenaam in de oren klinkt zonder verrassende weerhaken.
Echt interessant wordt het met de Buffalo Springfield-hit 'For What It's Worth'. Dit lijkt wel een track geplukt uit Emmylou Harris haar 'Wrecking Ball' waar Daniel Lanois als producer voor een uiterst hermetisch en hallucinant spanningsveld tekende. De desolaatheid druipt eraf bij elke noot. Even sterk is de versie van de traditional 'When I Was A Young Girl'. Zowat even donker en versmachtend als Melanie De Biasio haar 'Blackened Cities'.
'Better Than Anything' is dan weer een bluesballad voor de late uurtjes met Cornwell als ultieme verleidster. Maar 'Spoonful (Back To The Blues)' is vooral ook een cd van Devisscher en Deltenre. De manier waarop ze elk nummer een extra inkleuring geven door hun inventief spel dwingt respect af. Of het nu de melodische contrabaslijnen zijn of een percussieve gitaar die opduikt, telkens krijgt het origineel een nieuwe wending door deze interventies. De "funky chicken" stijl van Deltenre in 'Gimme What You Got' en in 'You Can't Judge A Book By It's Cover' zijn daar twee schoolvoorbeelden van.
Met 'Spoonful (Back To The Blues)' heeft dit trio niet de pretentie om te klinken als doorleefde blues rechtstreeks geïmporteerd uit de Mississippi-delta of de south side van Chicago. Op de hoes staat wel te lezen dat deze cd bedoeld is als "a spoonful of musical medicine" en die opdracht is volbracht.

MUSICI:
Kristen Cornwell: zang
Christophe Devisscher: contrabas
Patrick Deltenre: gitaar
© Georges Tonla Briquet


vrijdag 8 juni: dubbelconcert in Op-Weule (Sint-Lambrechts-Woluwe)

Kristen Cornwell Trio:
Kristen Cornwell – zang
Patrick Deltenre – gitaar
Christophe Devisscher – contrabas

Christophe Devisscher Quartet:
Frank Deruytter – saxofoon
David Thomaere – piano
Dré Pallemaerts – drums
Christophe Devisscher – contrabas

http://www.opweule.be/activiteit/jazzconcert