Kris Defoort & Veronika Harcsa - Pieces of Peace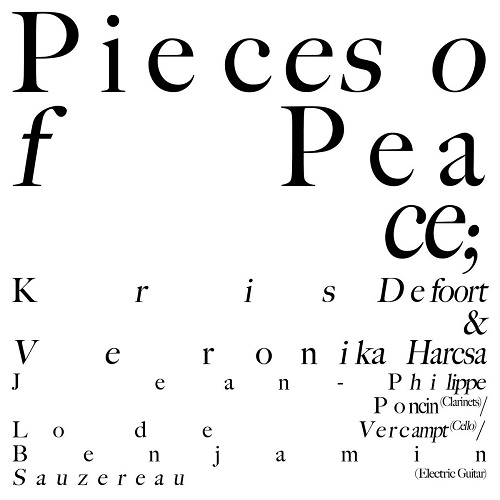 K
W.E.R.F. / N.E.W.S.
Opgelet, deze muziek laat je geen seconde met rust. Zelfs als het eerste thema je je zelfverzekerd laat voelen, heeft de rest alles in zich om je uit het lood te slaan. In zijn schrijven en in de uitvoering van zijn composities verwijst Kris Defoort evenzeer naar de muziek van de vroege twintigste eeuw als naar hedendaagse muziek, jazz, opera of rock. Hij weigert zich in een hokje te laten stoppen en verafschuwt grenzen (dit is trouwens niet de eerste keer, denk maar aan o.a. "The Woman Who Walked Into Doors").
Voor "Pieces of Peace" heeft hij zich omringd met een eclectisch team, waaronder de oogverblindende en briljante Hongaarse zangeres Veronika Harcsa, die tot buitengewone vocale acrobatiek in staat is, evenals Benjamin Sauzereau (een andere vrije elektron van de jazzscene) op gitaar, Lode Vercampt op cello en Jean-Philippe Poncin op klarinetten.
"Pieces of Peace" probeert aan te tonen dat vrede een kwestie van strijd is. Dat vrede nooit bij voorbaat gewonnen kan worden. Dat het beetje bij beetje wordt geconsolideerd. Eerst sidderen de cellosnaren als zenuwen voor een entree op het podium, dan komt er plotseling zonder waarschuwing een gitaar die explodeert in een krachtige riff.
Veronika Harcsa zingt, fluistert, verstikt bijna en baant zich een weg tussen de snaren, terwijl de piano, die eerst verwonderd lijkt, rust brengt. Dan zijn het zorgen en waanzin die doorkomen in de gespannen glimlach van 'Smile'. 'Silence & Joy' is een boeiende, wervelende race naar onmogelijk geluk. Het is een diffuus gevoel, een zweem van hoop in 'Hope - Is the Thing With Feathers'. En net als je denkt dat de storm gaan liggen is, blijven de geesten je kietelen en verontrusten. Wat overblijft is een vleugje melancholie.
Dit album is een moment in de cyclus van een mensenleven.
Het bouwen, de sloop, de wederopbouw. End.
Een buitengewone plaat die in geen enkel hokje thuishoort. Een duizelingwekkende plaat.

© Jacques Prouvost, 09.11.2023
Een samenwerking JazzMania / Jazz'halo