Kreis – Embla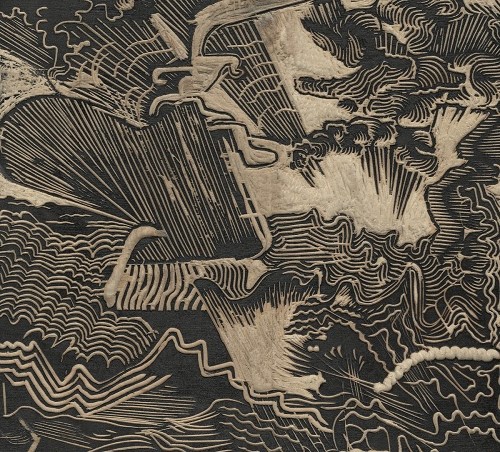 K
Bwaa
Benjamin Hermans, Stan Maris en Kobe Boon zetten hun ontdekkingstocht verder langs de meest obscure paden van kamerjazz, broze improvisatiemomenten, cryptische folk en obscure filmmuziek met dit vervolg op het debuut 'Askr'. Onderweg creëren ze hun eigen mythologische schimmenwereld.
De hoge tonen in de openingstrack 'Vé' klinken als een zoeken naar contact. Stilaan ontstaat in slow motion een afgelijnde structuur, zij het nog wat amorf. Een contrabas tekent vaste contouren terwijl accordeon en saxofoon in het ijle zweven als een embryo in een bokaal met formaline. 'Igen' luidt de voortzetting in aan de hand van hardere klanken als uitroeptekens. Deze aanknopingspunten vallen al even snel weg en het wordt opnieuw aftasten in de duisternis naar welke bestemming het trio de luisteraar voert. Tot plots weer klankbakens opduiken om eveneens onverwacht te verdwijnen. Een zenuwslopend kat- en muisspel dat rimpelloos overgaat in 'Nemiga' dat weer iets geruststellender klinkt. Toch blijft een onheilspellende sfeer hangen.
Tot het einde toe is het ronddwalen in een geheimzinnige nevel van atmosferische klankenclusters. Verdere titels als 'Edda', 'Es', 'Lif' of 'Liana' verzwakken eerder het oriënteringsvermogen dan het te stimuleren. Ondanks de soms heel lugubere ondertoon voelt de muziek toch aan als een warme cocon waarin je veilig opgeborgen zit. In het voorlaatste stuk ('Gard') komt dan wel de hevigere catharsis, gelukkig gevolgd door een zacht wegdeemsterende eindgeneriek.
Door het ongrijpbare en wazige karakter valt 'Embla' moeilijk onder te brengen bij een bepaalde stijl of genre. Vergelijk het met de verhalen van J.G. Ballard die meestal onder sciencefiction geklasseerd worden maar veel meer zijn dan dat. Ook Neil Gaiman zijn 'American Gods' waarin mythologie en technologie met elkaar verweven worden in een kluwen van verhaallijnen, kan hier geciteerd worden. Zo klinkt 'Embla' als de soundtrack voor een reis naar verre nebula waarbij af en toe herkenbare ijkpunten slechts vluchtig opdagen.
Net zoals het debuut 'Askr' is ook 'Embla' opgenomen bij Les Ateliers Claus, op zich al een welbepaalde referentie. Gehuld in een digipack met een in hout gesneden reliëf van Fabrice Hofmans is dit een ticket voor een reis naar onbekende dimensies. Grijp uw kans tijdens de komende JazzLab tournee die voor de deur staat.
© Georges Tonla Briquet



Musici:
Benjamin Hermans: saxofoons, klarinet
Stan Maris: accordeon
Kobe Boon: contrabas

CONCERTDATA
26 september 2020    Kreis / Thunderblender    CC de Meent, Alsemberg    
29 september 2020    Kreis / Thunderblender    Handelsbeurs, Gent
07 oktober 2020    Kreis / Thunderblender    Muziekcentrum Track, Kortrijk    
09 oktober 2020    Kreis / Thunderblender    GC De Muze, Meise    
15 oktober 2020    Kreis / Thunderblender    De Casino, Sint-Niklaas    
16 oktober 2020    Kreis / Thunderblender    Rataplan, Borgerhout    
18 oktober 2020    Kreis / Thunderblender    KAAP, Oostende    
28 oktober 2020    Kreis / Thunderblender    NONA, Mechelen
01 april 2021    Kreis (met Charms Of The Night Sky)    CC De Ververij, Ronse


www.kreisband.com
www.bwaa.be
www.jazzlab.be