Koen Van Roy – Korgistan & Elsewhere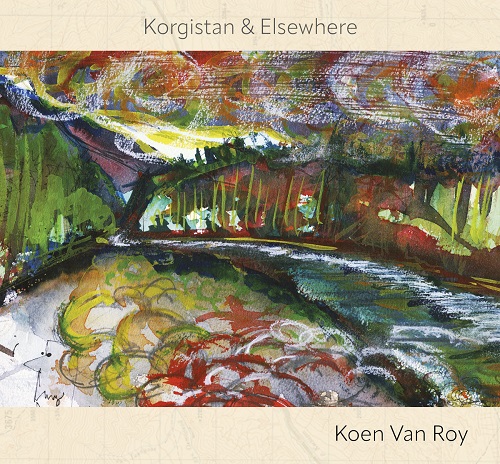 K
Eigen beheer
Voor zijn vorig project trok Koen Van Roy door Vlaanderen met een zelfgebouwde soort waterpedalo in gezelschap van enkele gelijkgestemde vrijbuiters. Deze keer gaat hij helemaal alleen op verkenning naar Korgistan en omstreken.
'Korgistan & Elsewhere' is Koen Van Roy (Cro Magnon, Wilderman, De Legende) zijn ode aan de Korg MS20 en aanverwante synthesizers. Onderweg voegt hij er nog een heuse suite aan toe, 'Music from the former Republic of Korgistan'. Het is bovenal een bewijs dat hij een multi-instrumentalist buiten categorie is. Een kleine greep uit het speel-goed van zijn eigen muziekwinkel: vier categorieën saxofoons, mandoline, drums, kaval, bombarde en natuurlijk een heel arsenaal synthesizers.
In totaal knutselde hij hiermee veertien kortverhaaltjes in elkaar die bol staan van wervelende actie en vreemde taferelen. Ondanks de tsunami van ideeën en effecten die hier naar voor geschoven wordt, blijft de samenhang gegarandeerd. Het is vijftig minuten dwalen door een muzikaal wonderland waar geluiden van de meest gekke "Arcade Games" resoneren.
Enkele impressies om een idee te geven waar het allemaal zoal om draait. 'Ce qu'il y avait avant à vent' lijkt zo uit het repertoire van Mette Henriette geplukt. 'Ceremonial Music part 1' klinkt als een horrorversie van het thema uit het tv-feuilleton 'The Persuaders'. 'March Of The Cut Off Brigades' sluit aan bij het werk van Pierre Henry en Raymond Scott. In 'Wat een hondenleven!' barst de hel helemaal los en wordt een onschuldig kinderliedje getransformeerd in een soundtrack voor een vintage John Carpenter-film waar in extremis de nodige soul en jazz in verweven worden.
En zo gaat het maar verder, van de Balkan tot "outer space" en van Telex naar Pascal Comelade. Zelfs een vleugje kamermuziek ontbreekt niet. De ene referentie volgt op de andere maar steeds met de herkenbare handtekening van Koen Van Roy. Alsof dat nog niet genoeg was, zorgde hij ook voor het al even intrigerende kunstwerk op de voorkant van de hoes.
Past perfect in de reeks 'Made To Measure' van Crammed Discs. Gebruik de "repeat" knop want bij elke beluistering duiken nieuwe details op. Een DIY-werkstuk van weergaloos niveau.

© Georges Tonla Briquet