Kathrin Pechlof Trio - Toward the unknown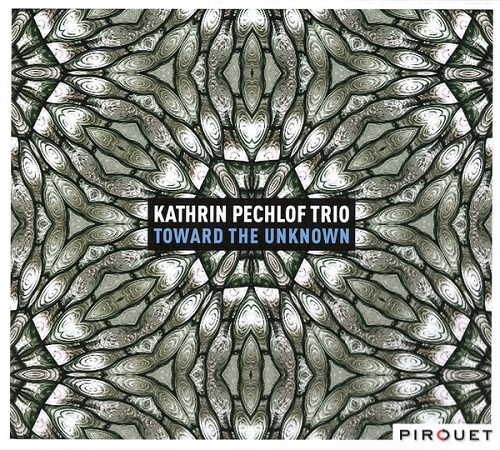 K
Pirouet
La harpe n'occupe pas une place centrale dans l'histoire du jazz. Pourtant…
Michel Legrand avait fait appel à une harpe pour certains titres de l'album Legrand Jazz: les plages avec Miles Davis. Alice Coltrane a souvent joué de la harpe avec Pharoah Sanders. En France, Isabelle Olivier s'est fait un nom dans un registre mélodique tandis qu'Hélène Breschand (souvenir d'un concert solo à Arthome d'Oupeye), entre musique improvisée et musique contemporaine tentait l'expérience de ce qu'on pourrait appeler une "harpe préparée" (avec pinces et autres objets en bois).
Voici Kathrin Pechlov qui allie jazz, musique traditionnelle et musique contemporaine. On l'a découverte aux côtés de deux piliers du label Pirouet: Pablo Held et Sebastian Gille.
Voici sept ans qu'elle a formé ce trio comprenant Christian Weidner au saxophone alto et Robert Landfermann à la contrebasse.
Connu pour son travail avec Nils Wogram (tb) et Kenny Werner (p), Weidner a notamment enregistré, pour Pirouet, Every hour of the light and dark en quartet avec le pianiste Achim Kaufmann.
Quant à Landfermann, il a enregistré plusieurs albums avec le pianiste Pablo Held, comme Lineage et Jazz'halo a dernièrement chroniqué un album d'Ernst Ludwig Petrowski auquel il participe.



Au répertoire de Toward the unknown, 4 compositions de la harpiste, 4 du saxophoniste et une impro-compo collective, Made up animals qui clôt l'album.
Une musique intimiste, mélodique avec de belles envolées du saxophone alto. Une musique de chambre fondée sur une interactivité constante entre harpe et contrebasse (Silence is a looking bird, Fuge, Elegie) mais avec un tempo qui peut s'emballer (Feldfolge).
© Claude Loxhay