Karoline Wallace - Stiklinger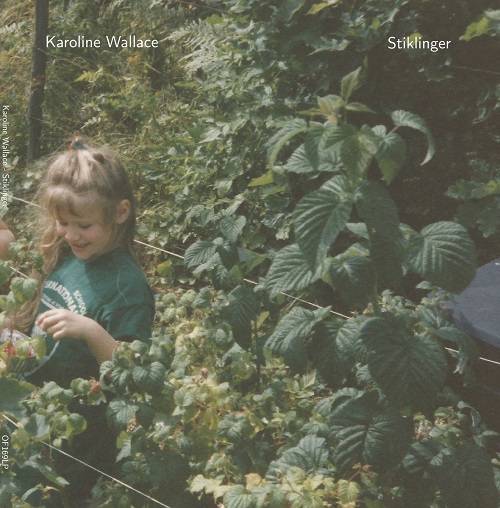 K
self produced
This is the second album by Copenhagen based composer and singer Karoline Wallace; the title translates as "cuttings". It is a highly personal soundscape created by an electro-acoustic octet of improvising musicians. Jonas Engel on alto sax and clarinet makes a strong impression with his rich tone and assertive soloing. Cello and double bass players Ida Nørby and Petter Asbjørnsen work closely together creating a variety of bowed as well as pizzicato effects. Thibault Gomez plays prepared piano which is appropriate because the production makes heavy use of ambient sounds in the spirit of John Cage. Further instrumental colours are provided by Erik Kimestad on trumpet and Szymon Pimpon on drums and percussion. The magic ingredient is Kristian Tangvik on cassettes; he manages to integrate found-sound recordings with special meaning to the composer, many of them dating from her childhood.
The overall effect is deep and immersive, abstract, expressionist and often haunted. Track 1 "Rosehus" begins with throat singing then develops vocal gymnastics reminiscent of Björk, combined with some impressive clarinet. Track 2 "Tri loopar" begins with planned chaos - this is music proud to be tense or "avant garde".
Track 3 "Plis Rosalin" is based around a riff for cello/bass, leading to a powerful sax solo, the whole effect like an updated "21st Century Schizoid Man", reflecting the lyrical themes;
"Rotten potatoes floated in rain water
The winter was far too long
Nothing grows under a burning flame
Linda, she had many cows
But mankind is a future threatener"
Track 4 begins as a duet between music box and piano, sounds drift in and out like changing radio stations. Track 5 "Ett er nodigt" showcases beautiful vocal work from Karoline, whose melodies tend to have a modal/folksong quality - with the exotic instrumentation this has something of the Incredible String Band about it. The final track "Nei, Karoline, na kommer sola" begins with a melody and chords on prepared piano then becomes dominated by recordings of domestic conversation.
The composer explains that the music is inspired by her grandmother's garden, where every plant comes from cuttings collected through her life, travels and meaningful encounters. The album will not be so meaningful for every listener but it has a charm and commitment, coupled with a fertile imagination and fine musicianship. You can hear it on Bandcamp or Spotify.
© Stephen Godsall



Musicians:
Karoline Wallace - vocals, compositions
Erik Kimestad Pedersen - trumpet
Jonas Engel - alto saxophone and clarinet
Thibault Gomez - prepared piano
Ida Nørby - cello
Petter Asbjørnsen - double bass
Szymon Pimpon Gąsiorek - drums
Kristian Tangvik - casettes