Kari Ikonen - Impressions, Improvisations and Compositions (ra)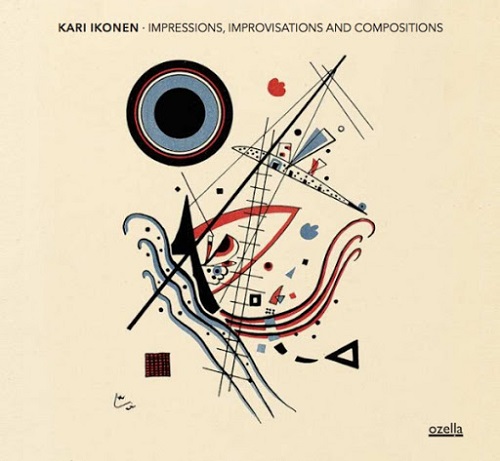 K
Ozella Music
Dat je met een album van amper 40 minuten veel kan vertellen bewijst het onderhavige recensie-exemplaar. 8 januari 2021 verscheen op het Finse label Ozella het solo-album Impressions, Improvisations and Compositions van de multi-instrumentalist en muzikale veelvraat Kari Ikonen.
Wie een piano-solo-album uitbrengt weet dat hij/zij zich op glad ijs begeeft. Vergelijkingen zijn zo gemaakt en daar waar de onaantastbare grondleggers van de jazz schijnbaar moeiteloos een standaard hebben neergezet wordt de lat voor de navolgers door de critici jaar op jaar hoger gelegd. Een subliem album is niet goed genoeg als het niets toevoegt aan de onmetelijke discografie van het genre.
De Fin Kari Ikonen heeft in ieder geval zijn best gedaan om zijn bijdrage uniek te maken. Neem de uitzonderlijke cd-hoes waarop het werk Blue (1922) van de Russische schilder Wassily Kandinsky (niet te verwarren met het gelijknamige donkere werk van Kandinsky uit 1927). Een werk dat volgens de pianist tot belangrijke inspiratiebron van zijn composities heeft gediend. Een andere bron bestaat uit de Arabische maqams, oftewel "het systeem van melodische modi dat in de traditionele Arabische muziek wordt gebruikt." (bron: wikipedia). Om Arabische toonladders te kunnen spelen maakt Ikonen gebruik van een zelf ontwikkeld apparaat dat zich in de klankkast van zijn vleugel bevindt, de Maquiano (zie voor meer informatie: www.maqiano.com).
De Steinway wordt op allerlei wijzen beroerd en dat levert de nodige percussieve en atonale klanken op. En vanuit dit onorthodoxe klankspectrum klinkt plotseling de op het Miles Davis Quintet-album Nefertiti verschenen Wayne Shorter-klassieker Pinocchio. En even later bevinden we ons weer in het Midden-Oosten, Japan of een denkbeeldig land ver voorbij onze horizon.
Het is Kari Ikonen gelukt iets toe te voegen aan het genre, al is het maar omdat hij in het jaar voor de Covid-19-pandemie tijdens een maand vakantie een album heeft opgenomen dat in 2020 onder gedwongen thuisisolatie de standaard werd: een in afzondering tot stand gekomen productie, oftewel een corona-album avant la lettre.
Het is jammer dat hij tot 2021 heeft gewacht om deze muziek met ons te delen.
© Robin Arends

Tracklist:

1. Imprologue (1.27)
2. Maqtu'ah on Maqam Rast (4.24)
3. Pinocchio (3.15)
4. Rausch (1.54)
5. Taqsim on Maqam Saba (4:45)
6. Blue (2.26)
7. Violet (1.23)
8. Koto (5.00)
9. Oppressive (1.32)
10. Three-Chord Blues (2.24)
11. Trance Oriental (4.48)
12. The Evergreen Earth (5.22)


Opgenomen in Helsinki in het huis van Ikonen (augustus 2019)
Mix (september 2019) door Johannes Lundberg in Studio Epidemin, Gothenburg
Master door Hans Jörg Mauksch in Pauler Acoustics, Duitsland
Geproduceerd door Kari Ikonen

www.ozallamusic.com
www.kariikonen.com