Kalya Ramu – Living In A dream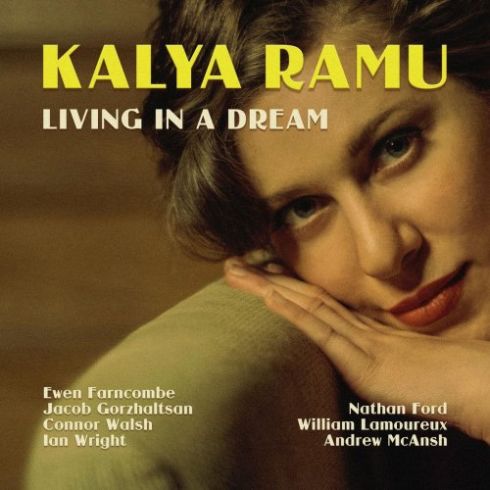 K
Eigen beheer
De Canadese Kalya Ramu grijpt met haar debuut 'Living In A Dream' onverbloemd terug naar de tijd toen jazzzangeressen nog stijl hadden.
Voor vrouwelijke jazzvocalisten zijn er niet zo veel keuzes. Ofwel vervallen ze, al dan niet scattend, in een persiflage van Ella Fitzgerald en Sarah Vaughan of ze kiezen voor een experimentele avant-gardistische weg à la Sarah Buechi of Elaine Mitchener.
Kalya Ramu opteert voor het tijdperk van het interbellum, ook de bloeiperiode van swing en musicals. Ze heeft gelukkig alle kwaliteiten in huis om dergelijk repertoire met verve te brengen: de omfloerste stem van Billie Holiday, de sensualiteit van Rita Hayworth en het speelse van Doris Day.
Een paar luistertips om mee te beginnen. De openingstrack 'Little One' waarin een luchtig "old time feeling" de kop opsteekt, inclusief koorzang. Meteen een eigen nummer, evenals 'Four Or Five Times' waarbij je moet denken aan Louis Jordan die verzeilde in een Busby Berkeley musical. Haar 'She Drinks Alone' is de smachtende soundtrack voor in "the wee small hours of the morning".
Slechts eenmaal doet ze wat aan scatting, zonder overdreven maniërisme maar perfect passend in het kader van het rockende en swingende 'Just You Just Me'. Onvermijdelijk staan er een paar klassiekers op het programma waaronder 'Am I Blue' (deze versie had niet misstaan in 'La La Land'), 'Tea For Two' (in duo met crooner Nathan Ford) en 'What's New'.
Nergens overdadige orkestratie maar alles versierd met de juiste nostalgische pastelkleurtjes. Natuurlijk uitgebracht met een hoes helemaal in Julie London-stijl.
Niet hip of baanbrekend, gewoon tijdloos.
© Georges Tonla Briquet




Line up:
Kalya Ramu – vocals
Ewen Farncombe – piano
Connor Walsh – upright bass
Ian Wright – drums
Jacob Gorzhaltsan – tenor sax & clarinet
+ a few special guests:
Nathan Ford - vocals
William Lamoureux - violin
Andrew McAnsh - trumpet