Huby-Chevillon-Rabbia - Codex III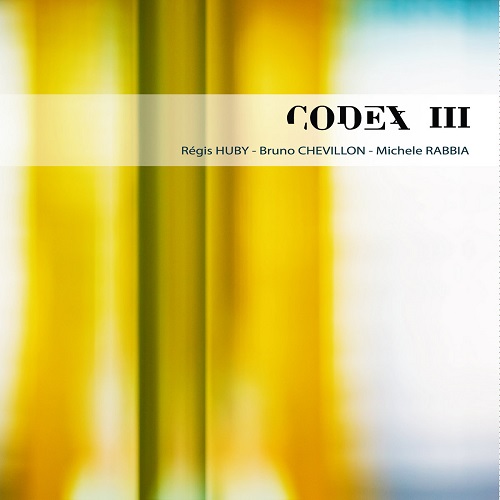 H
Abalone
Op het snijpunt van acoustics en electronics stuwt dit trio de vectoren vooral richting jazz aan de hand van improvisatie. Hun instant interpretaties leveren zowel poëtische soundscapes op als actievolle taferelen.
Buiten aan de reeds genoemde factoren hechten deze drie Fransen tevens het nodige belang aan deconstructie en herinterpretatie van hun individuele bagage. Spontaniteit is nog een van hun basisprincipes. Theorieën die natuurlijk allemaal reeds toegepast en uitgeprobeerd werden in alle vormen en kleuren. En toch slagen Régis Huby, Bruno Chevillon en Michele Rabbia erin om op te vallen op de juiste wijze. Door het inbouwen van ingenieuze paradoxen tussen beide werelden maar in het bijzonder doordat ze alle drie heel uitgebreid gebruik maken van electronics op een totaal eigen manier en met hulpmiddelen als loops, samples, filters en pedalen. Het akoestische aspect raakt hierdoor soms wat op de achtergrond zonder dat ze dit verwaarlozen of radicaal de balans laten overhellen naar de andere richting.
De twee meest extreme voorbeelden zijn enerzijds 'Depths' waarin de "echte" instrumenten de bovenhand halen en 'Another Face' dat volledig voortdrijft op (dance)beats. Voor het overige is het een kristalliseren van akoestische lijnen en een artificieel vibrerende omkadering. Achter elkaar geplaatst in zeven hoofdstukken zonder knip- en plakwerk nadien. Wel hanteert Rabbia handig de "Amazing Noises" plugin. De stereo-effecten zijn inclusief.
Improviseren tussen "va" en "viens" of ook wel volgens de Joost Swarte-methode uit zijn 'Passi, Messa!' (de Franse vertaling van zijn 'Niet Zo, Maar Zo! – Dargaud 2019). Eveneens ergens aanleunend tegen Portico Quartet ('Terrain'), Vangelis en John Carpenter. Tevens voor fans van Alexandra Grimal en wie 'Artisticiel -Cyber-improvisations' van het trio Bernard Lubat, Gérad Assayag en & Marc Chemillier weet te appreciëren.
© Georges Tonla Briquet



Musici:
Régis Huby: viool, tenorviool, electronics
Bruno Chevillon: contrabas, electronics
Michele Rabbia: drums, percussie, electronics

https://regishuby.bandcamp.com/album/codex-iii