Hendrik Meurkens Quartet: A NIGHT IN JAKARTA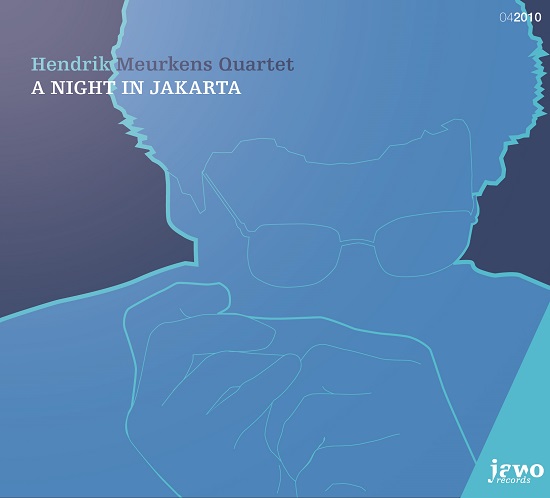 H
jawo records, JAW004
Zur Band des in den USA beheimateten Vibrafonisten und Harmonikaspielers Hendrik Meurkens gehören folgende Musiker, mit denen wir eine Nacht in der indonesischen Hauptstadt Jakarta aber auch in Brasilien erleben, wenn wir "Choro No 8" oder "September Choro" hören: Misha Tsiganov (piano, fender rhodes),
Gustavo Amarante (bass) und Adriano Santos (drums, pandeiro (Rahmentrommel), percussion).
Wer denn meint, bei den ersten Takten von "A Night in Jakarta" höre er Toots Tielemans, den alten Mann an der Jazz-Harmonika aus der Brüsseler Hoogstraat, der irrt gewaltig. Toots hat vor Jahren sein Instrument aus der Hand gelegt, nachdem er noch einmal bei Jazz Middelheim zu hören war. Mit ähnlichem Spielverständnis wie Toots und mit großem Einfühlungsvermögen wie Toots zeigt sich nun der in New York ansässige Vibrafonist und Harmonikaspieler Hendrik Meurkens. Er ist eine Größe in der aktuellen New Yorker Jazzszene, kann aber auch nicht wegwischen, dass er von Bolero, Choro und anderen südamerikanischen Stilen gleichfalls beeinflusst wurde. Kein Wunder, lebte er doch einige Jahre in Rio. "Hendrik's understanding of the Brazilian music vocabulary is absolute. … His music feels like the work of a native Brazilian composer." das sind die Worte des nun auch in New York lebenden brasilianischen Trompeters Claudio Roditi. Wenn er uns eine Nacht lang in die indonesische Hauptstadt Jakarta mitnimmt, dann klingt es mehr nach Rio und Salvador oder Manaus als nach Südostasien. Beim Zuhören von "A Night in Jakarta" tauchen Bilder von tanzenden und fröhlichen jungen Menschen in unserer Vorstellung auf, Die Miniröcke scheinen in dieser Nacht noch kürzer als am Tage; das Lachen ist noch lauter, die Ausgelassenheit nicht mehr zu überbieten. Immer noch herrscht eine tropische Hitze, und das spiegelt die Musik Meurkens mit einem hörbaren brasilianischen Hüftschwung wider. "A Ilha" und auch "September Choro" verraten, woher die musikalischen Inspirationen stammen, hat Hendrik Meurkens doch einige Zeit im Schatten des Zuckerhuts verbracht. Bei "A Ilha" fühlt man sich dem Mädchen von Ipanema sehr nahe. Über weite Phasen dieser Komposition ist die Rhythmusgruppe überaus aktiv, während sich Meurkens noch im Hintergrund hält. Doch dann wandelt er nicht auf den Spuren von Toots, der selbstverständlich auch ein Faible für Latin Jazz hatte, sondern auf denen von Gary Burton und Milt Jackson. Mit ähnlichem Drive wie die Genannten lässt Meurkens seine Schlägel auf die Klangstäbe niedersausen. Zu hören sind auf dem aktuellen Album auch Klassiker des Jazz wie "They can't take that away from me" , komponiert von dem legendären George Gershwin. Doch überwiegend spielt das 4tet Kompositionen des Vibrafonisten und Harmonikaspielers Meurkens. In seine Titel lässt er Bolero, Samba und Rumba einfließen und auch der vor allem in Rio bekannte Choro findet bei Meurkens seinen Niederschlag. Rio hat ihn also nie ganz losgelassen, weder in Jakarta noch in New York. Einige der Stücke, so "September Choro", haben das Zeug dazu, Evergreens oder zumindest Ohrwürmer zu werden. Die Melodien sind eingängig, so eingängig wie bekannte Einspielungen von Toots oder Stan Getz sowie Astrud Gilberto. Auch das "winterliche Meer" bekommt von Meurkens ein kunterbuntes brasilianisches "Sambakostüm" verpasst. Dabei wird die Melodieführung durch Meurkens eingängiges Harmonikaspiel bestimmt und suggeriert keinen brausenden Wellengang , sondern eine ruhige See. Ein zartes Lüftchen regt sich, und der Wintersturm liegt in weiter Ferne. Ist der "Bolero for Pachito" wirklich für Pachito D'Rivera gedacht? Man muss es wohl annehmen. Nach dem "Pragbesuch", zu dem uns Meurkens mitnimmt, klingt das Album mit "Here's that rainy day" ein wenig gedämpft aus. Man kann ja nicht immer brasilianische Leichtigkeit leben, oder? Das Album ist eine Bereicherung für das Genre Latin Jazz, weil es nicht versucht, Einspielungen von Stan Getz, Astrud Gilberto oder Baden Powell zu kopieren oder mit eigenen Arrangements aufzunehmen. Wer "eine Nacht in Jakarta" verbringt, hat gewiss anschließend überaus gute Laune.
© ferdinand dupuis-panther
Presse release by jawo records
Four of New York City's outstanding musicians have found together in the 2004 established "Hendrik Meurkens Quartet", a band whose unique sound is defi ned by Hendrik Meurkens' "trademark", the sound of the Jazz harmonica and the vibraphone, plus the fantastically swinging rhythm section, and by Meurkens' critically acclaimed compositions, which make up most of the group's repertoire. Hendrik Meurkens, who since 1992 calls New York City home, has fi rmly established himself as the most important voice of the jazz harmonica alongside Toots Thielemans. Since he lived in Rio de Janeiro in the early 80s, he has been closely associated with Brazilian music and has already back then worked and recorded with the leading Brazilian musicians. Throughout his career Meurkens was invited to most major festivals and he can be heard regularly in New York`s jazz clubs, where his quartet played the opening night of the new Birdland jazz club. Meurkens' importance as a composer is repeatedly being stressed by the critics. Thus, his compositions have been recorded by legends such as Claudio Roditi, Paquito D'Rivera and Manfredo Fest - and are featured in the Hollywood film "Dolores Claiborne", in which Meurkens' band has an on-screen performance as well. As a vibraphonist Hendrik Meurkens has developed a very personal and unique style. His Milt Jackson inspired vibraphone playing has added a new and refreshing color to Brazilian jazz.
Informationen
Label
www.jawo-records.com
Musiker
Hendrik Meurkens
www.hendrikmeurkens.com