Hal Tsuchida & European Friends: Swingin´ with the Hammond Organ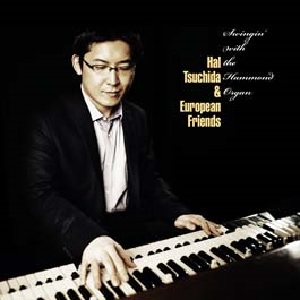 H
Mons Records, MR 874575
Von Yokohama nach Northern Illinois und Chicago sowie schließlich Berlin – das sind kurz die Stationen des japanischen Pianisten und Organisten Hal Tsuchida. Der Startschuss seiner Karriere als Profimusiker fiel, als er sein Jazzpiano-Studium bei Willie Pickens an der Northern Illinois University aufnahm und mit einem Master Degree abschloss. In der Jazzszene in Chicago fand er schnell Anschluss und spielte mit Musikern wie Billy Branch, Eddie C. Campbell, Bo Diddley, Little Arthur Duncan und George Freeman. Elf Jahre lang war die amerikanische Jazz- und Bluesszene kreativer Mittelpunkt seines Schaffens, gekrönt vom 2006 erschienenen Debütalbum "Midnight Shuffle".
Vier Jahre später zog es ihn für einige Jahre nach Japan, ehe Berlin und damit die europäische Jazz- und Bluesszene "riefen". Und warum ist es nun gerade der Hammond-Orgel-Jazz, dem Hal Tsuchida nun frönt und in einem Album bündelt? "Ich wollte gemeinsam mit meinen Freunden aus Deutschland und Tschechien, die den Sound des Hammond-Orgel-Jazz ebenso lieben wie ich, meinen musikalischen Weg nachzeichnen und unsere Erfahrungen und unterschiedlichen Traditionen auf einer CD vereinen. Während meiner Zeit in Chicago habe ich oft in Bands gespielt, die stark vom Sound der 50er und 60er Jahre beeinflusst waren. Das hat auch mich stark geprägt. Meine Helden an der Orgel sind Legenden wie Jimmy Smith, Jack McDuff, Jimmy McGriff, Don Patterson und Richard "Groove" Holmes – aus dieser Tradition komme ich und will diesen typischen Sound für Europa adaptieren und erlebbar machen." An Hals Seite sind nachstehende Musiker auf der aktuellen Einspielung zu hören: Torsten Goods bzw. Libor Šmoldas (Guitar), Tobias Backhaus bzw. Tomáš Hobzek (Drums) sowie Karel Ruzicka jr. (Tenor Saxophone). Was ist die Intention dieses Ensembles? "Ich will denen meinen Tribut zollen, die meinen Stil an der Hammondorgel so sehr geprägt haben. Also haben wir Songs legendärer Hammond-Orgelspieler und Komponisten ihres Genres genommen, sie auf unsere Weise interpretiert und aufgenommen. Dabei stehen Songs von Jimmy Smith wie "I'll Drink To That" und "Off The Top" neben Jazz-Standards wie "These Foolish Things" und Blues-Nummern wie "Midnight Creeper".
Mit zwei Titeln aus der Feder von Jimmy Smith macht das aktuelle Album auf. Mit einem Gefühl für den Blues und den Funk spielt Hal Tsuchida sein Instrument, wenn er uns "I'll Drink To That" zu Gehör bringt. Geprägt wird das Arrangement auch durch den Tenorsaxofonisten Karel Ruzicka jr., der sich ganz und gar dem Blues hingibt, während Hal Tsuchida dessen Phrasierungen mit wenigen Akkorden akzentuiert untermalt. Wem der Song nicht in die Beine geht und zu einem Tänzchen animiert, dem ist augenscheinlich nicht mehr zu helfen. Das Wechselspiel zwischen Hammondorgel und Tenorsaxofon ist sehr beeindruckend, wenn sich auch ganz kurz der Gitarrist Torsten Goods in dieses Zwiegespräch einmischt. Übrigens, Hal Tsuchida spielt bei diesem Jimmy-Smith-Song mit allen Registern – und das ist ein Ohrenschmaus der besonderen Art. Nachfolgend kann man nochmals Jimmy Smith lauschen. Wenn "Off The Top" erklingt.
"These Foolish Things", eine Komposition von Harry Link und Jack Strachey (Musik) mit einem Text von Holt Marvell aus dem Jahr 1936, steht außerdem auf dem Programmzettel von Hal Tsuchida und seinen Mitstreitern. Beliebt war der Standard nicht nur bei Frank Sinatra, der ihn vielmals bei Konzerten schmetterte, sondern auch bei Billy Holiday und Ella Fitzgerald. Sehr getragen beginnt die Hammondorgel, die Melodie zu entwickeln. Danach legt sich Libor ŠmoldasÂÂ mit wenigen Gitarrengriffen über den satten Klangteppich, den Hal Tsuchida ausbreitet. Die Gitarre übernimmt schließlich die Regie, und die Hammondorgel tritt konsequent in den Hintergrund. Stets jedoch liegt es in Hal Tsuchidas Händen, auf die Melodie zurückzuführen. So entwickelt sich ein überaus interessantes Wechselspiel zwischen den Gitarrenläufen und den tieftönigen Klangfarben der Hammondorgel. Vor allem angesichts des variantenreichen Gitarrenspiels ist es kein Mangel, dass die Nummer ein Instrumentalstück bleibt und wir nicht Verszeilen wie "A cigarette that bares a lipstick's traces / An airline ticket to romantic places / Still my heart has wings / These foolish things remind me of you" zu hören bekommen. Irgendwie verbreitet der Song das Gefühl eines Abends in einer Tanzbar, in der Paare Wange an Wange über die Tanzfläche schweben.
Welches Wechselbad von Klang und Rhythmus bieten uns dann Hal und Co. bei "Midnight Creeper"? Das ist Blues, Funk und Soul vom Feinsten. Wiederum wird das Klangbild dieses Songs von Hammondorgel und Gitarre bestimmt, die sich gegenseitig zu perfekten Harmonien und Klangwolken antreiben. Auch ohne den Altsaxofonisten Lou Donaldson, von dem der Titel ursprünglich stammt, und auch ohne George Benson an der Gitarre sowie Blue Mitchell an der Trompete klingt der Titel rund, zumal Torsten Goods in seiner Virtuosität George Benson in nichts nachsteht. Die Passagen, die Altsaxofon und Trompete in der Originalversion übernehmen, füllt Hal Tsuchida mit seiner Hammond aus, und auch Tobias Backhaus trägt mit seinem Schlagzeugsolo zum Gelingen des Arrangements vortrefflich bei. 1986 schrieb der Tenorsaxofonist Harold Ousley den Funktitel "That's When We Thought Of Love", an den auch Hal Tsuchida und Co. Hand anlegten, als sie ihn in einem eigenen Arrangement einspielten. Während der Tenorsaxofonist Karel Ruzicka jr. bei "Midnight Creeper" nicht mit von der Partie war, kann er bei der Nummer von Ousley zeigen, was in ihm steckt, derweil die Hammondorgel sich mehr oder minder in Bassgefilden bewegt.
Ein bekanntes Broadway-Stück gehört auch zum Repertoire von Hal Tsuchida. Dabei handelt es sich um "How High The Moon" und war einst Teil der Broadway-Revue "Two for the Show" (1940). William Morgan Lewis schrieb diese langsame Ballade in der A-B'-A-B"-Form. Doch es existieren auch schnelle Bebop-Variationen, an denen sich, hört man die Nummer auf dem aktuellen Album, Hal Tsuchida orientiert. Auffallend ist erneut der "Wechselgesang" zwischen Hammondorgel und Gitarre, während Bass und Drums sich weitgehend mit einer Nebenrolle abfinden müssen. Wenigstens darf der Drummer Tomáš Hobzek fast am Ende des Songs auf seinen Trommeln solistisch wirbeln. Marvin Gaye, der wohl einflussreichste Soulsänger der 1970er Jahre schlechthin, findet sich als Kompositeur auch auf dem vorliegenden Album: "What's Going On" steuerte Gaye zur Geschichte der Popularmusik des 20. Jahrhunderts bei. Der Instrumentalversion, die wir hören, können wir nicht entnehmen, dass der Song in seiner Aussage überaus politisch war und sich auch sehr kritisch mit dem Vietnamkrieg befasste. Dennoch groovt auch dieser auf dem aktuellen Album zu hörende Titel und weckt Erinnerung an Zeiten, als Soul, Funk und Motown der letzte Schrei waren. Nur gut, dass uns Hal Tsuchida Soul und Funk in einem zeitgemäßen Outfit präsentiert.
Press Release by Mons Records
Hal Tsuchida from Yokohama, Japan, is a jazz and blues organist, pianist, composer and arranger. His career as a professional musician began while studying jazz piano under Willie Pickens at the Northern Illinois University. This was followed by a master's degree in composition and a Performance Certificate from DePaul University. Thus equipped, he delved deep into the Chicago jazz and blues scene, playing with artists such as Billy Branch, Eddie C. Campbell, Bo Diddley, George Freeman, and Phil Guy to name but a few. As a band member, he got to know numerous festival stages from Chicago to Baltimore to Portland, and founded his own jazz organ trio. For eleven years, the US jazz and blues scene was the creative heart of his work. In 2006, his debut album Midnight Shuffle was released, followed by Next Time You See Me in 2010. In June 2010, Hal Tsuchida returned to Japan where he earned his status as a jazz and blues organist, and where his musicianship was recognized and praised at numerous clubs and festivals. In July 2013 he decided to move to Berlin. The European jazz and blues scene with its diversity of musical trends magically attracted him. He quickly became a part of this electrifying scene and began to contribute and develop his cosmopolitan experiences. He met musicians with a similar musical background to his own, musicians who shared his love for Hammond organ jazz and blues and who replenished it with their musical feeling. The idea for the present album Swingin' with the Hammond Organ began to blossom in Hal Tsuchida. When asked for the reasons, he answered "together with my friends from Germany and the Czech Republic, who love the sound of Hammond organ jazz as muchas me, I wanted to retrace my musical path and to unite our experiences and differing traditions on a CD. During my time in Chicago, I often played in bands that were heavily influenced by the sound of the 50's and 60's. This strongly influenced me as well. My heroes on the organ are legends such as Jimmy Smith, Jack McDuff, Jimmy McGriff, Don Patterson and Richard "Groove" Holmes. I come from this tradition and wanted to adapt this typical sound for Europe and make it tangible". And that is what Hal Tsuchida (Hammond organ) with his allies Torsten Goods and Libor Šmoldas (guitar), Tobias Backhaus and Tomáš Hobzek (drums) and Karel Ruzicka Jr. (tenor saxophone) have so impressively and thrillingly succeeded in doing. Their patent remedy is as simple as it is ingenious: "I want to pay my tribute to those who have so heavily influenced my style on the Hammond organ. We took songs by legendary Hammond organ players and composers from their genre, then interpreted and recorded them our way. There are songs by Jimmy Smith like 'I'll Drink To That' and 'Off the Top' alongside jazz standards such as 'These Foolish Things', pure blues numbers like 'Midnight Creeper' or 'Tyrone' by Larry Young, as well as the Motown hit 'What's Going On' by Marvin Gaye. Swingin' with the Hammond Organ can with justification be called a 'favorite songs collection' which documents the authentic sound, the unique groove and the musical brilliance of this extraordinary band.
Text: © ferdinand dupuis-panther
Informationen
Label
Mons Records
www.monsrecords.de
Musiker
Hal Tsuchida
http://www.haltsuchida.com