Hoera. – '≈'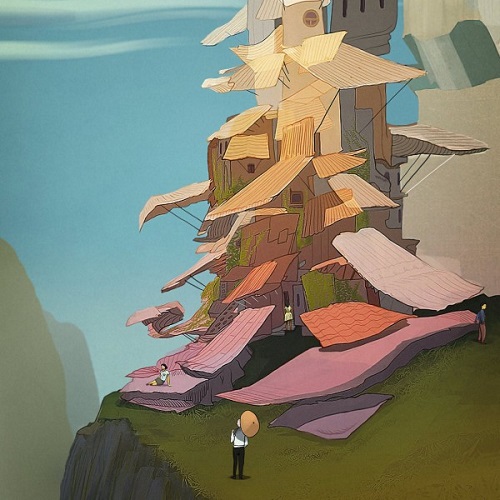 H
granvat
De heren van Hoera. houden duidelijk van cryptische werelden. Bij hun vorige release 'Beestentijd' stak een puzzel van 300 stuks. Deze keer dient de luisteraar de codes op de platenhoes en het label op de vinylplaat te ontcijferen om de vijf verschillende titels uit elkaar te houden. Het korte bijgevoegde tekstje ligt in een al even geheimzinnig verlengde hiervan: "Approximation, anything that is similar but not exactly equal to something else".
Gitarist Bert Cools, bassist Dries Laheye en drummer Stijn Cools ontplooien hier wederom een poëtisch en uiterst broos universum. Van bij de eerste noten scheppen ze een ingetogen maar tevens lichtjes sinistere en zelfs broeierige sfeer die ze twee plaatkanten aanhouden. Alsof Bill Frisell en Badalamenti samenwerkten om een fotoreeks van weidse landschappen te verklanken.
Hun manipuleren van tijd leidt tot een gevoel van totale desolaatheid. Het begrip "slow motion" vormt onmiskenbaar de rode draad doorheen deze fijnzinnige soundtrack. "Meesters van de beheersing" is dan weer een onvermijdelijke omschrijving van de speelstijl.
Aan de hand van de downloadcode kan je alles makkelijk achter elkaar beluisteren maar het ritueel van de plaat omdraaien is een intrinsiek en essentieel kenmerk van de luisterervaring.
Dankzij het formaat (10" lp) en de illustratie van Johan Meuris is dit wederom een kunstzinnig hebbeding van het granvat label.



Musici:
Bert Cools: gitaar (elektrisch & akoestisch)
Dries Laheye: bas (elektrisch & akoestisch)
Stijn Cools: drums

© Georges Tonla Briquet