Hilde Vanhove - Imagine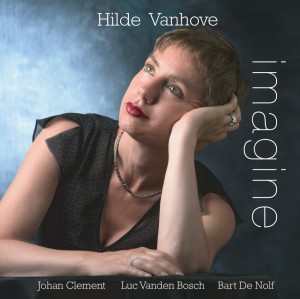 H
Gandharva
Après avoir d'abord étudié le piano classique, Hilde Vanhove a poursuivi ses études de jazz vocal au Conservatoire de Maastricht.
Si elle s'est produite avec nombre de pianistes, comme Michel Herr, Ivan Paduart, Pascal Michaux ou Jef Neve, avec qui elle a participé à une tournée Jazz Lab Series en 2003, mais aussi avec des guitaristes tels que Peter Hertmans ou Joep Van Leeuwen, elle n'avait encore à ce jour qu'un seul enregistrement: Insense sorti en 2003. Un très bel album enregistré avec un trio de rêve: Michel Herr au piano, Hein van de Geyn à la contrebasse et l'Américain Billy Hart à la batterie, ainsi qu'en invité Bert Joris. Au répertoire, à cette époque, déjà des standards mais aussi Blue in Green de Bill Evans, immortalisé par Miles, Iris de Wayne Shorter, deux mélodies brésiliennes (Triste de Jobim et Estate, thème fétiche de Chet) mais aussi une composition personnelle (Insense) et un original de Peter Hertmans pour lequel Hilde avait écrit les lyrics. Un répertoire qui illustrait l'étendue de son registre vocal et ses goûts musicaux éclectiques.
Pour ce nouvel album, la chanteuse de Hasselt est accompagnée, à nouveau, par un trio rompu au jazz vocal: celui du Hollandais Johan Clement. S'il a fait partie du New Look Trio de Roger Vanhaverbeke et, à ce titre, a accompagné nombre de musiciens américains, comme Johnny Griffin, Slide Hampton ou Art Farmer, il a formé son propre trio (album Some Other Time) et a joué avec une multitude de vocalistes: Deborah Brown (Live at Blue Note), Mandy Gaimes (With a song in my heart), Ibernice Mac Bean (ittle Black Curls), Marjorie Barnes ou Etta Cameron. A ses côtés, à la contrebasse, Bart De Nolf, vieux complice de Sadi mais aussi sollicité à l'étranger (album Andalucia du Français Jean-Marie Machado, avec Andy Sheppard au saxophone) et par des chanteuses comme Deborah Brown ou Judy Niemack. Enfin, tout en nuances à la batterie, Luc Vanden Bosch, qui était déjà présent au sein du New Look Trio et a interprété le répertoire des Beattles avec Phil Abraham (Jazz Me Do).
Pour Imagine, pas de compositions originales, mais une série de grands classiques de Gerswhin, comme ce It ain't necessarily so extrait de Porgy and Bess, un traditionnel souvent repris par les chanteurs de gospel (Sometimes I feel like a motherless child), le All Blues de Miles avec les lyrics de V.Mendoza, C.T.A. de Jimmy Heath que Miles a aussi interprété, une version très jazz d'Imagine de Lennon, un petit détour par le Brésil (Samba in preludio, chanté en portugais)) et le légendaire Avec le temps de Léo Ferré, chanté en français avec une sensibilité aiguisée.
Bref un répertoire qui illustre les goûts éclectiques de Hilde, avec une belle alternance entre swing très enlevé (But not for me, I've got the world on a string, s'Wonderful, avec envolées du piano et, sur Alright, OK, you win, beau solo de contrebasse), passages de scat survolté (C.T.A.) et ballades remplies d'émotion (Imagine, Avec le temps, Sometimes I feel like a motherless child interprété en duo avec la contrebasse).
Avec sa voix fluide, Hilde Vanhove allie un sens parfait du rythme à un lyrisme mélodique aiguisé.
Bref une chanteuse qu'on voudrait entendre plus souvent en concert.
L'album Imagine peut être commandé directement auprès de la chanteuse de Hasselt, via le site hildevanhove.com, il sera aussi disponible sur i tunes à partir du 12 août.

Claude Loxhay

http://www.hildevanhove.com