Het Orgel Trio & Brass - Reflections Of Duke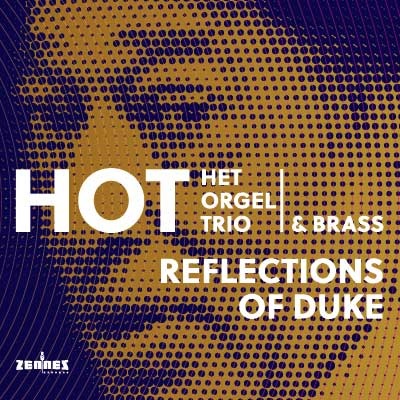 H
Zennez Records
De carrière van Edward Kennedy 'Duke' Ellington (1899-1974) overspant een halve eeuw. En van dit gegeven hebben de mannen van Het Orgel Trio (HOT) grif gebruik gemaakt bij het samenstellen van de set list van hun nieuwste album, Reflections Of Duke. De nieuwste uitgave van het trio bevat composities die zowel in het begin als aan het einde van het tijdperk van -wellicht- de grootste componist/bandleider uit de jazzgeschiedenis zijn geschreven. Het trio heeft er, met Ruben Drenth en Joost Buis, het nodige koper voor ingehuurd om de composities volledig tot hun recht te doen komen.
Wat horen we op dit album? We horen klassiekers die worden afgewisseld met inspiraties op vrij onbekend werk van de Duke uit de jaren '70. Prachtige arrangementen voor bijzondere combinaties.
De door Kamperman gearrangeerde klassiekers Jubilee Stomp, Mood Indigo en Come Sunday worden tot in de vezels uitgekleed en vervolgens vertraagd uitgevoerd en gedecoreerd met de vrijmoedige klanken van Buis en Drenth. Ook in het daaropvolgende Rockin' In Rhythm spelen trompet en trombone een vrije rol, terwijl het orgel een echo verklankt van de oorspronkelijke compositie. Orgel en koper vormen een beproefde combinatie. Gelijktijdig kun je je afvragen in hoeverre het werk van Ellington door een kerkorgel kan worden vertolkt zonder dat het karakter van de composities wordt aangetast.

Al met al biedt het album een vrij steriele indruk. Hoe zou organist Messiaen zijn tijdgenoot Ellington op zijn instrument hebben vertolkt? Wellicht zoals op dit album Black And Tan Fantasy wordt uitgevoerd. Bij het beluisteren ervan vraag je je af: "Waar is de swing? Waar is het ritme, waar is het slagwerk?" De compositie klopt, maar er is iets mis met de uitvoering.
Als men een Ellington-compositie wil ontleden is men hier aan het goede adres. De liefhebber van het genre kan beter een origineel Ellington-album op de draaitafel leggen.

Het album eindigt met het nummer Heavenev, een door het Ellington-nummer Heaven (1968) geïnspireerde compositie van Berry van Berkum. Een treffende afsluiting. De ultieme muziek voor een meditatie.
© Robin Arends


 
Opgenomen 2 en 3 oktober 2019
Mix en gemasterd door Alex Geurink

Musici:
Steven Kamperman - alt en basklarinet
Berry van Berkum - orgel
Dion Nijland - contrabas
Ruben Drenth - trompet
Joost Buis - trombone