Haynes Smith Crane Platz – Search Versus Re-Search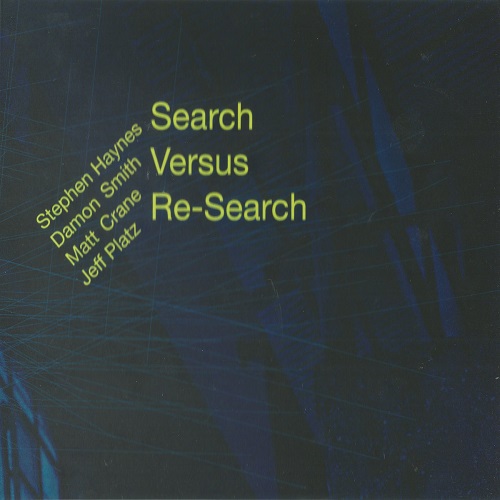 H
Setola Di Maiale
Een duidelijke titel die perfect past bij het motto van het Italiaanse label dat sinds 1993 onconventionele muziekjes op de mensheid loslaat. Bijna een uur lang leidt dit kwartet improvisators uit Boston de luisteraar door een wondere en vooral broze tuin van intimistische taferelen.
Aan de hand van enkele basklanken, vervormde blaasgeluiden, schuifelende borsteltjes en gitaargeknars etaleren de vier in de openingstrack de basisprincipes volgens dewelke ze te werk gaan. Elke gestage geluidsverschuiving gebeurt met uiterste omzichtigheid, net als kirie-experten die de meest kunstzinnige papierwerken uitknippen met engelengeduld.
Af en toe komt het dan toch tot een lichte volumepiek zoals tijdens het stukje tribal drumming in 'Gather and Knit'. In 'Midnight and Noon' zijn het de gitaarperikelen van Platz die de concentratie in het klankenlaboratorium eventjes uit evenwicht brengen. Aan zijn zijde Haynes die hier eveneens het gamma van klankspeculaties uitbreidt met zijn cornet (al dan niet met sourdine). In 'Study for Selvedge' is het wederom Platz die, met de hulp van contrabassist Smith, het woordje "re-search" uit de titel extreem verklankt. 'Movement for Quartet' is een grande finale als een catharsis. Enkel in 'Indigo' duiken een aantal meer toegankelijke herkenningspunten op voor wie vertrouwd is met vastomlijnde structuren waar ook een vorm van melodie in zit.
Geen curiositeitenkabinet maar de doorgedreven zoektocht van vier geluidscontortionisten die de mogelijkheden van avant-gardistische acoustics aftasten.

© Georges Tonla Briquet






Musici:
Stephen Haynes: cornet
Damon Smith: contrabas
Matt Crane: drums, percussie
Jeff Platz: gitaar

www.setoladimaiale.net