Hal Galper Quintet - Live At The Berlin Philharmonic 1977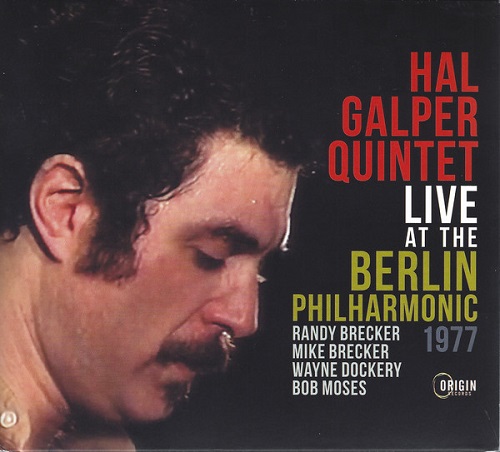 H
Origin
Een nostalgisch dipje met heimwee naar een bruisend live concert? Dan is deze 'Live At The Berlin Philharmonic' een aan te bevelen remedie. Opgenomen in 1977 met in de frontlinie de legendarische gebroeders Michael en Randy Brecker samen met pianist Hal Galper, bassist Wayne Dockery en drummer Bob Moses.
Galper, indertijd sidekick van onder meer Dave Holland en Lee Konitz, kwam net terug van drie jaar toeren met het Cannonball Adderley Quintet en wilde op eenzelfde elan verder. Even de Brecker Brothers contacteren met wie hij jaren voordien ook al optrad. Met bassist Wayne Dockery en drummer Bob Moses erbij had hij zijn eigen droomkwintet. Gedurende een jaar waren ze op zondagmiddag te gast in de New Yorkse Sweet Basil Jazz Club om een repertoire op te bouwen. Een en ander leidde zo tot onder meer 'Reach Out' (Steeplechase, 1977) en 'Speak With A Single Voice' (Century, 1979). Stevig materiaal maar deze opname is nog veel sterker en overtuigender.
Zes nummers (allemaal van Galper met uitzondering van 'I'll Never Stop Loving You') variërend in lengte tussen twaalf en vierentwintig (!) minuten, verspreid over twee schijfjes. De ene climax volgt de andere op. Heftig, recht voor de vuist en freewheelend zonder ook maar een seconde van twijfel razen de vijf doorheen de set.
Een track is afkomstig uit het concert van 11 januari 1978 tijdens de Berlin Jazz Days maar sluit perfect aan bij de rest. De heren sluiten af in volbloed bluesmodus. Deugddoend om nog eens iets te horen uit een tijdperk toen live nog echt live was.
© Georges Tonla Briquet



Musici:
Hal Galper: piano
Randy Brecker: trompet, flugelhorn
Michael Brecker: tenorsaxofoon
Wayne Dockery: bas
Bob Moses: drums

www.originarts.com