Free Desmyter & Bassem Hawar - The Takenouchi Documents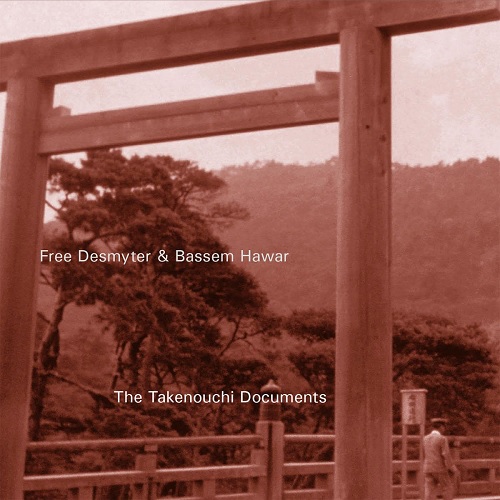 F
WERF Records
Les amateurs de jazz belges connaissent essentiellement le pianiste Free Desmyter au travers du Chris Joris Experience et des albums Out of the night (2003) avec Pierre Vaiana; Marie's Momentum (2010) avec Franck Vaganée et Nico Schepers puis Home and old stories avec Naima Joris.
En tant que leader, le pianiste natif de Nieuwpoort a enregistré, en 2007, Something to share, en compagnie de John Ruocco, Manolo Cabras et Mark Patrman. La même année, il rencontrait un musicien irakien, ayant multiplié les rencontres: Duo Melodic avec le joueur d'oud Saad Mahmood Jawad, le Trio Zirgab avec deux guitares flamenco, le quintet Nourriz Ensemble et Orient Express, en trio, avec le saxophoniste hollandais Yuri Honing. Soit Bassem Hawar, un virtuose du djoze, cet instrument traditionnel irakien, une sorte de vièle à quatre cordes proche du rabab turc.
Ensemble, ils ont enregistré Between rivers pour le label allemand Heaven and Earth. Les voici réunis pour un ambitieux projet commissionné par De Singel, le Concertgebouw de Bruges et KAAP: une rencontre entre Occident et Moyen Orient, entre musique classique, jazz et musique arabe.
Le projet réunit pas moins de 11 musiciens. Côté Orient: Saad Mahmood Jawad à l'oud, Khaled Alhafed au daf, ce grand tambour à cadre et Firas Al Awani à la clarinette. Côté Occident: le fidèle Chris Joris aux percussions, Nathan Wouters (de MikMâäk) à la contrebasse, Michaël Brijs à la flûte et des cordes: Amanta Roosens au violon, Marie Ghitta à l'alto et Annemie Osborne, la violoncelliste d'Oak Tree et d'Overseas en compagnie de Toine Thys et Ihab Radwan.
Dix compostions arrangées par Bram Van Camp constituent ces Takenouchi Documents, une musique intimiste aux colorations orientales, sur une trame essentiellement classique. Tout au long des 10 plages, c'est essentiellement le piano et le djoze qui sont mis en évidence. Ca et là viennent se fondre à cette trame, l'oud (Hodedge), la voix de Khaled Alhafed (Djordjina), le berimbau de Chris Joris et la flûte (Berimbau), le daf (Nubi) ou les cordes (Song for the orphan,Reflections).
Après les concerts d'Anvers et Bruges, cet ambitieux projet fait l'objet d'un album WERF.
© Claude Loxhay



Ensemble
Free Desmyter, piano
Bassem Hawar, djoze
Saad Mahmood Jawad, oud
Khaled Alhafez, zang
Khaled Alhafez, daf
Firas Al Alwani, ney, klarinet
Michaël Brijs, fluit
Ananta Roosens, viool
Marie Ghitta, altviool
Annemie Osborne, cello
Nathan Wouters, contrabas
Chris Joris, percussie
Free Desmyter, creatie
Bram Van Camp, arrangementen
Amber Vandenhoeck, lichtontwerp

coproductie deSingel, Kaap met dank aan Toneelhuis