Fabien Degryse : Summertime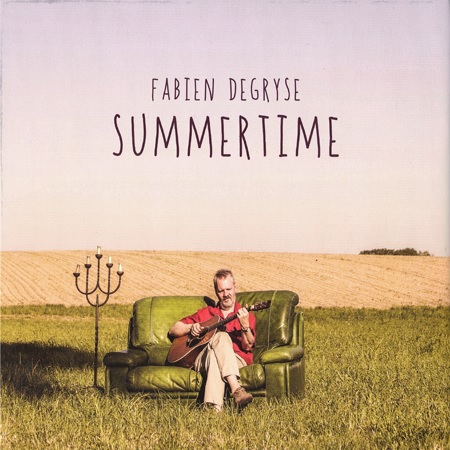 F
Midnight Muse Records
Voici le nouvel album solo de Fabien Degryse.
Après s'être produit sur scène dans les années '70, le guitariste bruxellois a étudié le jazz à la mythique Berklee School of Music de Boston, entre 1980 et 82.
Il s'est d'abord tourné vers la guitare électrique avec son album « Medor Sadness » de 1992, enregistré avec Erwin Vann et Eric Legnini puis dans un vibrant « Hommage à René Thomas » pour lequel il a invité le gratin du jazz belge, de Philip Catherine à Peter Hertmans ou Pierre van Dormael.
Mais, petit à petit, c'est la guitare acoustique et sa sonorité limpide qui l'a attiré, que ce soit au travers de sa participation à L'Ame des Poètes, au sein duquel il a succédé à Pierre van Dormael, à partir de l'album consacré aux chansons de Brel, ou encore dans ses premiers albums en trio : « The heart of acoustic guitar » de 2007.
Dès 2011, il enregistrait un album solo, « Finger Swingin' »dédié à la technique du finger picking, l'art de construire, d'un côté, une ligne de basse sur laquelle, de l'autre côté, venait se lover la ligne mélodique du thème, et cela sans effet de re-recording : une musique des plus pures enregistrée au plus près des cordes et de la caisse de résonance.
Pour ce « Summertime », Fabien Degryse propose une véritable « anthologie », au sens étymologique du terme, une sorte de florilège du jazz au sein duquel se cotoient grands standards immortels (de Summertime de Gershwin à I love you de Porter, en passant par It could happen to you de Van Heusen), grands classiques de la plus pure tradition jazz (de Lullaby of birdland de Shearing au So What de Miles, en passant par Lady Bird de Tadd Dameron), un hommage à Toots (le mythique Bluesette) et un petit détour vers la bossa et ses rythmes colorés (Corcovado de Jobim).
On admire tout à la fois la virtuosité technique (notamment sur So what, avec sa célèbre ligne de basse où vient se greffer le thème joué sur un tempo très personnel) et le lyrisme mélodique qui ensoleille chaque mélodie, tout au long de ces 11 plages, de 3 (I love you) à 7 minutes (Alone together, Cry me a river).
Claude Loxhay