Francesco Branciamore - Remembering B.E.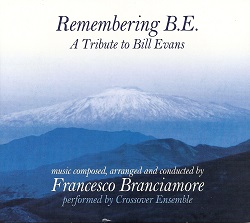 F
Caligola
"REMEMBERING B.E." tribute to the great jazz pianist Bill Evans Music composed, arranged and directed by FRANCESCO BRANCIAMORE performed by the classical CROSSOVER ENSEMBLE: Carmelo Aglieco flute, Gaetano Cristofaro clarinet, Christian Bianca violin Susy Kimbell cello, Marina Gallo piano, and Giuseppe Guarrella double bass. The project dedicated to the music of jazz pianist Bill Evans, created by the drummer/composer/arranger Francesco Branciamore for classic sextet (flute, clarinet, violin, cello, piano, bass), entitled "Remembering BE", inspired by a careful analysis of everything that has influenced the great pianist.
The last tribute was created by the Kronos Quartet with the great bassplayer Eddie Gomes about 20 years ago. For this project, composer Francesco Branciamore worked with Evans's influences such as Chopin, Ravel, Debussy and Satie, highlighting the various nuances, which is why the sound of the sextet of chamber music he has chosen is entirely appropriate and original. The songs orchestrated and arranged for the ensemble are compositions by Bill Evans as well as jazz standards he frequently played. In his hands they became as if he wrote them himself. There are also two new songs that Francesco Branciamore dedicated to him.