Fred Hersch Trio - Sunday night at the Vanguard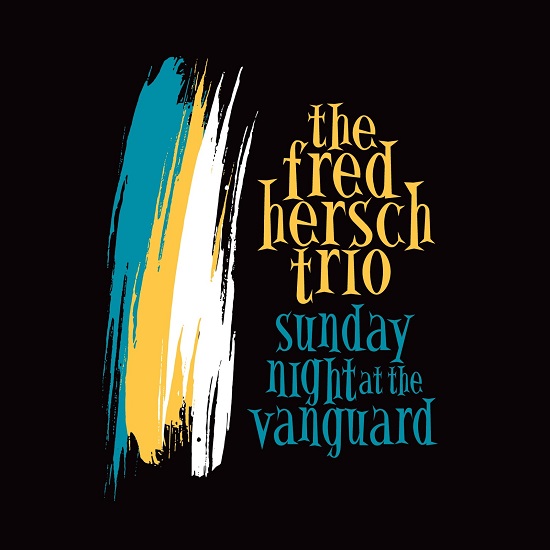 F
Palmetto
A côté des concerts en solo (Alone at the Vanguard, Live at Maybeck, Live at the Bimhuis, Solo), des duos (comme Songs we know avec Bill Frisell), des albums avec souffleurs (Forward Motion avec le saxophoniste Rich Perry ou, avec Ralph Alessi (tp), ce Songs without words qui traduit toute sa vision esthétique), Fred Hersch a, tout au long de sa carrière, multiplié les disques en trio, avec plus d'une demi douzaine de rythmiques différentes, de la paire Charlie Haden-Joey Baron (Sarabande) à celle actuelle, en passant par Marc Johnson-Joey Baron (Horizons), Drew Gress-Tom Rainey (Dancing in the dark).
Comme sur Whirl en 2010, Everybody's song but my own en 2011, Alive at the Vanguard (2012) et Floating (2014), le pianiste natif de Cincinnati retrouve John Hébert (contrebassiste qui a côtoyé la guitariste Mary Halvorson comme le saxophoniste Michaël Attias) et, à la batterie, Eric Mc Pherson qui s'est fait connaître auprès de Charlie Mc Lean et Andrew Hill et, pour ce Sunday Night, il retrouve aussi le fameux Village Vanguard: "The Village Vanguard has always held a special place in my heart...Over 80 years old, it is indeed the Carnegie Hall of jazz clubs" (texte de pochette).
Le concert public rassemble les conditions idéales pour que le pianiste  puisse voir interagir le coeur, l'esprit et la technique (texte de pochette de Solo) et le répertoire choisi pour l'occasion reflète totalement sa personnalité riche et multiple: cinq compositions originales dont ce Calligram dédié au Français Benoît Delbecq  (croisé pour l'album Fun House), des standards (A Cockeyed Optimist de R.Rogers) traités à la manière de Bill Evans, un clin d'oeil aux "songs" pop-rock (For no one de P. Mc Cartney) et surtout un grand respect de la plus pure tradition "jazz", soit Monk (We see), Kenny Wheeler (Everybody's song but my own) ou Jimmy Rowles (The Peacocks). Des thèmes déjà souvent revisités par le passé mais toujours propices à de nouvelles improvisations, de longues introspections, chacun d'eux sert de trame à partir de laquelle le pianiste tisse patiemment sa propre toile à la manière d'une araignée.
En dialogue constant avec sa rythmique (écoutez l'intro de Calligram), Hersch se montre aussi à l'aise dans les ballades à l'atmosphère intimiste voire mélancolique (Serpentine, For no one, Valentine) que dans le groove le plus swingant (The optimum thing, Calligramn Blackwing Palomino, Everybody's song but my own, The Peacocks, We see).
Après avoir enduré les affres de la maladie, Fred Hersch a retrouvé toute sa vitalité et s'affirme comme l'un des pianistes le plus personnel de sa génération. Après une série de concerts en solo en Flandre, il sera, le 13 mai prochain, au festival Jazz à Liège avec son trio.
Claude Loxhay