Fred Hersch - Songs From Home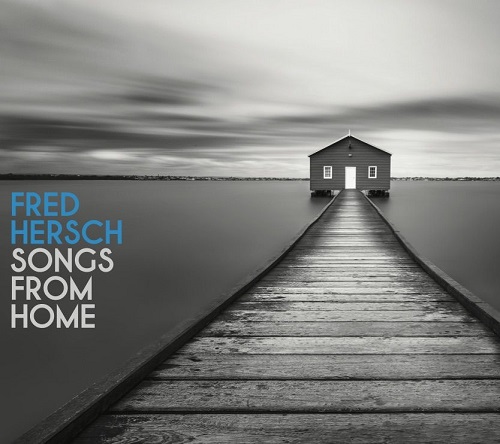 F
Palmetto Records
Pianist/componist Fred Hersch brengt een album met een selectie van tien songs die hij tijdens de lockdown via livestream elke dag uitzond. 'Songs From Home' is de toepasselijke titel en al heeft het wat nostalgisch omdat hij geliefkoosde originals en popsongs naast jazzklassiekers koos, toch exploreert hij die tunes op de hem unieke diepzinnige wijze.
"It's kind of a comfort food album," stelt Fred Hersch, "with a little badass stuff in there, too. I didn't want to make an easy listening record, but I did want to play some music that would make people happy."
Hij bespeelt zijn 50 jaar oude Steinway Model B en beseft dat die soms al eens minder klinkt. Dat deert hem niet en vindt hij zelfs passend bij Jimmy Webb's 'Wichita Lineman' en Cole Porter's 'Get Out of Town', nummers zoals ook de opener 'Wouldn't It Be Loverly' waar Hersch persoonlijke herinneringen aan overhoudt. Joni Mitchell's 'All I Want' roept voor hem de periode op van popsongs die harmonisch sterk waren en emotioneel diep raakten.
Duke Ellington's 'Solitude' behoeft weinig uitleg en sluit hartverwarmend aan bij zijn eigen compositie 'Sarabande', een nummer van zijn tweede trio-album in 1968 met Joey Baron en wijlen Charlie Haden. 'West Virginia Rose/The Water Is Wide' koppelt een nummer dat Hersch schreef voor zijn moeder en grootmoeder (twee Joodse dames van West Virginia) met een Appalachian folk song die hem bijbleef uit zijn kindertijd.
De introspectieve versie van Kenny Wheeler's zeldzaam hernomen 'Consolation (A Folk Song)' contrasteert met de twee luchtige jazzstride versies: 'After You're Gone', daterend van 1918 en gecoverd door Louis Armstrong en Judy Garland, en de Sgt. Pepper Beatles klassieker 'When I'm Sixty-Four'. En daarmee knipoogt Hersch naar zijn komende 65ste verjaardag (21 oktober). Die wordt gevierd met releaseconcerten via livestream op 6 en 7 november 2020 in The Village Vanguard.
Fred Hersch rijgt pareltjes van solopiano aan elkaar en steekt zo een hart onder de riem van iedereen in deze onwezenlijke tijd.
© Bernard Lefèvre



Fred Hersch (piano)